Glenora Inn's chefs John Haynes and Tracy Wallace share a passion.
He was in Grade 5 when John Haynes of Antigonish, NS, complained to his mother that there were no cookies in the house. "There are lots of cookies in the house," she said. "Here are the chocolate chips, and here is the Purity Cookbook." It was to be the end of "bought" cookies for that family, as John earned his status as the "chocolate chip cookie king."
Around the same time, in a small village not very far away, a little girl was playing her favourite game of being a chef in a make-believe restaurant. Her name was Tracy Wallace, and she even had a pass-through rigged up from which to serve her make-believe food.

John was still in high school when his grandfather encouraged him to be the family cook, turning out tasty meatloaves and other homey favourites. So comfortable was he in this role that he shelved any ideas of

college and went from restaurant to restaurant asking, "How do I become a chef?" The answer was always the same. "You get into the kitchen." And he did, determined to be "the best that I can be."

As she grew, Tracy's grandmother taught her to recognize, respect and utilize the wild foods growing in the forests around her home. Both John and Tracy were developing a passion for wholesome ingredients. Local products, organically grown where possible, seasonal vegetables, fish fresh from the waters around them, scallops in the shell complete with roe, other shellfish to be steamed, free-range chicken and rabbits for fricassees and stews, local lamb, wild mushrooms, cranberries, and other seasonal berries are only some of the foods they had separately come to love. And respect.

After 20 years of experience in professional kitchens, the now 39-year-old chef John looks back over the road he has travelled. He remembers the long hours of competition on local, national and international levels that has earned him more than 20 medals; the prestige gained in becoming a Bocuse d'Or finalist; the honour of winning the national Evian Healthy Menu Award; and the pride he felt in attaining the Certified Chef de Cuisine status. All were giant steps in his career.

Nor has he forgotten the training he received under the creative and rigidly demanding Bernard Meyer, a former

executive chef at the Digby Pines Resort and considered by some in the industry to be a master chef. "Without him I wouldn't be here today," John says. "He taught me how to cook. And I want to pass that knowledge on to other generations."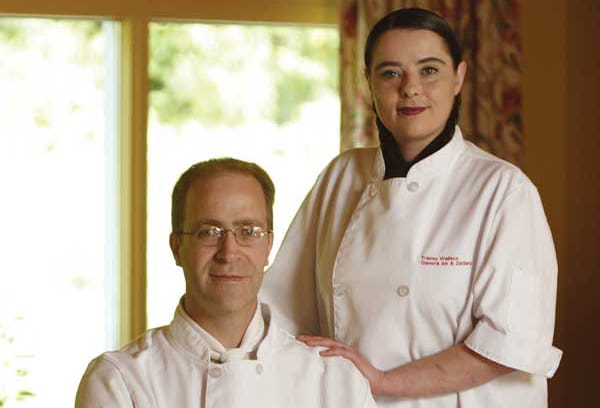 Following the time spent with Bernard Meyer, and furthering his studies at the Culinary Institute of Canada, John felt he was qualified to wear a chef's hat. Many of the dining public came to know him as the talented young chef at O'Carroll's Restaurant in Halifax, where for six years he hired, trained and supervised his own brigade of nine, always listening for the magic words, "I really want to be a chef." When he heard the phrase spoken with passion by a kitchen helper, he threw himself into the task of teaching, training and encouraging his young protégé.

On finding that he was a natural educator, John eventually left the commercial kitchen to become an instructor at the Nova Scotia Community College's Port Hawkesbury Campus. While gaining a great deal of satisfaction in working with young wannabe cooks, coaching them over the years to win a total of 30 culinary competitions, John missed the creative challenge of cooking for the dining public. "Teaching is a real giving profession. If you can't give anymore, it's time to go. When you teach, you leave yourself behind. I certainly came to that realization. I started teaching too early. There were too many goals left unfinished."

In the meantime, John Haynes met Tracy Wallace and the pair immediately fell into step. With common interests, especially in the preparation of food, it seems a perfect match. They dated, and she cooked for him what he describes as a most impressive meal of roast game hen with ramps, sweet chard, and fresh beans. "She fed me this meal and everything was right with the world," he says. That was nine years ago, and they've been together ever since.

With a seemingly inborn passion for food and its preparation, Tracy says she is a totally self-taught chef. Her favourite food book is Larousse Gastronomique. That heavy tome with its 1,000 pages is a far cry from any coil-bound series of homey recipes, to be sure. "I'm a total reader. I can never know enough. And it will be that way for the rest of my life," she declares passionately.

John says Tracy is a passionate artist who is always happy; unless, that is, she's dissatisfied with her plate. Her treatment of roasted Bromme Lake Duck with a reduction of fresh orange juice, superfine honey and Grand Marnier with poached plums has become one of her signature dishes.

While John was teaching, Tracy was cooking professionally. After two years of conflicting hours, they decided to try cooking together in a little restaurant in Antigonish, NS, then called Fresco's Trattoria (it has since changed hands). And it worked. They were ready to carve a new career for themselves, working together as a team.

Coincidentally, not too far away, in Glenville, Cape Breton, Glenora Inn and Distillery was looking for a creative chef to prepare upscale meals for its clientele. John applied, and offered them a bonus - two creative chefs who value home-grown products in the kitchen. Recognizing a fascinating idea, Glenora took the plunge. John and Tracy moved into the kitchen.

Now, they're cooking with love. Love and respect for each other, and for the foods that nourish the mind, the soul, and the body.

The first season saw them foraging for Cape Breton forest mushrooms, finding local suppliers of free-range chicken, organic vegetables, herbs and flowers, picking apples from Glenora's orchards, and turning it all into what they consider to be traditional Nova Scotian and Celtic dishes, enhanced with ethnic seasonings and French techniques.

They'll be back this season, when Glenora opens in early June. And on the back burner are plans to create recipes using Glenora's products, including Glen Breton Rare, Canada's only single malt whisky.

"We have respect for our profession," Tracy says. "Anybody can be a chef, but spirit and good, hard work ethics makes the difference. If we stick true to our morals, we're happy."
Recipes featured in this article