Fishing was an important part of my youth. My first memories are as a three-year-old, tucked safely in my father's packsack while he hiked into small lakes and favourite fishing holes in British Columbia. From that time on, pardon the pun, I was hooked.
Over the next 50 years, as I worked and travelled from the Yukon to the Maritimes, I experienced the joy of catching Arctic grayling, char, lake trout, and pike in northern waters. Rainbow and cutthroat trout, and small land-locked sockeye salmon (Kokanee) were plentiful in BC inland waters as were the Pacific coho, spring and pink Salmon. Even the elusive steelhead was no stranger to my creel when living and fishing on Vancouver Island.

My delight in fishing is not only in the challenge of matching wits with these wily denizens of the deep but in preparing, cooking and eating my catch. Memories of freshly caught trout, crisply fried in a castiron pan over an open campfire, bring back the fragrance and succulent taste as if it were yesterday. The sweet, smoky moistness of salmon cooked Kwakiutl-style against a crackling bonfire on a sandy Queen Charlotte Sound, BC, beach remain in my memory forever.

Here in the Maritimes, I have enjoyed Atlantic salmon, brook trout, sturgeon, mackerel, striped bass, and smelt. The enjoyment of catching smelt while ice fishing on New Brunswick's Kennebecasis River in February provides an equal delight in their cooking. These small silvery fish are easily cleaned, dredged in flour or cornmeal and fried quickly in a hot pan.

Salmon in the wild was an important food to many native peoples who had customs and superstitions that dictated the manner in which this fish was harvested and eaten: the concern was not to anger the fish's spirit, which might cause it to vanish forever from the rivers.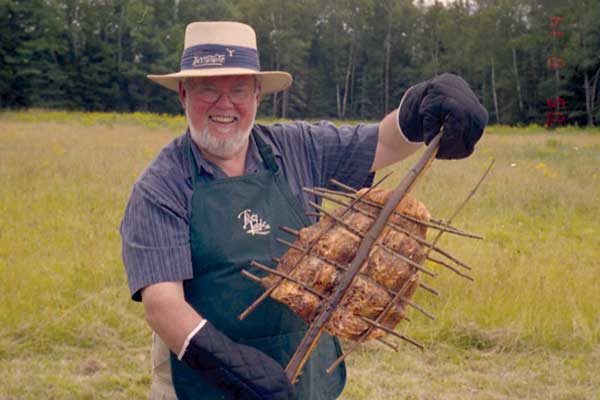 With many game fish such as the Atlantic salmon no longer found in the numbers we took for granted many years ago, farmed Atlantic salmon, often just hours out of cold Atlantic waters, provides a healthy alternative. Salmon is high in protein, vitamins B6 and B12, and omega-3 oils. Although omega-3 oil is a type of fatty acid found in the tissue of some fish, this special polyunsaturated oil has been found to be particularly beneficial to coronary health and brain growth, which is why fish is called "brain food." High cooking temperatures can destroy much of the omega-3 in fish, so vary your cooking methods. Microwave cooking, for instance, doesn't appear to have an adverse effect on omega-3 and it's a great way to poach salmon.

Salmon has a flavour and texture that is wonderful on its own or accented with herbs, sauces and marinades. Flavours also run the full gambit of sweet, sour, salty, and exotic. Maple syrup or brown sugar are natural partners for the delicate flavour of salmon; a dish fit for royalty is easily prepared over an open campfire with salmon fillets peppered and maple-glazed. And barbecuing whole dressed fish or large roast portions of salmon stuffed with traditional bread dressing, flavoured with herbs and fresh lemon slices, will bring your guests to their knees in thanks.

More exotic flavours, ranging from a teriyaki marinade, crunchy textured herb-and-nut crusting, spicy Japanese bread crumb, and wasabi horseradish, are just a few of the unconventional additions. Salmon has a wonderful flavour and texture on its own, of course, so keep any additions subtle. You can't go wrong if you keep it simple, and never overcook this fairest of flesh.
Recipes featured in this article