Where in the world of small talk would we be without recipes? Who among us could start a conversation with strangers if we didn't have culinary subjects to fall back on? We sit together at a dinner table, and the weather has been dealt with. Our minds race in search of common ground. Then the appetizer arrives-a pretty reddish-orange soup. Saved by a sweet bell pepper, we go off on a tangent about capsicums and the related heat, which has nothing to do with the weather.
It wasn't bell peppers that started the conversation with Sandra Fader, of Dartmouth, NS, when she visited the Saltscapes booth at our Expo last April. She had apple chow on her mind, and she was trying to trace its roots.
"Have you ever heard of it?" she asked me. I thought for a moment, teased by vague memory, but my brain wasn't about to give up its secret.
She told me about her grandmother's recipe that her mother gave her, which she, in turn, has passed on to her son. Four generations have made and loved this chow, but whenever Sandra asked anyone if they had heard of it, nobody had.
She talked of her Nanny Wile who, before Sandra's time, had a little lunch counter and confectionery store on King Street, in Bridgewater, NS.
"She made her own bread and other things, and I've become convinced that the apple chow recipe is something Nanny made up herself, and only our family made it," she wrote when she sent me the recipe.
In the meantime I had consulted my files and yes, there was a recipe for apple chow that I had used in a September, 1986, article when I wrote for the Halifax Chronicle Herald and Mail Star. The two recipes are very different-the one I have includes cabbage, green peppers and cucumbers. Nanny's recipe doesn't. Which proves to me once again that a recipe can have many incarnations, depending on the tastes and creativity of the cook and the availability of ingredients. Perhaps Sandra will be pleased that her Nanny's recipe will live on through the pages of Saltscapes, and in the kitchens of many of its readers.
I credit my good friend Anita Stewart, founder of Cuisine Canada and prolific author of 13 cookbooks, with what she claims to be "the world's best" relish.
The recipe, made with zucchini, came to her from Sheila Mickle of Drayton, ON, and was included in The Ontario Harvest Cookbook, which Anita co-authored with Julia Aitken (Macmillan Canada, 1996).
"It's so good on hot dogs that you don't need the wiener," says Sheila. Nor do you need to peel the zucchinis if they're young and tender.
There's another recipe I'm including here that will bring fond memories to many Saltscapes readers. It is offered as a final tribute to a man who did such a great service to his hometown of Windsor, NS, making it famous as the pumpkin capital of the world. Through the long and tedious development of seeds that produce giant pumpkins and the resulting weigh-offs that set records throughout the world, the name Howard Dill will live on. But those who knew him saw the gentle man behind the huge gourds. Howard Dill died of cancer this past May. In his memory, I asked his chef son Andrew to share with us the recipe for the pumpkin jam sold each fall at the Dill Farm. As Andrew says, "It's Dill-icious."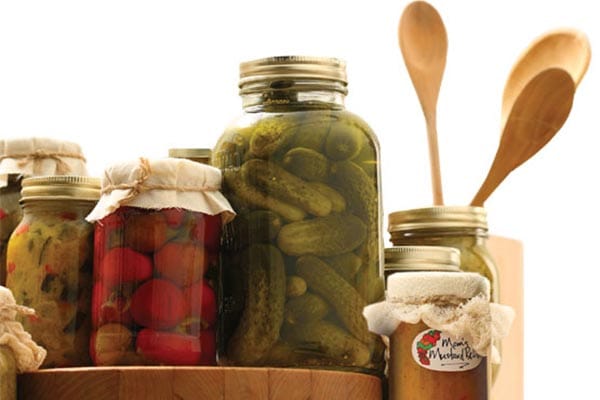 Canning 101
Place lids of jars in boiling water for 5 minutes. Wipe edges of jars with a clean cloth, and apply lids and screw bands until just fingertip tight. Place jars in canner filled with boiling water (water should cover jars by about 1-inch/2.5 cm).
When water has returned to the boil, start the timing and process for 15 minutes. Remove jars from canner and place on a wooden board covered with paper towels (placing hot jars on a cold, hard surface could cause breakage).
Let cool 12 to 24 hours. Check the seal (lids should curve down). Label jars, remove screw bands so they don't rust and store in a cool, dark place.
Recipes featured in this article