Come Christmas, my husband always wants a tool, a gizmo, a gadget.
"Why?" I ask. "You never use them."
"I use them," he stresses, a little too much, methinks. "Besides, they're handy to have." Thank you, Red Green.
What is it with guys and gadgets? Sweeping generalities aside, the more souped-up, geared-up, gussied-up, and powered-up, the better, it seems. My husband, like so many men nowadays, likes to cook. And like so many today, he's good at it. Sharing meal-making makes a lot of sense in this hectic 24/7 world.
For those guys who don't spend a lot of time in the kitchen, the male gadget-fixation may work in a gal's favour: buy a gadget for your favourite guy and maybe he'll cook you a meal or two. To find out what kinds of gadgets guys go for, my husband David and I took a shopping trip to Gabrieau's Culinary Closet in Antigonish, NS. It's owned by Chef Mark Gabrieau and wife Karen. (Chef Gabrieau demonstrates culinary wizardry up the street at the popular and award-winning Gabrieau's Bistro.) The store is well stocked, and everything it carries is available in most other kitchen stores.
"Knives," says employee Kathy Smith as she leads a tour of the store. "Knives are popular with men."
"Why?" I wonder aloud.
"It's good to have a good knife, something sharp, with a nice weight," David says, fingering a few lining the shelf. "It's hard to explain."
Knives come in a variety of prices and styles to suit almost every taste, and from such top makers as Cuisinart, Good Grips, Henckel, Wusthof (a brand men seem partial to), Global, Kasumi, Grohmann, and Victorinox. And lest you think your choices are limited, know that they come in slicers, dicers, chef, bread, carving, boning, utility, paring, even shades of Samurai (perhaps that's why they're so popular-channelling an inner warrior?). One Japanese brand, Kasumi, is hammered out like a Samurai sword, forged with 32 layers, making it a strong contender for male shoppers. Sets range from $200 to $2,000; knife blocks with a full set of knives can run from $629 to almost $2,000.
Microplaner. This grater is based on a traditional tool used in wood shops. It gives cooks a different option for grating cheese, chocolate or nutmeg or zesting lemons. "You probably wouldn't jam your knuckles against it," our guy observes. From $24.95 to $27.95.
Espresso machines. "Anything with power," David enthuses as Kathy showcases a selection of top-of-the-line, fully automatic, and popular Saeco espresso machines, priced from $300 to $1,550.
BBQ tools. "Always!" says our guy as we browse a selection of outdoor grilling tools. We're wowed by the chicken broaster, a nifty tool for $24.95. Put a little beer or wine in the broaster and sit a whole chicken on top before placing on the BBQ. Is there an angler on your list of great guys? An $18.95 fish basket gets rave reviews. The fish goes into the middle of a wire basket: "It's nice and easy to flip without falling apart," David says. "That's a neat idea."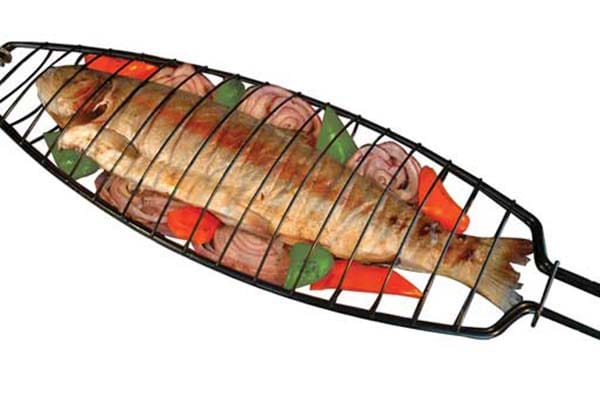 Pepper mills are a perennial favourite. Peugeot, Gabrieau's most popular brand, gets double marks for best quality. Although the company has been in business since 1810, they're still developing new styles. The mills have a really good grinding mechanism. Prices run from about $20 to $200 for ones made from olive wood.
Cuisinart's 4-in-1 griller, for $149, gets the thumbs-up. This compact little beauty will do a toasted panini sandwich, and for the morning meal, bacon, eggs and pancakes. "They're nice," my husband remarks. "If you're doing breakfast, they're easy to work with." Easy to store, too.
"A slow cooker is always handy, especially for the single guy by himself," David says, getting into it now, taking the initiative to point out a high-quality gleaming silver $95.95 Cuisinart model on a lower shelf.
A meat slicer ($130) and meat grinder ($127) by Waring Pro are a definite hit. "If someone is into hunting, they can do their own meat," says Kathy. David agrees. "The grinder is a good tool. If you had stewing meat, you can grind it up and make hamburger out of it. I remember we used to make hash, all that good stuff I don't get anymore."
Oenophiles will appreciate the Pek Preservation System, $295, perfect for storing that really nice bottle of wine you want to put away. "There's a manual…" Kathy starts to explain. "Oh, we don't need that," our guy dismisses. (What is it with guys and directions? But that's a whole other story.)
A Built NY Lunch Tote catches his attention. The natty neoprene bag (top right) is slim, sleek, fun, and funky. It can insulate food and drink separately, and can open into a placemat. David likes the concept, but in the end it doesn't get his full thumbs-up rating. It's more for a sandwich-and-apple brown-bagger. "I just don't think it's going to stretch enough," he says, looking inside and musing on his "man-sized" lunch. (Ladies: you might want to treat yourself!)
David points out the spice racks in appreciation. He likes the ones that come with the names on them. "I'd like to know how to use spices," he says. And why not? The prices for the racks, bottles and spices range from $35 to $42.
"One of these would be neat," he says, pointing out a baster and flavour injector all-in-one Cuisipro dual baster for $13.95. "And I like the temperature fork ($39.95). You can see if something's done." He briefly considers a $10.95 hamburger press that promises to make all the same size burgers - a good idea, but he's not sure if it would really work.
Le Cuistot, cast iron cookware from $18.95 to $149.95 that promises you can cook like grandma, gets a nod. "I like that pot. It's nice and heavy. Your food would stay warm in that for a long time. I just like anything cast iron."
So, let's see, that's cast iron…check. Knives…check. Chicken broaster, double check. Panini press…check. Methinks we might be eating well this winter. Bon Appetit ladies.