Major holidays give our family the chance to indulge in a delectable luxury. I'm not talking about lobster or beef tenderloin but rather a delicious, tender, juicy, free-range turkey cooked to perfection with all of the trimmings. We buy them from a local grower, and it's always a delight to roast one of those tender juicy birds and know exactly what we're getting.
Our family isn't the only one going the free-range route. In recent years, this type of poultry has been becoming more and more popular as people take more responsibility for what they eat. Free-range birds are allowed to roam around farms instead of being kept in cages. They're also allowed to grow to maturity - usually a minimum of 20 weeks - which allows the meat to develop properly. Plus, they're given organic feed that doesn't contain any antibiotics, animal protein or growth promoters.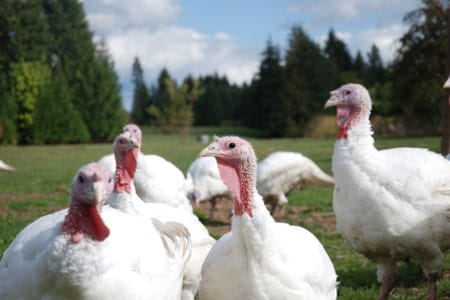 Among other initiatives, the Slow Food organization (www.slowfood.com) promotes saving regionally specific, locally grown and prepared foods. In other words, it's a campaign to save "real" taste - something that many say has been lacking in foods such as commercial turkey. Today more than 100 countries are involved in the Slow Food movement.
"Quite a few years ago, I noticed a lack of flavour and moistness in our traditional roast turkey," says Ross Mavis, the operator of Inn on the Cove in Saint John, N.B. "When I read about turkeys being self-basting from injections of vegetable oil and other fats, it was more than enough for me to look further for a better, more natural product."
Since then Ross has bought free-range turkeys from a farm in Hampton, N.B., for his inn's customers as well as for his home kitchen. "Free-range fowl have a flavour that takes me back to the golden-roasted birds served at my mother's table years ago," he says. "The meat not only tastes like the turkey of my youth but also retains a delicious moistness to it when it's carved. The difference is like night and day, and I won't settle for anything else now."
In the 1990s, Bruce Robertson of Middleton, N.S., used to have a large free-range operation; today he only keeps a few birds for longtime customers and family. He agrees that while most people buy free-range turkeys for their flavour and tenderness, others like the idea of a free bird. "Ours wander all over the property and eat the garden-including the garden plants we don't want eaten! - and our neighbour keeps them out of the road when they wander too far."
He admits there's little difference between cooking a conventionally raised turkey and a free-range one, although one customer of his insists that free-range birds cook a little faster. "So they're even energy-wise," he says with a laugh.
Nico van Schie grows hundreds of free-range chickens and turkeys year-round on his farm in Falmouth, N.S. Under a special licence from the Nova Scotia Turkey Producers Marketing Board, Nico's birds are not allowed to have any hormones, medications or meat products in their feed. "They're given access to sun, fresh air and green grass from the time they're a couple of weeks old until market time," he says. "These birds are more muscular and less fatty, and people feel they are tastier. We have a steady demand for them year-round, not just during the holidays, so we know they're popular."
Nico's customers come from around the Annapolis Valley and Halifax, mostly through word of mouth; he also sells birds to several food stores around Nova Scotia. He says that new customers don't always know the difference between free-range and organic birds. "Organic production is strictly based on the feed," he says. "Certified organic means the birds are fed certified organic feeds containing no sprays or chemical fertilizers, but the birds could be raised in barns like conventional producers do. Whatever the customer wants is fine, but it's a good idea to understand what you're getting."
Though free-range fowl tend to be more expensive - between $6 and $26 more for a 12 pound/6 kg turkey - the quality of the meat is what customers care about, says Mike Bonang, general manager of The British Butcher in Bedford, N.S. His experience is that people who choose free-range birds are more concerned about quality than price. "The birds are not nearly as fat, and they tend to be more tender and really juicy," he says, "especially if they're cooked in their own juice in a roasting bag where no moisture can escape."<
As I listen to him talk, my mouth starts to water, and I wonder if the free-range turkey in my freezer will stay there until the end of December.