It seems that everywhere we turn-newspapers, magazines, television or online-someone is selling the goods on a new "super food." So what exactly is a super food? Does it need to meet any specific requirements? Or is it simply a term coined to sell more product to consumers who have become obsessed with longevity?
American health author, Dr. Steven Pratt (of Oprah fame) was the first to use the term and he believes that a super food cannot contain just one nutrient, but rather a synergy of nutrients that link together. It seems the road to optimal health is paved with good intentions, and while there is no single magic food out there, there are some that offer so many health benefits that they may indeed deserve the moniker "super food."
Our local and readily available blueberries are in that happy category-just about as close as you will ever come to "super." We specifically emphasize wild blueberries which, because of a thicker skin, have been shown to contain more antioxidants than the commercially cultivated version. (This is not to imply that cultivated berries should be avoided. They too are extremely beneficial to your health. You just have to consume more to realize the same health benefit per serving.)
Obviously, one of the simplest ways to ingest the health benefits of blueberries is by drinking blueberry juice. But buyers beware-most commercially produced blueberry juice contains sugar, cornstarch and additives; and these juices are most often derived from cultivated berries as well. The good news is that we have two companies in Atlantic Canada which produce 100 per cent pure blueberry juice from wild berries-Acadian Maple Products in Upper Tantallon, NS, and Van Dyk's Health Juice Products Ltd. in Caledonia, NS.
Acadian Maple produces two sizes-355ml and 1-litre bottles, with an average annual production of approximately 10,000 bottles and growing. Van Dyk's current annual production is approximately 180,000 bottles.
Owner Case Van Dyk had one mandate in mind when developing his wild blueberry juice. The product needed to be of the highest quality, offer superior taste, and conserve as much as possible the high anti-oxidant, cancer-fighting properties of wild blueberries.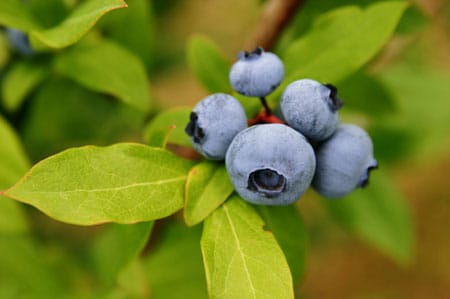 A collaborative research effort was initiated with Agriculture and Agri-Food Canada and the Nova Scotia Department of Agriculture to develop a proprietary process that Van Dyk's now uses to produce their juice. The culmination of four years of effort has resulted in a process that allows the Van Dyks to retain the maximum possible volume of antioxidants in the berries.
Of the 700 acres that the Van Dyks own, 80 per cent are covered in wild blueberries and continued expansion is anticipated. Both Van Dyk's and Acadian Maple use only grade-A berries and add no sugars, starches or additives of any sort. This does, however, mean that the shelf life of pure blueberry juice is less than that of a commercially produced juice that does contain additives. The shelf life of an unopened bottle is 18 months and it is recommended that an opened bottle in the refrigerator be consumed within 10 days. The juice is pasteurized for consumer safety.
The suggested daily serving of pure blueberry juice is 75ml. That amount has the same anti-oxidant benefit of eating one half cup of wild blueberries. Each bottle of Van Dyk's blueberry juice contains the equivalent of one and a half pounds of blueberries. The flavour of the juice is refreshing and intense. In fact, in 2005 it was judged as "best new juice" at the World Juice Congress in Madrid, Spain.
Pure blueberry juice can be used in a variety of different methods as well-as a flavour enhancer, or as an added ingredient in cooking. Some suggestions follow that are great for entertaining and simple to make.
Recipes featured in this article: