The medicine you take leaves a bad taste in your mouth, so you log onto Facebook to see if anyone online has advice about how to deal with it.
"Try sucking on ice," comes the reply onscreen. "It worked for me."

Community. Commonality. Conversation. Welcome to the world of social media.

Perhaps not surprisingly, people are turning to social media sites like Facebook, Twitter, and online discussion forums and personal blogs to share health-related stories, and to connect with others who have similar ailments.

It's a dialogue that can bring significant benefits, and it opens up a whole new set of challenges.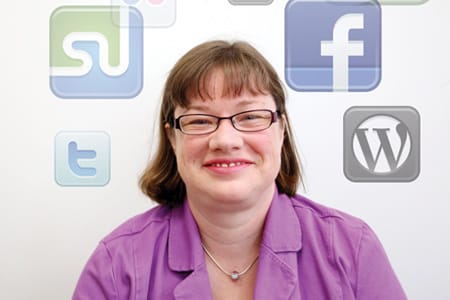 A ready support system
Christy Simpson is an associate professor in the department of bioethics at Dalhousie University. She is the coordinator for ethics-based collaborations between health organizations in Nova Scotia. "From my experience, people seem to be using social media primarily as a form of support," she says. In particular, people with rare diseases-who may find it challenging to find and connect with others facing similar issues-are able, through social media, to build online communities where they can share their experiences.

She sees large numbers of adolescents who have chronic health issues or diseases turning to social media-largely because social media is already a natural way for them to communicate. In terms of accessing information and support, social media offers real advantages that didn't exist before, Simpson says.
How to connect
So, how do you connect with others online?

A simple Internet search on a specific health concern or topic can lead to online discussion forums and personal blogs, where people can share their personal experiences and offer advice to others. Many health care organizations and advocacy groups are starting to offer formalized patient forums and discussion groups. A search of Facebook groups will find people sharing information about any number of health care concerns.

Twitter can also be a great way to find information and to connect with others. A search on a particular hashtag or topic - for example, the hashtag #cancer - connects everyone who is sharing information about that subject.
Virtual communities
Simpson says online forums can help alleviate feelings of isolation and loneliness. "You gain a community," she says, "even if it is a virtual community." Sometimes, social media can give people a venue where they can admit that they are feeling depressed or anxious. "That anonymity can help people express what's really going on with them," she says.

Social media is also helpful to people who live in rural and remote areas, says Simpson. Instead of having to ask patients to drive long distances, health care providers can use tools like Skype and videoconferencing to make direct connections with their patients.

Social media is also providing a new way to reach adolescents. Simpson says some health care teams have turned to social media as a way to stay in touch with young patients who may otherwise be difficult to maintain communication with over the long term.
Drawbacks
Ironically, one of social media's primary advantages can also be a disadvantage. Simpson says information shared online may not always be accurate, and even if the advice is good, it can lead people down a path that may not be appropriate for them. "That's the part I worry about," she says.

Simpson says people should also take into account how public the Internet is, and be aware of confidentiality and privacy issues. Information posted online can stick around for a long time, and can wind up in unintended places.
Professional boundaries
The openness of information raises concerns for health care providers about professional boundaries. A blog can be a valuable outlet for someone with a health concern, but it brings up a number of important issues: should that person tell their health care provider that they are keeping a blog? Should they invite them to read it? Is it appropriate for health care providers to read patient blogs if they haven't been invited? And if that medical professional does read something on a blog, is it fair for them to bring up that issue if the patient hasn't raised it directly?
Part of the equation
Health care providers, says Simpson, are always thinking about ways to extend and enhance the care they can provide to patients and their caregivers. They want to help patients find reliable resources, and social media is part of that equation.

"There's so much information coming online all the time. That is a blessing-people are becoming more engaged, thinking through issues, feeling more supported, and that's a wonderful thing-but the drawback is that health care providers sometimes have to spend a lot of time explaining that, no, actually that treatment would not work in this case."

Despite the wealth of information available from social media sources, says Simpson, face-to-face contact is still important.

"Whatever the role of social media," she says, "it will not replace face-to-face contact ­­-and the personal touch that comes along with that."