For 38-year-old Mike Gourlay, an IT employee at the IWK Health Centre, witnessing firsthand the success stories that emerge from the Neonatal Intensive Care Unit (NICU) provides immense job satisfaction
For his own life was saved there as an infant.
Born with the most severe form of spina bifida, he required surgery to repair his spinal cord only hours after his birth. Follow-up surgery several weeks later prevented potentially fatal brain damage.

"I'm very lucky that I can walk today," he says.

But things have changed dramatically in his lifetime.

In 1972, Atlantic Canadian neurologists saw spina bifida about 18 to 20 times a year. Now they see it just once or twice annually thanks to new understanding of the importance of folic acid during pregnancy.

From the 1960s to 1990s, technological and scientific advances have resulted in huge improvements in the mortality rates of tiny preemies and ill newborns. Now, says Dr. Krista Jangaard, head of the division of neonatal-perinatal medicine at the IWK, "One of the biggest things we're finding out about is the importance of non-technological things to these babies and their families."

A new "developmental care" model is benefitting babies by making them more content and helping them grow better. It focuses on things like skin-to-skin contact (SSC) or kangaroo care, breastfeeding, ensuring that babies are exposed to lower levels of light and sound, and providing more privacy for families.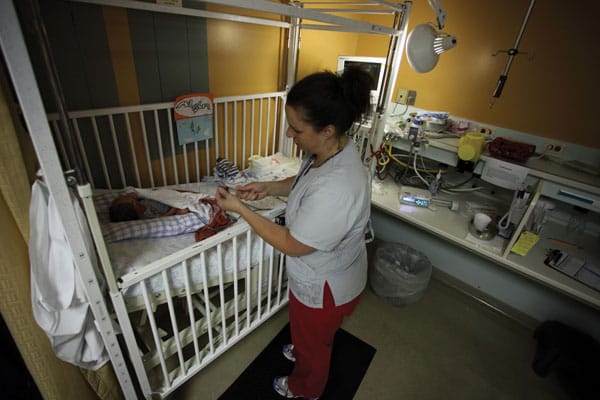 Skin-to-skin
SSC involves having the baby dressed in a diaper and a hat and snuggling in an upright position on his or her mother's bare chest, belly-to-belly. It can also be done with a father, partner or members of the extended family.

"Most babies do very well when they're taken out of the incubator for skin-to-skin contact," says clinical nurse specialist Brenda Hewitt. "They might need less oxygen, have less fluctuation in their heart rates or blood pressure and just be at a more steady state physiologically. We encourage families to come and hold their babies for an extended period. The research does show that babies have reduced stress response when they have blood work done if they're having skin-to-skin contact with their mother."

SSC is good for babies, but it also helps mothers adapt to the difficult situation of having a baby that is unwell, and can help to bring their post-natal hormones back to a steady state.

"It is our practice to take most babies out of their incubators as soon as they're able to tolerate it," says Hewitt. "Even very premature babies are brought out within the first few days. We have a number of recliner chairs where we help position the baby with the caregiver. [The baby] can be out for a number of hours."

Dr. Jangaard says, "It's not just that SSC is nice and makes parents feel happy when they go home. It is a benefit to the baby to be with their mom. It's a benefit because they're close to the mom, it helps get breastfeeding established and because babies who are content have fewer apneas. Babies who have fewer apneas tend to grow better. Babies who grow better, do better."

Breast is best
New programs that provide information about breastfeeding are encouraging more mothers to provide their colostrum and breast milk to babies who can't yet feed at the breast.

"We know that babies that are breastfed feed faster and gain weight faster," says Dr. Jangaard. "We know from studies on full-term babies that breastfed babies may have fewer problems with infections, for example."

In recent years, breastfeeding mentors, lactation consultants and nurses with extra education around breastfeeding support have become part of a large-scale initiative to provide information to families about breast milk, and to help mothers get started with breastfeeding in the Neonatal Intensive Care Unit (NICU).

"One of the things we're looking at across the country," says Dr. Jangaard, "is that if human breast milk is what we need, how will we support that? Should we be thinking about giving babies donated breast milk?"

"There are now two breast milk banks in Canada," says Hewitt, "and the milk is treated so it doesn't pass on any infections to the baby. Whether the milk is provided from a donor source or the mother, we know it's more readily digestible than artificial baby milk."

She says a new milk bank for the IWK is something that's being discussed at the hospital. "We know that in terms of outcomes, it could impact some of the life-threatening diseases babies get."

Privacy matters
Having a baby in the NICU is stressful at the best of times. A bit of privacy can make a big difference to the families of sick children.

"Most people would say, 'What's the big deal with having five isolates in a room?'" says Dr. Jangaard. "But on rounds in the morning, people can hear about their babies, and also about other people's babies." And although some babies get better and move on, it can be desperately hard if a baby gets sick and dies. Dr. Jangaard points out that the newest NICUs in Canada have single-room care units, and that many hospitals have moved to some combination of single-room care or much smaller rooms, with two babies rather than five or six.

"We're not saying we have to do this right now-although we'd like to," says Dr. Jangaard, "but this is the direction we need to go in."

Calm and quiet
Although they may not seem like important details in the life of a very ill or tiny premature baby, light and sound have an impact on the development of newborns.

"We know that developmentally, light and noise aren't good for babies," says Dr. Jangaard. It's now standard practice to keep the lights in the NICU dim and to keep noise to a minimum to decrease the babies' stress. If a baby needs attention, his or her bedside light is turned up, but other lights remain off.

"Too much noise is not good for developing brains," says Dr. Jangaard. "If you came into the NICU now, you'd notice it was really quiet with the occasional baby crying to be fed."

"We're very aware of how loud we should be," says Hewitt. "If conversations need to happen, but not at the bedside, they're moved away." She says the department did noise measurements and discovered that the highest noise levels were created when garbage cans were opened to change the bags. They solved this by changing to a type of garbage bag that makes less noise, by moving the cans, and by taking care to perform the task more quietly.

"It's about being thoughtful about what things are in this environment, and how we can make it more supportive," says Hewitt. "That way those other machines that help [these babies] survive can work as well as possible."