Halifax family doctor Andrea McDonald used to feel that she was continually giving the same important disease management advice to her patients with chronic conditions-to little or no effect. She thought she might as well record the instructions and press "play" for whichever talk was appropriate: the improve-your-diet talk, the exercise-more talk, the lose-weight talk and the quit-smoking talk.
"I nag patients," she jokes. "Not everyone wants to change. One man said, 'I'm not going to change, so give me a pill for that.'"

Treating people with chronic conditions is a large and growing health care concern. A chronic disease is one that is long-lasting or recurrent and, because so many of us are aging and living less-than-healthy lifestyles, the numbers afflicted are increasing.

According to the Health Council of Canada, 39 per cent of Canadian adults have at least one of seven chronic conditions, including arthritis, cancer, chronic obstructive pulmonary disease, diabetes, heart disease, high blood pressure and mood disorders such as depression. Seventy-two per cent of Canadians over 65 have at least one of the seven.

As a family physician, Dr. McDonald felt that giving the same important disease management advice to her patients was often dispiritingly unsuccessful.

But now her patients are getting healthier thanks to a new team approach being used at the Duffus Health Centre in Halifax. The Health Team model is resulting in engaged patients with better health; it's also lessening the burden on doctors and the health care system.

Recommendations from the Health Council of Canada last year advised that chronic disease is best managed through a partnership of educated patients, family doctors, and other health care professionals. At the Duffus Centre, doctors work collaboratively with nurses, physiotherapists, a pediatric mental health social worker and staff who run women's health clinics. The clinic also has a satellite diabetes education clinic, which includes a diabetes nurse and dietician.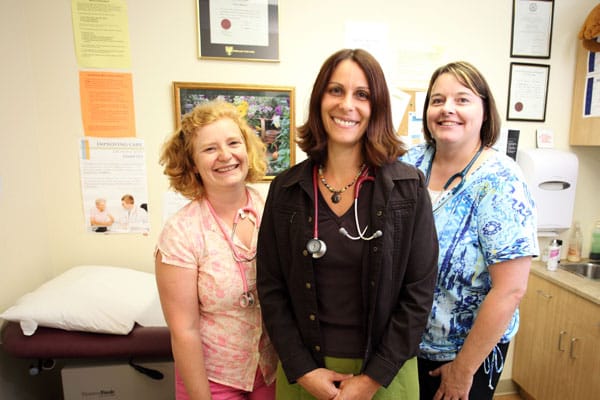 Dr. McDonald says her advice sometimes sparks a lifestyle change in her patients, but other patients respond better to advice from a nurse or another health care professional.

"Our nurses are fantastic," Dr. McDonald says. "They have expanded skills, deep knowledge and they really know our patients. They sit down with them and they sit down with the family. They often know things the doctors don't. Some people may open up more to a nurse than a physician. Everyone on our team has different strengths and it means our patients get more complete care."

The team approach is not new to staff at the Duffus Centre; they have been working collaboratively since 2006, but this year they also embarked on a Quality Collaborative Project with Capital Health on diabetes management, assisted by staff from the Diabetes Education Centre. The goal is to ensure that patients are being treated according to guidelines, and to determine whether there are measurable benefits gained when patients engage in their own care, as opposed to when they are simply passive recipients.

"It's exciting. I definitely feel I'm delivering better care," Dr. McDonald says. She tells the story of a middle-aged woman with diabetes who used to visit her just twice a year, but who now visits a nurse every week.

"The key is that she keeps coming back," Dr. McDonald says. "As long as she does that we can keep delivering the message. I can't emphasize enough how important it is for patients to show up."

A 2007 study revealed that Canadians with chronic conditions accounted for at least half of all consultations with family doctors and nearly three-quarters of nights spent in hospitals, but patient-focused, team-based care leads to greatly reduced emergency room visits and hospital admissions.

Lynn Edwards, Capital Health's director of primary health care, says that working with people to manage their care within community-focused teams makes them healthier.

"It's all about the relationship," she says. "Team members know your history and you feel like a member of the team yourself. Patients need the confidence to be the keepers of their own health, and the more complex their issues are, the more they rely on management from the health care team."

Edwards says the goal of Capital Health's Community Master Plan is to strengthen the primary health care system - where the majority of care happens - especially in terms of ongoing care for patients with chronic health conditions.

"We want to support people to stay well and manage their conditions. Over time, we're looking to reduce the use of acute care services, such as emergency rooms."

Dr. McDonald hopes to see more team-led care in the future. There are costs associated with increasing the number of community-based health care workers, but ultimately money will be saved because people will be healthier.

"If someone has a heart attack we put them in the ICU-but what if they didn't have the heart attack?" she asks. "I could pay for a primary care nurse for quite a while with the money saved."

Edwards says the issues behind chronic conditions are complex, but she believes educating and empowering the population will eventually reduce the burden of disease. "It takes a generation to change," she says. "And we haven't reached that generation yet."