We often hear about the potential health and disease-fighting components of "superfoods" - tomatoes, for example, playing a role in prostate cancer, cinnamon in diabetes control, blueberries in Alzheimer's disease. A spice that has recently been gaining a lot of "superfood" attention is turmeric, also named curcumin, which is an active ingredient found in turmeric.
Turmeric is a key ingredient in many Indian, Thai and Persian dishes. It's typically added to recipes as a solo spice or as part of a blend of spices in curry powder. This spice is also used in products such as mustard and broths, mainly as a colouring agent. It comes from the ginger family - this is evident in its resemblance to fresh ginger, but inside, it has a vibrant yellow flesh. It's most commonly sold as a dried bright yellow powder.

Adding turmeric to dishes contributes a mild subtle flavour with a bold dash of colour.

The potential medicinal properties contributed, on the other hand, encompass the prevention and treatment of various conditions and diseases such as arthritis, joint and muscle pain, gastrointestinal disorders, Alzheimer's disease, cancer and high cholesterol. Curcumin is an antioxidant; antioxidants are compounds that can protect the body's cells from damage caused by activated oxygen molecules known as free radicals. Note: although turmeric and curcumin show potential for health benefits, research is in early stages on all fronts. Following are some of the potential health benefits currently being studied.
Arthritis and joint pain. The anti-inflammatory properties in turmeric may play a role in relieving arthritic pain and other associated joint and muscle pain. These claims are based on personal testimonials and laboratory studies.
Alzheimer's disease. India has low rates of Alzheimer's disease, piquing interest for turmeric's potential role in reducing the progression and risk of this degenerative disease. In studies of mice, curcumin appeared to help with blocking the plaques and proteins that cause problems in the brain during Alzheimer's disease. It's thought that curcumin may play a similar role to that of NSAIDs (nonsteroidal anti-inflammatory drugs - over-the-counter versions include Aspirin, or acetylsalicylic acid, and ibuprofen) in decreasing the inflammation of plaque-inflamed areas. More research is needed to determine any potential impact of this sort in humans.
Cancer. Curcumin's antioxidant quality, along with its anti-inflammatory properties, has triggered interest in its potential role in cancer prevention and treatment - particularly in colon and breast cancers. Research in humans is limited and has showed varying results but in a lab setting, curcumin killed and decreased the growth of isolated cancer cells. Similar results have been seen in laboratory animals.
Heart health. Curcumin may play a role in decreasing the risk for heart disease and associated heart attacks by decreasing the plaque formation inside blood vessels caused by LDL cholesterol. Turmeric may also play a role in decreasing chest pain related to heart disease.
Digestion/IBS. The active ingredient in turmeric may also play a role in reducing symptoms associated with indigestion, irritable bowl syndrome, ulcerative colitis and Crohn's disease. Again, more research is needed.

To supplement or not to supplement
The amount of the active ingredient curcumin that is found in dried turmeric is about three to five per cent; many supplements claim to contain 95 per cent curcumin compounds. There is no standardized recommended amount, but according to the American Cancer Society, some practitioners recommend taking a teaspoon with each meal, and this is generally a safe amount.

Two small studies in human subjects revealed that a daily dose of 3.6 grams of curcumin had no adverse effect; another study found that a 10-gram intake over a short period was well tolerated. Because both studies were based on a small number of people, the strength of the study is questioned.

It's safe to consume turmeric in food, but large doses that you might ingest in supplement form may cause kidney stones, stomach ulcers, and gastrointestinal upset. "Natural" health care products may contain all-natural ingredients, but they can still pose a risk for side effects and drug interactions.

Some individuals are advised not to take a turmeric supplement: those on blood thinners or who have a bleeding disorder, those who are taking medications affecting the immune system, those with a history of ulcers or anyone who is pregnant or breastfeeding. The bottom line is that whether you have any underlying conditions or not, always talk to your physician prior to taking large doses of turmeric or any herbal or dietary supplement.

Turmeric certainly has "superfood" potential. The way I see it, turmeric and curry in food provide distinct flavours and colours, decreasing the need to use salt, which is a benefit in itself. If it provides all the potential additional health benefits, that's just a bonus!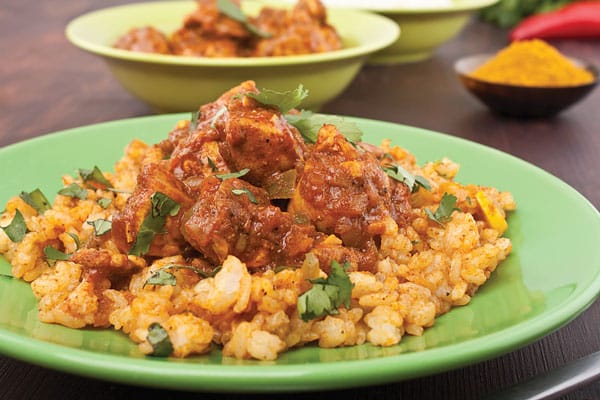 Curry Peanut Chicken
Time: 25 minutes
This recipe calls for turmeric and curry powder - giving double the curcumin and lots of flavour. It proves that you don't need those high-salt, high-fat bottled curry sauces to make a tasty meal. This chicken is great over brown rice or whole wheat couscous. Instead of drumsticks you can use chicken breast, or make it vegetarian by using tofu or prepared chickpeas and low sodium vegetable broth. If you choose to use canned chickpeas, look for a no-added-salt variety.

1 tsp (5 mL) olive oil
1 large onion, sliced
2 cloves garlic, minced
2 tbsp (30 mL) curry powder
1 tsp (5 mL) turmeric
½ tsp (2 mL) ground cinnamon
2 tbsp (30 mL) peanut butter
12 drumsticks, skinless
¾ cup (175 mL) low-sodium chicken broth
½ cup (125 mL) light plain yogurt
3 tbsp (45 mL) chopped fresh parsley

In a skillet, heat oil. Add onion and garlic and cook for several minutes until onion is tender. Stir in curry powder, turmeric, cinnamon and peanut butter. Cook until fragrant and peanut butter is melted.
Add chicken to skillet and cook for several minutes until no longer pink. Add broth and reduce heat to low. Cook about 10-15 minutes, until chicken is cooked through and juices are clear. Remove from heat and mix in yogurt. Top each serving with parsley. Makes 6 servings.

Source: Hold that Hidden Salt! by Maureen Tilley, PDt.