You've probably seen them: enthusiastic walkers (often in groups) striding confidently around the neighbourhood or the park, proudly brandishing what look like modified ski poles. These folks are not wannabe skiers, waiting for colder weather (well, they may be, but that's not always the reason for the poles). They're Nordic walkers, taking part in an outdoor pursuit that has quickly become a sport in its own right - and one that offers a wide range of benefits.
Dr. Gail Dechman, a professor at Dalhousie University's school of physiotherapy, says the action of Nordic walking is a lot like cross country skiing, in that the walker coordinates arm and leg movements and the rhythm carries them along.

"You don't have the sense of working harder, but you use more energy than you do by walking. For people interested in getting fit or losing weight, using more energy is key," says Dr. Dechman. She notes that although Nordic walking is relatively new in Atlantic Canada, people have been doing it in Europe for decades. "There is a wide variety of people who would benefit from it for a number of reasons," says Dr. Dechman. "The elderly, who are concerned about balance, people with Parkinson's disease, and the general public who want to lose weight and have fun."

For Patti Smith, 41, of Lunenburg, Nordic walking has been a great alternative to a gym membership.

"I was doing a Biggest Loser contest with some friends at work and I'd been walking, but I was looking for a way to intensify my workout without going to a gym - and I like to be outside," says Smith.

She discovered Nordic walking on a television program and found poles soon afterwards at a pharmacy. "They came with a DVD that showed you how to set them up and use them."

Smith regularly uses the poles on a quiet country road near her home. "That's my main route. But if my husband is out and my [young] son is home, I walk around my yard. I've even got my mother and a girlfriend Nordic pole walking."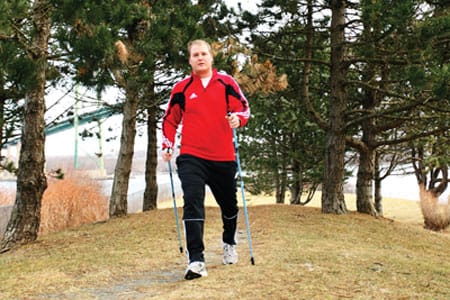 This kind of enthusiasm for the sport is exactly what kinesiologist and wellness facilitator for Capital Health's Community Health Team in Halifax, Jeffery Zahavich, hopes to see this spring when his team starts a new Nordic walking program. Zahavich says the four-week program will help participants improve balance and engage their abs and core muscles more.

"We have a walking program now, but the population we work with often has balance and other chronic conditions," says Zahavich. The benefit of walking with poles is that using both hands creates symmetry on either side of the body, which is helpful for balance. The poles also bring the walker upright.

"We're trying to get people more active aerobically and we're excited to challenge them and offer something they haven't tried yet," says Zahavich. "There's a great benefit to Nordic walking, in that it burns more calories and builds more muscle mass."

The rhythmic nature of Nordic walking can be good for people with various chronic conditions. "Those with Parkinson's have a hard time starting their movement and sometimes they freeze and can't get going again," says Dr. Dechman. "Nordic walking is very helpful for continuing motion." She says the poles can also be an aid to people who are trying to lose weight because they offer a sense of security and balance. And for those with arthritis, the poles can take stress off the joints and make walking more comfortable. "Many elderly people walk bent over," says Dr. Dechman. She says the poles can help these folks walk more fully upright, further decreasing their fall risk.

Health benefits aside, Nordic walking is simply fun, and many Nordic walking groups are cropping up. Michael Beazley, who manages a speciality footwear shop in Halifax, started Nordic walking five years ago after a back injury. He now organizes Nordic pole walking groups for anyone who wants to try it - both through his store and for outside businesses or groups.

"I enjoy Nordic walking for the benefits it gives me," says Beazley. He says Nordic walking has helped to relieve strain on his back. "It also increases your heart rate and you burn more calories because your body has incorporated everything into the walk: chest, laterals, triceps, biceps, shoulders."

He says the beauty of Nordic walking is that it can be done anywhere - on sidewalks, wet grassland, firm grass, concrete, trails or sandy beaches, adding that the poles have both rubber and carbon tips for grip in different situations.

"Anyone can do it, as long as you don't mind the looks you get," he says with a grin. "Once you start, you'll love it."