After 12 weeks of consuming nothing but low-calorie, liquid meal replacements, Diane LeBlanc ate a raisin.
"It was incredible," says LeBlanc, an organizational psychology consultant with Capital Health in Halifax. "I had a totally new appreciation for the taste and texture."

LeBlanc, 51, has struggled with her weight for as long as she can remember. "I've been overweight most of my life," she says, "but it wasn't until I began working as a project manager for Michael Vallis that I thought about my weight in a different way."

Dalhousie University professor Dr. Michael Vallis is a health psychologist with the Behaviour Change Institute at Capital Health in Halifax and co-director of Partners For Healthier Weight (PfHW), the first medically and psychologically focused obesity management program in Atlantic Canada.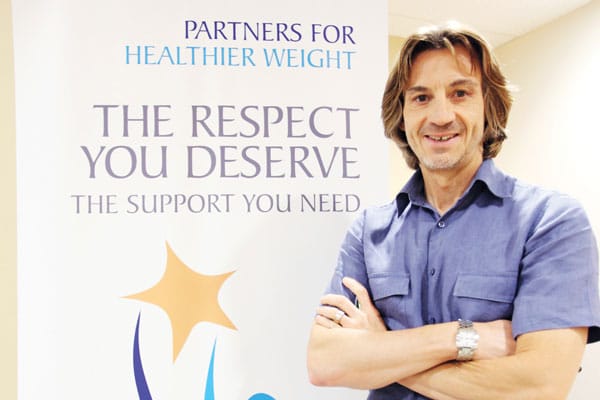 Initially geared toward members of the Capital Health and Dalhousie communities, and now open to the wider community through health-care providers, PfHW is intended for obese individuals who are willing to devote a year to achieving a healthy weight.

When LeBlanc joined the program delivery staff of PfHW in 2010, she was about 100 pounds overweight. "It was a case of the elephant in the room," she says wryly.

"Secretly, I thought the program would be good for me, and my team members probably thought the same thing, but it was too embarrassing to talk about. Then, one day, I finally let go and told the others how I felt."

LeBlanc entered the PfHW program as a participant in May 2011—despite entreaties from her daughter to try something else. "She's a whole foods health enthusiast," says LeBlanc, "and she was skeptical of the program's 12-week meal replacement component."

Others have voiced a similar concern, but, according to Vallis, there's good evidence that reducing choice is effective in helping people lose weight. "Managing your weight is not as simple as pushing away from the table," he explains. "Fat, salt and sugar light up the pleasure centres of the brain in the same way that a drug like cocaine does. In PfHW we use [a program called] Optifast to detox people from the negative effects of a poor diet. There are strong emotional and social connections to food. A break from normal eating can be a real opportunity for re-learning."

Optifast is a trademarked, medically supervised weight management program. The program begins with a full meal replacement plan and transitions to self-prepared meals, in conjunction with comprehensive patient education and support.

Only four days into her program, LeBlanc went on a cottage vacation with some women friends and watched them eat lobster while she stuck to a 900-calorie regimen of Optifast shakes. "Once I got through that without breaking, I knew that I would be able to make it through the entire year," she says.

She lost 50 pounds during the first 12 weeks of the program and about 15 more after a gradual transition to healthy, home-cooked meals. All the while, she did a modified exercise program and attended weekly, three-hour sessions with a multidisciplinary team of health care professionals including psychologists, physicians, dietitians, nurses and physiotherapists.

"It's not for the faint of heart," says Vallis. "There's an intensive schedule of facilitated lifestyle-change workshops, as well as group support and discussion sessions. It's a big investment in time and effort."

At just over $3,000 for the year-long program, it's also a big investment in terms of dollars, but according to LeBlanc, the return on that investment is a realignment of personal values and a better sense of what constitutes happiness. "The counselling component of the program offers a lot of opportunities to think about your relationship with food," she says. "It's a chance to be free of what basically amounts to an addiction and the negative self-talk around overeating."

Vallis says the program's objective is to encourage people to strike a new path, with different personal goals. "Self esteem should be more about what we achieve through our energies and efforts than how much we weigh. It's not about looking better in a bikini or being a size two. It's more about being able to get in and out of the car easily, to climb the stairs without panting and enjoy a game of catch with the kids."

Vallis explains that body shape is genetically determined, so the chances of a complete transformation are very low. "We can't turn a pear into an hourglass," he says, "but we can turn a large pear into a smaller, healthier one."

Although Vallis maintains that the program is not designed to make dreams come true, it has been an awakening for Diane LeBlanc. "I eat whatever I want, whenever I want," she says proudly. "The thing that's changed is what I want."
What do you get for the money?
26 weekly, three-hour sessions involving medical assessment and group behaviour modification
Individual medical and psychological assessment
An individual session with a dietitian
12 weeks of meal replacement product
A transitional supply of meal replacements during six weeks of reintroduction to a regular meal plan
Monthly group behaviour modification sessions for the final 26 weeks

More info: partnersforcare.ca/healthier_weight