Last summer, dentist Dr. Carolyn Palmer spent two hot, nerve-wracking, exhausting and incredibly fulfilling weeks providing dental treatment in Honduras with her daughter, as part of a Global Brigades trip organized by Acadia University students.
Global Brigades is a student-led global health and development organization with university chapters across the world. The Honduras trip offered medical, dental and pharmacy services to towns throughout the country, which is the second poorest in Central America.
"The university kids take charge. It's a way for them to learn about the world and give back," says Dr. Palmer, a dentist with Cornwall Dental Care in Charlottetown.
But it wasn't only the students who expanded their horizons. "It was an experience that changed me," says Dr. Palmer. "It was challenging and rewarding in a way I have never experienced before."
The experience started with an admittedly "frightening" flight into Tegucigalpa, the capital city. (Tegucigalpa is often called one of the world's most dangerous airports because of its steep approach, short runway and nearby mountains.) From there the team loaded themselves as well as medical supplies, equipment and medicine on to buses for a two-hour (and equally frightening) drive to Cantarranas, the mission's base camp. "There was security with us at all times," says Dr. Palmer. "It wasn't safe. There are times you think, 'Oh my heaven, what are we doing?'"
What they were doing was helping people who desperately needed it. In 2010, the average income in Honduras was approximately $1,800 US and the country ranks 129 out of 187 countries on the United Nations Development Programme's 2014 Human Development Index. In rural areas, 50 per cent of the population lives in extreme poverty.
At 6am each morning, Dr. Palmer, the other health care professionals and the students would take up to two-hour bus rides to nearby towns like Pajarillos, which has a population of 600. In Pajarillos, the local school, shut down for the day, was transformed into treatment areas for medical procedures, dental services and pharmacy consults.
"When we arrived, there would be hundreds of people waiting. I found that overwhelming," says Dr. Palmer. "You have to process it. This is poverty at a level I had never seen."
There was no electricity, running water or toilet facilities in the communities, so the team brought their own portable generator with them. This meant extractions could be done fairly easily but other dental procedures, such as fillings that require water to clear the mouth, were more difficult. "I brought lots of freezing," says Dr. Palmer, whose patients reclined in a zero-gravity lawn chair while she sat on a wooden school chair. 
After the first day, word got out that Dr. Palmer was doing some fillings despite the difficulties, and the line-ups got longer. A cap of two fillings per person was instituted, although the Charlottetown dentist often ignored the directive.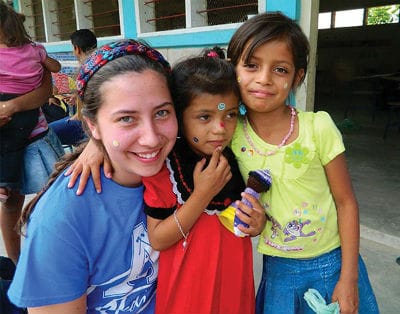 "Some people walked for hours to see me. Many of them were children. I wanted to leave them with the best chance at better oral health," says Dr. Palmer, who also did sealants (a process that covers grooves on permanent molars to prevent decay) for the children.
Each day, once their equipment and supplies were unloaded, the health care professionals and their student assistants worked flat out in 38-degree heat.
"The temperature was a real issue," says Dr. Palmer. Not only did it zap the team, it affected equipment. For example, a curing light used to dry fillings has a fan inside it to keep the instrument cool. That small fan was no match for the heat in Honduras.
The conditions were also no match for Dr. Palmer. "It's great to be outside your comfort zone," she says. Her time in Honduras provided a chance to give back and to connect with her daughter, a third year student at Mount Allison University in Sackville, NB. "We both thought what an opportunity to share."