Fall's return marks the beginning of flu season. How should you prepare this year?
Despite that old admonition that you should be careful not to catch a chill, we all know that exposure to cold weather is not really to blame for viral infections. And yet, as sure as snow drifts and salt trucks, winter always brings a spike in influenza rates, so it can't just be a coincidence.
Dr. Frank Atherton, Nova Scotia's Deputy Chief Medical Officer of Health, says the weather plays a role, but only because it changes our behaviour. "All of the respiratory viruses that are passed from person to person, you tend to see them in the winter months," he says. "People are congregating together; they're staying indoors. There are opportunities for the virus to pass from person to person."
Seasonal flu is seen first in the Southern Hemisphere, where winter occurs during our summer. "As we move into the flu season in October/November, we can look at what's been happening in the Southern Hemisphere—the WHO [World Health Organization] does it for us," says Dr. Atherton. "And that's usually a fair indication of what's likely to be coming our way."
This forecast makes it possible to distribute vaccines targeting the dominant strains of flu in a given year well before the season peaks in this part of the world. "There are manufacturers working on quadrivalent flu vaccine, but the most commonly used one globally is the trivalent, which covers three strains," says Dr. Atherton.
Generally the vaccine covers the two influenza A strains deemed most likely to cause problems, and the single influenza B strain considered most significant. Most years this results in excellent protection for those who get the shot, but there is "a bit of guess work" in choosing the right strains, says Dr. Atherton. And occasionally things don't turn out as expected. A 2009 global flu pandemic resulted from the emergence of a new virus that the vaccines did not cover.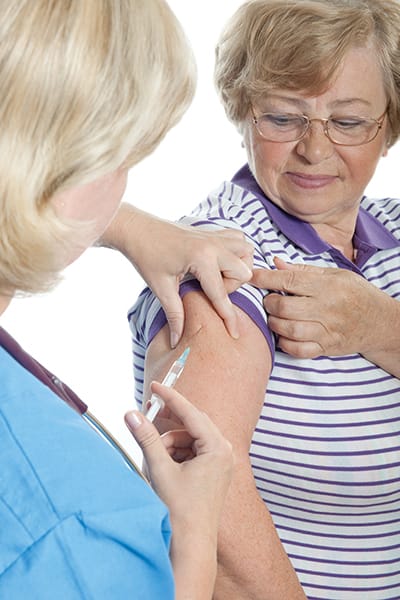 Usually arising in southern Asia, pandemics inevitably occur a few times a century. "What we think happens is that the virus kind of gets together and forms a hybrid with an animal strain—often from a bird or a different form of animal—and the two viruses can kind of mingle together and produce a new virus," explains Dr. Atherton. "If that new virus is both very contagious...and also very pathogenic—that means it causes serious disease—that can cause a flu pandemic."
The H1N1 strain caused the 2009 pandemic, but now it's a normal flu strain; many people have been exposed to it and the current flu vaccine covers it.

Preparing for flu season
The consensus among public health officials is that everyone should get the flu shot, but certain groups are targeted because they're more vulnerable, including those over the age of 65 or under the age of five, and those with underlying medical conditions. Efforts to reach out to these people have been quite successful, but there is another demographic group that has thus far been less receptive.
"We're very keen to increase the uptake among pregnant women," says Dr. Atherton. "Our rates there are pretty low: about 17 per cent. We're going to have a big push this year...to let people know that flu is very dangerous to pregnant women, and the vaccine is very safe."
Women who contract the flu during pregnancy tend to get a more serious case, and can end up with complications. By getting vaccinated they protect themselves from this risk, and they also protect their unborn baby, improving the odds of a positive birth outcome.
In Nova Scotia, the flu shot is available at no charge to everyone six months of age and older. As a result, the provincial vaccination rate in recent years has ranged between 43 and 50 per cent—the highest in Canada. Based on predicted demand, the province purchased 440,000 doses last year. One factor taken into consideration was a new policy of allowing pharmacists to administer shots.
"That kind of exceeded our expectations," says Dr. Atherton. "I think we issued about 75,000 doses through that route… It proved very popular. People liked the quality of service; they liked the immediacy of being able to go in and get their jab straight away."
Officials hope that this improved convenience will result in more people going for their shot in a timely fashion. Due to procrastination or indecisiveness, some put it off until late in the flu season, and this is a problem for two reasons.
First, those who put off getting a flu shot until late in the flu season receive only limited protection, since the vaccine takes four to six weeks to be fully effective. Second, waiting too long may mean coming up against a local vaccine shortage.
"So the message is: go get it early next season," says Dr. Atherton. "And if we have a really high uptake rate before Christmas, we can order more in, whereas if we leave it until February when the flu peaks...then there's very little point in bringing more vaccine stocks in, because there's a law of diminishing returns."
It's a bit like putting snow tires on your car. Rather than wait for the first blizzard, you should do it well in advance. And, you don't do it just for your own protection, but for the safety of your loved ones and the community. Because like a traffic accident, the flu is best avoided even for the most robust among us.
"Unfortunately we see deaths every year," says Dr. Atherton. "It can be a killer, and it's really hard to predict who's going to get it."