E-cigarettes: what are the health concerns?
The jury is still out on e-cigarettes, also known as electronic nicotine delivery systems (ENDS)—are they safe? Or even an effective aid to assist with tobacco cessation? What about health concerns surrounding secondhand vapour emissions to those around them? Although the research is not currently available to answer all these questions, we are starting to get some preliminary insight into how ENDS can affect our oral health.
But as a consumer—someone attempting to quit smoking, someone looking for an alternative in areas where cigarettes are not permitted, or someone interested in starting "vaping" as an alternative to smoking traditional cigarettes—what do you need to know about this highly unregulated nicotine product, targeting smokers and non-smokers alike? What are some of the underlying problems and is it really a gateway to tobacco use? And how does it affect your oral health as well as your overall health?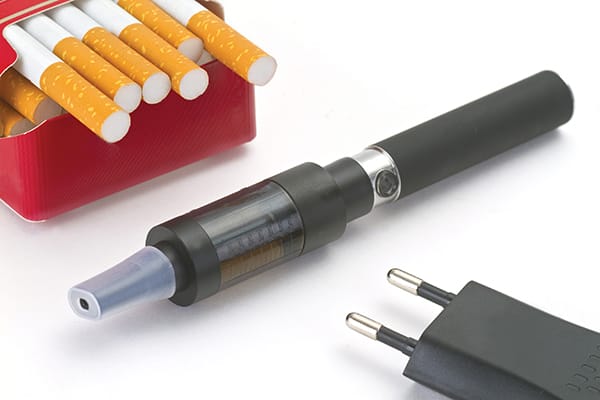 E-cigarettes have been around since the start of the decade but have only become mainstream in North American culture over the past few years. Comprised of three major components: a battery, cartridge and an atomizer (heating element), e-cigarettes do their best to replicate smoking behaviour without the use of many harmful chemicals and tobacco. However, even without the tobacco, e-cigarettes contain varying amounts/concentration of nicotine, depending on the brand, which can potentially be equally as harmful to your mouth as traditional cigarettes.
Although the contents of e-cigarettes on their own may be less harmful than traditional cigarettes, this change in smoking culture—reminiscent of the past where smoking was seen as glamorous and desirable—is problematic with the increased accessibility or amount that smokers are able to smoke.
E-cigarettes use either disposable or replaceable cartridges, and can provide users between 150 to 300 puffs in a single cartridge—equivalent to 40 cigarettes worth of drags. A 10 mL bottle of e-liquid used to refill many e-cigarettes is equivalent to 200 cigarettes worth of nicotine.
According to Dr. Deepak Saxena, a researcher from New York University, one of these cartridges can be finished in two hours. Although the contents of the vapour may be better than inhaling from a regular cigarette, early indications suggest prolonged exposure to nicotine can have troubling effects on gum tissue inside the mouth. Dr. Saxena used the example of smokers on a "smoke break" who would end their break when their regular cigarette was finished, with e-cigarettes, many smokers can puff away for hours, inside or out, without noticing how much nicotine is going into their system.
Oral health concerns
According to Dr. Saxena, initial research indicates regular e-cigarette "vaping" puts users at a significantly higher risk of periodontal disease from increased exposure to nicotine. Periodontal disease has been linked to heart disease, respiratory issues and even diabetes. Other known side effects include persistent dry mouth.
Based on initial in-vitro research conducted by his team, Dr. Saxena also believes gum tissue and microflora (oral bacteria) are being affected by e-vapour, as e-cigarettes often create an oral cavity environment conducive to gum tissue mutation and changes in the oral microflora.
It is a common misconception that having the nicotine or tobacco pass through water during the inhaling process somehow cleans the vapour. Another growing trend, hookah smoking, may be the worst smoking means of all, according to Dr. Saxena, as it uses charcoal to burn the tobacco.
Quitting smoking?
Currently, using e-cigarettes as a smoking cessation tool is not supported. A recent study comparing the effectiveness of e-cigarettes versus nicotine patches over a six-month period showed no significant results. This suggests e-cigarettes may not be a more effective smoking cessation aid as compared to more traditional tools, such as using a nicotine patch. E-cigarettes, as mentioned, also pose the potential threat of additional oral health risks.
E-cigarettes in Nova Scotia
In November 2014, Bill 60 was passed in the Nova Scotia House of Assembly, amending the Smoke-free Places Act and the Tobacco Access Act to include regulations pertaining to the sale and promotion of e-cigarettes.
After May 31, e-cigarettes and waterpipes cannot be used in indoor public places, such as hospitals.
There is ongoing discourse about the flavoured liquids, some or all of which may yet be banned.
Things to consider:
The long-term safety of e-cigarettes is not yet established
E-cigarettes are likely less harmful than tobacco cigarettes, but not without risks
The effectiveness of e-cigarettes as a smoking cessation tool is not yet established
At present no e-cigarettes are licensed as a medicine and patients are recommended to use licensed nicotine replacement therapy products to quit smoking or reduce tobacco consumption
Early indications suggest e-cigarettes can have harmful effects on gum tissue
E-cigarettes can act like a gateway to cigarette smoking for youth, and can often entice young smokers through the use of flavoured e-cigarettes