When Hallie McQuinn was diagnosed with diabetes three years ago, it meant huge changes for her and her family.
Looking back, Jill McQuinn recalls a few early warning signs that something wasn't right.
One of the first major flags was Halloween night in 2012 when Hallie, then eight years old, had to stop trick-or-treating to come in for a drink.
"That's odd," Jill thought.
A couple of nights later Jill and Hallie went out for a movie "date" night to see Hotel Transylvania. The previews hadn't even finished when Hallie had already drained her drink and was telling her mom she was still thirsty.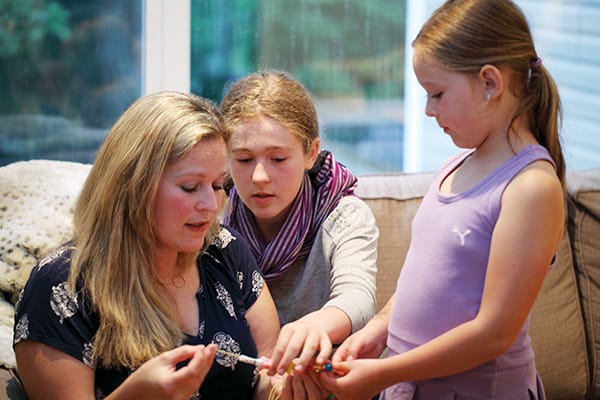 "When that happened I just had that feeling in the pit of my stomach that something was seriously wrong," Jill says. "When I got home, I went right away to Google 'extreme thirst.' Diabetes was the first thing that came up."
The next day Jill and her husband Scott took Hallie to a walk-in clinic. Hallie's blood sugar level was 26.5. The normal range is five and a half to seven. "We took her straight to IWK emergency…they admitted her right away," Jill recalls.
That night Jill and Scott made other arrangements for Hallie's younger sister Ashlee so they could both stay at the hospital with Hallie, and try to take in the enormity of the diagnosis: Type 1 diabetes.
"It was life changing. There was so much to learn," Scott says.
Type 1 diabetes occurs when the pancreas doesn't produce insulin, the hormone that helps the body control the level of sugar (glucose) in the blood. Without insulin, glucose builds up in the blood and can't get to the cells, resulting in the cells using fat instead of glucose as an energy source.
The next day they met with the "diabetes team"—staff from the IWK pediatric endocrinology and diabetes unit—to begin the process of learning about diabetes and the new skills they would need to develop, such as how to test Hallie's blood sugars and plan meals carefully to help manage high or low blood sugar levels.
It was a steep learning curve. That first day one of the nurses gave Jill the syringe with Hallie's insulin injection and talked Jill through the process of giving Hallie the needle herself.
"I did manage to do it but then I realized that I'd have to do it again and again and again…. It was a lot to take in."
At the hospital and in the days that followed, Hallie and her family learned about the challenges of living with Type 1 diabetes. Hallie would require constant monitoring; then and now her blood sugar levels need to be tested eight to 10 times a day to ensure her insulin doses meet her body's needs. Even with all the careful monitoring, Hallie's blood sugar levels can still run too high or too low at times.
"That's what I find the most frustrating…the numbers don't always reflect the amount of work we put into it. We can do everything that we're told to do but her numbers might still not be what we want," Hallie's dad, Scott, says. "One of the things I've had to learn is that diabetes is a disease you can treat, but you can't control it." For the first year Hallie's parents gave her regular insulin injections of five needles a day. After about a year, Hallie began using an insulin pump that allows for a continuous flow of insulin through the day and night. The amount of insulin Hallie receives is balanced with what she eats and how active she is throughout the day.
"I like it a lot better than getting the needles but I wish I didn't have to do the site changes," Hallie says, referring to when she has to switch the site where her insulin pump tube goes into her body—about every three days. The tube delivers small amounts of insulin—a basal rate—continuously. Additional insulin is delivered after calculating the foods she eats and her activity level.
The diabetes team at the IWK was an invaluable resource to the family in those early days, and remains so, Scott says. "There was so much to learn, so much to take in all at once. They taught us how to do all the calculations. They were available 24-7."
The potential effects of diabetes are serious and can be life threatening—things such as kidney failure, blindness, nerve damage, amputations, heart attack, stroke and possible complications during pregnancy.
"I went through a grieving process in a way as we learned about the disease and how serious it was. At first everything was very prescribed…now we can be a bit more spontaneous," Jill says.
To help her school friends learn about the challenges of living with diabetes, Hallie read a book to her classmates called Taking Diabetes to School. After the short presentation, Hallie and her mom handed out carb-free Jell-O snacks to the class.
To test her blood sugar levels throughout the day, Hallie uses a self-testing kit. Up to 10 times a day, she pricks her finger to get a drop of blood for the test strip to read and display on the meter. That is the number she uses to calculate her insulin needs throughout the day.
Less than a year into the family's new journey of learning to live with diabetes, they had to face another challenge. After noticing blood in her urine, Hallie's doctors thought she had developed polyps. During what was viewed as a "routine" surgery to remove the polyps, it was discovered that Hallie had a tumour in her bladder—an extremely rare inflammatory myoblastic tumour—that, thankfully, turned out to be benign.
Most of the tumour was removed during that surgery but a second surgery was required less than a month later.
"I was kind of scared the second time," Hallie remembers, as she and her sister Ashlee examine her "bravery beads"—a string of special beads for each of the separate procedures she has been through.
Now at age 11, Hallie's remarkably upbeat and seems to take it all in stride. Last spring she ran the Blue Nose Youth Run, she plays soccer, enjoys tennis and practices archery, jumps on her backyard trampoline and takes her dog Nugget, a three-year-old golden retriever, for daily walks.
This past summer Hallie raised $2,600, along with her "Hallie's Hope" team at the annual Walk to Cure Diabetes in June. Over the past three years she and her family have raised about $6,500. In August she attended Camp Lion Maxwell in Lunenburg County for the third time. A week-long camp for children living with diabetes, Hallie's enjoyed spending time with other children facing similar challenges, doing activities such as swimming, paddling and hiking. It's also where she discovered archery, a sport she enjoys practicing with her dad at their family cottage.
"I just stay positive," Hallie says, flashing a quick smile. "Even when the numbers (blood sugar) aren't good, I try to stay positive and tell myself that's not me, that's just the diabetes."