Dentists reaching out to help
In the wake of the earthquake that decimated much of Haiti five years ago, Dr. Stewart Gillies, a dentist at the Avalon Dental Centre in St. John's, NL, knew right away that he wanted to do something to help. After visiting the small Caribbean country to see first-hand how he could contribute, Dr. Gillies recognized that something more than simply pitching in was required.
"We realized the extent of the disaster and that there were ways to help them that would be more effective than others," he says.
The earthquake that hit Haiti on January 12, 2010 measured 7.0 on the moment magnitude scale (Mw). It killed more than 220,000 residents and injured an estimated 300,000 others. In the days and weeks following the massive disaster, it was estimated that more than one million people were left homeless, and as many as three million people were affected in all.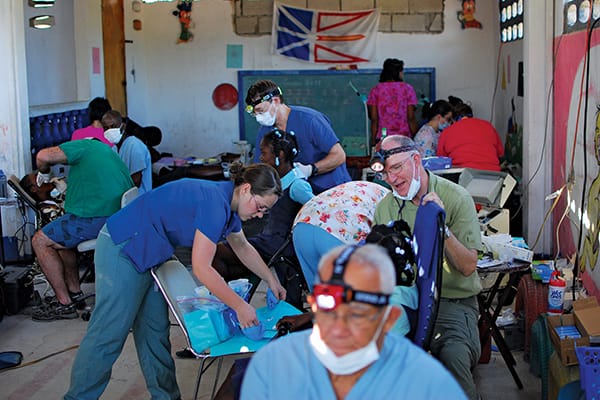 A team approach
Knowing that partners would be essential, Dr. Gillies met with the local department of health and the University of Haiti's school of dentistry in Port-au-Prince, the country's capital, to develop a three-pronged approach to providing assistance.
"It's difficult to make a dent in anything unless you know the culture and the geography," says Dr. Gillies.
Those meetings led to the establishment of the Canadian International Dental Foundation (CIDF).
The mandate of the charity is to help prevent dental deterioration, pain and suffering for people in need around the world; to provide relief from suffering caused by poor dental health, poor hygiene, poor nutrition and bad teeth for people in need; and to assist in providing dental services and dental equipment wherever needed.
Shocking devastation
In Haiti, the need was overwhelming. The 2010 earthquake took the life of one dentist, another was left missing, and 35 dental offices—nearly a third of the practices in the capital city of Port-au-Prince, where the majority of dentists practice—were destroyed along with much of the country's fragile infrastructure. Several clinics remained standing but there was limited access, if any, to clean water and power needed for dental procedures. At the University of Haiti, most of the buildings were significantly damaged.
Reaching out
In an effort to help immediately after and since then, Dr. Gillies, friends and colleagues have sent supplies and materials to the dental school. This included installing the country's first panoramic x-ray that records images of the upper and lower jaw. Lecturers have also visited to share knowledge, techniques and experience, and plans are in the works to sponsor Haitian candidates to go to school in Montreal, where as in Haiti, French is the predominant language. "We can also do work on cases together thanks to the Internet," says Dr. Gillies, who graduated from dental school at the University of Glasgow in Scotland.
In some cases, especially in the immediate aftermath of the earthquake and its 52 aftershocks, assistance came in the form of cutting through red tape and bureaucracy. The state university, for example, had lost much of their instructional material and despite repeated efforts were unable to replace it. "I made one call to a professor at the University of Toronto and within five minutes we had a copy of all materials for one of the courses downloaded over the Internet," says Dr. Gillies.
Help is also hands-on, the second prong of CIDF's approach to providing aid. Teams of dentists and dental hygienists, including a group of 15 volunteers this past January, visit the country to set up clinics. "We offer free dentistry," says Dr. Gillies. "We've travelled the length and breadth of the country."
One community the team visited is called Bassin-Bleu, nestled among the hills in the southeast region of the country. Here, as elsewhere, the team relied on used equipment and whatever resources were close at hand to provide a week-long clinic. "We start at 5am sometimes. We drive up into the mountains. We go to places that have never seen a dentist before," says Dr. Gillies.
On his last trip, 2,000 school children were seen by our team of dental hygienists in one week.
There is an initial hesitation on the part of residents, but this quickly dissipates when they understand what the dental teams are there to do—and they see their friends and families feeling better. "These people are so appreciative and so gracious," says Dr. Gillies.
Dental care in Haiti is a luxury in a country where 70 per cent of people are reported to live on less than $2 (US) a day. "The squalor is unbelievable," says Dr. Gillies, who has also visited Haiti in the midst of a cholera epidemic.
Ongoing support
Long-term solutions require ongoing support and appropriate infrastructure, the third component of CIDF's model. The goal is to help equip dentists in the country and build clinics. Recently, for example, the foundation established a clinic in Saint-Marc, a community in western Haiti about an hour's drive north of the capital. "We wired it. We plumbed it. We provided dental chairs and a generator. Everything that would be needed was in place in a week," says Dr. Gillies. "Now three dentists are working there.
"We just keep on assisting them with education and equipment, then let them get on with it," he adds.
Lending a helping hand in Haiti doesn't just benefit locals. The volunteers who spend time in this country of roughly 10 million, the most populous Caribbean nation, return with a different perspective. "For everybody who goes down there, they come back changed," says Dr. Gillies. "There is a quietness about them. We never complain about anything again."