Camp teaches kids good management practices—the key to breathing easier
Sebastian and Francesca Turner have grown accustomed to feeling special, but that doesn't mean they enjoy it. Thanks to a summer camp for children with asthma, there's one week in the year when the siblings from Stellarton, NS are just like everyone else.
"Last year was my first time at Camp Treasure Chest," says Francesca, an enthusiastic 11-year-old with a dramatic flair.
"It was so amazing to fit in. I never felt sick and I never had to sit anything out."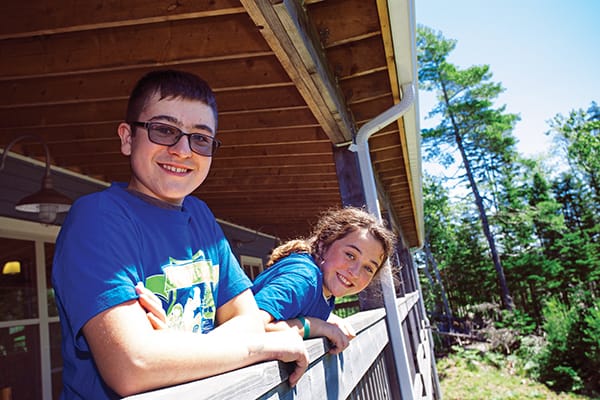 Like the more than 2.8 million Canadians who live with asthma, Francesca takes two different types of medication: a "preventer" taken daily, even when symptom-free, to keep airways clear and control the disease; and "rescue medicine" that's taken when needed to alleviate symptoms or during a full-blown attack. Together, these medications make it possible for Francesca to ski and play volleyball—activities that require only short bursts of air, but they don't always work. Last December, for example, a trip to the emergency room caused Francesca to miss a much-anticipated Christmas concert at school.
'It was scary," she recalls. "My throat got really dry and I couldn't breathe."
As one of a small number of individuals to suffer from a severe form of asthma and exercise-induced allergies, Francesca's older brother Sebastian, now 13, is all too familiar with asthma symptoms like coughing, wheezing, tightness of the chest and shortness of breath.
"Before we went to the IWK he was constantly having attacks," says Sebastian and Francesca's mother, Beverly Turner. "Now his asthma is very well managed, and we have his medications down to a science. That way he can push himself—whether it's riding his bike, skiing, doing karate or going to camp."
Asthma is a chronic (lifetime) inflammatory disorder. When left untreated, it can impose severe limitations on a person's activities and sometimes even be fatal. Although it can't be cured, with a good management plan it's possible to live a full life.
"Kids with asthma should be able to run around and scream and yell," says Dr. Wade Watson, professor and associate chair of pediatrics at Dalhousie University, and head of the division of allergy at the IWK Health Centre. "They should be free of symptoms, both day and night, and be able to participate in regular activities."
As the resident doctor at Camp Treasure Chest for the past 10 years, Dr. Watson has seen many return campers like Francesca and Sebastian. "This camp began almost 30 years ago for children with asthma," he explains. "We now include all respiratory diseases and we're affiliated with Brigadoon Village, a non-profit organization that manages a year-round, residential camp facility for children and youth living with a chronic illness."
Camp Treasure Chest is located south of Kentville, NS, on scenic Aylesford Lake. It runs for one week each summer and accommodates 30 to 40 children ages of eight to 17. In addition to the requisite campfires, singsongs, swimming and games, the camp also offers teaching sessions about topics like lung health and allergies.
"We make it fun and the campers learn from other children who share the same experiences and understand the challenges of living with asthma," says Dr. Watson. "For the week they spend at camp, these children have something they miss for the rest of the year—a peer group."
They also have something that soothes even the most anxious parents: 24/7 access to trained counselors, medical personnel, and a doctor with more than 30 years of experience as a pediatric allergist.
The Turners value fitness and enjoy family activities. Beverly does karate with Sebastian and their dad, Ian, coaches Francesca's volleyball team. Still, they were hesitant when the IWK recommended Camp Treasure Chest.
"Most people don't appreciate how severe Sebastian's asthma is and how frightening an attack can be for both our children," says Beverly. "It's like trying to breathe through a pinched straw."
Beverly and Ian recall sharing their concerns with Dr. Watson. He asked what would happen at home if either Sebastian or Francesca had a serious attack. They told him they would call 911 and go to the IWK.
"Guess what," he said. "We're here!"
David McKeage, founder of the Brigadoon Children's Camp Society, says that parents are relieved to learn that Camp Treasure Chest offers an exceptional medical facility and round-the-clock access to full-time nursing staff.
"It was a huge comfort for our family," says Beverly Turner. "Other than visiting their grandparents, this is the first time our children have stayed somewhere overnight without us. In the past we've always gone along on campouts with Cubs and Scouts or on trips with their school. We always felt we had to be there in case of an emergency."
Both Sebastian and Francesca are clearly appreciative of their parents' advocacy and involvement, but they also welcome the opportunity to connect around the campfire with others who understand them.
"At school, I'm the kid who has asthma," says Sebastian. "At camp, I'm like everyone else. Sometimes it's really important not to feel special."