Nova Scotia is leading the way in prevention efforts with its home screening kits. They work—when people use them
Laura Simko says Nova Scotia's home screening test for colon cancer saved her life. In 2011, she had no symptoms of the disease and no family history. So she was shocked when she completed the home test and then got a call to come in for a follow-up colonoscopy—followed by a diagnosis of stage 3 cancer.
"I got the thing in the mail, and like most people I thought, 'I'm not doing this,'" says Simko, a retired elementary school teacher who lives in Lower Sackville. The test involves collecting a small stool sample and mailing it to the health authority. The prospect put Simko off. "The whole thing is gross, let's face it. It's not that I was being unco-operative, I just kept putting it off and putting it off and putting it off. But I did do it, and it turned out to be cancer. It saved my life."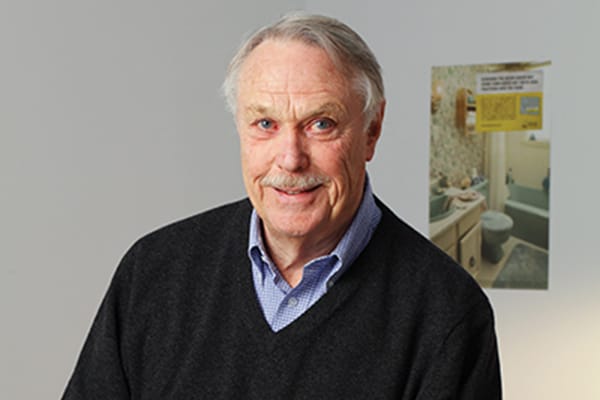 Now 64, she is very active—an avid snowboarder and tennis player—and she encourages others to overcome their reluctance and do the test. "I talk to people and they say, 'I've had it for a few weeks but I haven't gotten around to it,' and I say 'Just do it. Just do it.'"
Home screening kits
Nova Scotia introduced its colon cancer screening program, the most comprehensive in Canada, in 2009. It was phased in over a couple of years, and covered the whole province by 2011. Everyone between the ages of 50 and 74 receives a kit every two years. Last year, 175,000 of them were mailed out. Only 30 per cent of the kits are returned.
Colon cancer screening tests look for blood in the stool. That's because blood can be a sign of the polyps that can lead to the disease.
Dr. Bernard Badley set up Nova Scotia's colon cancer prevention program and is its medical director. He says the program has undergone some changes since its inception. Most significant is the adoption of a new testing kit two years ago.
"The previous test required two samples," he says, while the new one requires only one. "We thought this would make it more palatable—a funny word to use about stool—and that it would increase participation. And in fact it did. It increased it by about 20 per cent."
Most people who have blood in their stool don't have cancer. They may have polyps that should be removed to prevent them from turning into cancer, or they could have another condition that causes bleeding. But a positive result does trigger a follow-up colonoscopy.
Nova Scotia's new testing kits are more effective than the ones they replaced, and that's led to an increase in positive results—from one in 17 to one in 13. As a result, demand for colonoscopies has also gone up. "That's been a problem, particularly in the Halifax area, because they do half the procedures in the province," Badley says. "The wait time from having a positive test to getting your screening colonoscopy in the Halifax region is significantly greater than anywhere else in the province."
NS setting an example
While all provinces have some form of home screening program, nobody else sends out kits to an entire target population. Eileen Kilfoil, operations manager for cancer screening programs in Nova Scotia, says that Manitoba recently piloted sending out tests by mail and that "New Brunswick is in the process of rolling out a program similar to ours." It should cover the entire province by September 2017.
Barry Stein, president of the Colorectal Cancer Association of Canada, says, "Nova Scotia is an example for the rest of the provinces to follow. They've done an incredible job. What can they do better? It's the same thing every province can do better: a better job of increasing awareness and telling the success stories of this program in preventing cancer and curing cancer. It's in every person's interest—male or female—to have it done at 50. It's painless, it's easy to do, costs you nothing and could save your life."
In addition to taking a comprehensive approach to testing, Nova Scotia also collects data on the tests. "We do have, without question, the most sophisticated information system in the country to deal with this program," Badley says. "We have a unique colonoscopy reporting system that's computer-based, with pull-down menus and mandatory responses."
The system allows the province to compare the performance of colonoscopists. Badley says, "Five years ago we established, for the first time in Canada, a program to enhance the skills of practicing colonoscopists. There is no point in measuring something if you can't make it better, and you can't make it better if you don't offer a way to improve."
Because colon cancer can take so long to develop, it will take at least a decade to know what effect Nova Scotia's screening program has had on reducing mortality. But it clearly is working when it comes to prevention.
"Our program is not a cancer detection test, it's a cancer prevention test," Badley says. "It's designed to prevent it by finding the polyps that lead to cancer and getting rid of them. We've been successful in that, absolutely."
He adds that it's important for people with no risk factors to take the test – and that it's far better to do it before symptoms appear. "The best time to do the test is if you have no risk factors, no family history and no symptoms. A small polyp doesn't bleed. A middle-sized polyp may bleed a bit occasionally. A bigger-size polyp will bleed repeatedly, and a cancer's going to bleed. If you have one of the first kind, your test is going to be negative. If you have one in the middle, you have a 50-50 chance of catching it when the damn thing's bleeding. One negative test, two negative tests, doesn't mean you don't have something going on in the colon. I was looking at data yesterday for people who had a first negative test and a second negative test two years later. The third test was positive. If that person had quit after one or two tests, they'd have been up the gumbush. It's important to participate, but it's equally important to continue participation."
Stein, who was diagnosed with colon cancer at 40 and has since had 14 surgeries, has the same message. "On the one hand you've got a simple test, on the other, a nightmare. Which would you choose?"