QEII Foundation achieves the highest level of accreditation from Imagine Canada's Standards Programs
In January, the QEII Foundation became the first healthcare fundraising organization in Atlantic Canada to achieve the highest level of accreditation from Imagine Canada's Standards Programs. Designed to strengthen public confidence in the charitable sector, the Standards Program awards accreditation to those who demonstrate excellence in five key areas: financial accountability and transparency, board governance, fundraising, staff management, and volunteer management.
With only approximately 200 nonprofits accredited by Imagine Canada, the QEII Foundation is demonstrating to stakeholders that they are an effective and efficient organization making an impact. As an accredited organization, it is a stamp of organizational excellence.
~ QEII Foundation
Nova Scotia Breast Screening Program celebrates 25th anniversary
Last December, the Nova Scotia Breast Screening Program (NSBSP) celebrated its 25th Anniversary with a reception at the IWK Health Centre. Established in 1991, the NSBSP was the fifth provincial program in Canada to offer organized breast screening; today all ten provinces and the Northwest and Yukon Territories have organized breast screening programs and are part of the Canadian Breast Cancer Screening Initiative.
Statistics show that one out of eight women in Nova Scotia will develop breast cancer in her lifetime and that the early detection of breast cancer through screening produces better outcomes. The Nova Scotia Breast Screening Program was developed to assist in the early detection of breast cancer and offers women information on breast health and mammography (breast X-ray).
"Women of all ages who are screened through the NSBSP are shown to have a 40 per cent decrease in mortality from breast cancer compared to those who are not screened," says Dr. Judy Caines, medical director, NSBSP. "In the past 25 years mortality from breast cancer in Nova Scotia has gone from the highest in the country to one of the lowest."
Nova Scotia is in a unique position in that all breast imaging in the province, whether screening or diagnostic, is captured under the umbrella of the provincial breast screening program in a single database. It is also the only province to eliminate opportunistic screening meaning that asymptomatic women are imaged in the screening program and not in the diagnostic system, freeing up diagnostic appointments for symptomatic women who need to be seen at a greater urgency.
Since its inception the NSBSP has performed over one million screens on more than 210,000 women. The combined screening plus diagnostic participation rate in Nova Scotia for women 50-69 years of age is currently 62.7 per cent.
"Mammography is the gold standard for breast screening and we are so fortunate that this pro-gram is in place, ensuring women are receiving exceptional services," says Jocelyn Vine, vice president, patient care & chief nursing executive at the IWK Health Centre.
The NSBSP is a provincial program established by the Department of Health and Wellness and is currently governed and operated by the IWK Health Centre.
~ iwk.nshealth.ca
Online tool aims to improve surgical experience for children with ASD
An online tool is being tested in hopes of helping children with autism spectrum disorders (ASD), their families and healthcare providers feel more comfortable when it comes time for surgery. Building Alliances for Autism Needs in Clinical Encounters: Surgery Edition (BALANCE) teaches healthcare providers about ASD and ways they can effectively tailor care to meet the individual needs of each child and family.
"There are lots of things that can affect children and families' experiences with surgery," says Stephanie Snow, research lead and PhD candidate in psychology. "In our early work, we learned that healthcare providers can set the stage for positive experiences, so we wanted to make a program to support them in providing care."
Children with ASD have unique sensory, emotional, and communication needs that can make healthcare experiences challenging. Surgery can be especially challenging for children with ASD because it involves children meeting many new people in a fast paced environment with lots of sensory stimuli such as bright lights and cold operating rooms.
"Our staff are very skilled, but sometimes feel uncertain about how to best care for each unique child with ASD," says Dr. Sally Bird, an anesthesiologist at the IWK. "The BALANCE program will help healthcare providers feel more comfortable using their skills and collaborating with the family—and each other."
BALANCE delivers much of its content through videos featuring children with ASD, their families, healthcare providers and researchers. Researchers will also collect information from families of children with ASD about their experiences having surgery at the IWK as well as from the health care providers who participate in BALANCE. Once testing of the platform is complete it is hoped that BALANCE will be incorporated into orientation of all new clinical staff.
"Healthcare professionals do not need to be autism experts in order to have a successful en-counter with an autistic child. In most cases, the person with the most expertise about the child is standing right beside them: the parent," says Amy Spurway, a parent featured in the program. "BALANCE seeks to train healthcare providers in a family-centred model of care that emphasizes asking questions, and approaching the child and family with a collaborative, compassionate and communicative spirit."
~ iwk.nshealth.ca
Switch from mask to portable inhaler improves pediatric emergency department visits
A recently published study out of the IWK Health Centre indicates that switching how salbutamol (e.g. Ventolin) is administered to pediatric asthma patients presenting in the emergency department reduces hospitalization and is more cost effective.
Traditionally salbutamol, an adrenergic bronchodilator or reliever used to treat wheeze, has been delivered to emergency patients by nebulization (NEB) through a mask. Evidence now shows that if the medicine is administered through portable pressurized inhalers with valved holding chambers (MDIs) there are benefits to both patient and hospital.
Salbutamol administered by inhalers is associated with less rapid heartbeats and tremor, a decreased risk of hospital admission, and a decreased length-of-stay in hospital. Salbutamol by MDIs also results in increased child and parent satisfaction and may reduce staff and caregiver risk during respiratory epidemics. Finally, using this method in the PED provides an opportunity for families to practice the technique that they will use to manage asthma when they get home.
"Successfully adopting the new practice took a collaborative effort between nurses, physicians and administrators in our emergency department," says Dr. Katrina Hurley, emergency physician at the IWK and the research lead. "Everyone had an opportunity to directly observe the benefits to patients and families, making the change very rewarding."
Although many PEDs in Canada accept MDIs as a preferred method for salbutamol inhalation, one of the factors linked to resistance to switching salbutamol inhalation methods was the perception of increased cost. Evidence from the IWK study suggests the opposite is the case. Treatment with MDIs versus NEB was associated with a 4.4 per cent decrease in hospitalization and a 25-hour reduction in average inpatient stay. This resulted in savings of $24 per patient in the PED and $180 per patient overall. Inpatient care accounts for more than 90 per cent of total patient costs.
The emergency department at the IWK sees approximately 2,000 children each year presenting with an acute wheeze-related illness. Patients are reminded that if they experience an asthma emergency they should see a physician immediately.
Funding for the research project came from the IWK Health Centre, Osman Summer Research Studentship from the Faculty of Medicine, Dalhousie University and Ingrid Sketris' Chair in Health Service Research, funded by the Canadian Health Services Research Foundation (CHSRF)/Canadian Institute of Health Research (CIHR), co-sponsored by the Nova Scotia Health Research Foundation (NSHRF).
~ iwk.nshealth.ca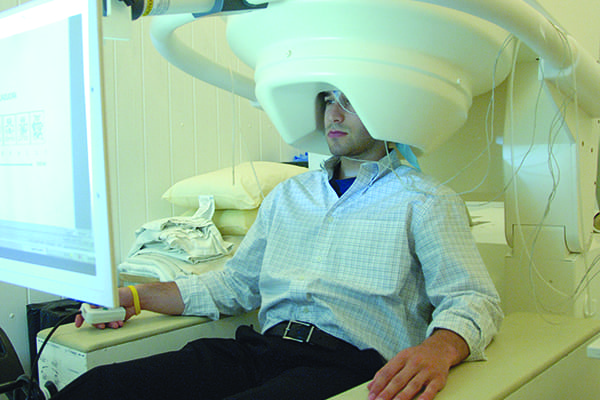 New clinical mandate for IWK's BIOTIC imaging lab
The IWK is one of only three hospitals in Canada to use magnetoencephalography (MEG) clinically. Up until recently the IWK MEG lab has been used exclusively for research. It is estimated that per year 25 to 40 patients in the region with epilepsy will benefit from a clinical MEG procedure.
"Medication-resistant epilepsy can have a drastic impact on the life of a patient and their loved ones for the rest of their lives. About one in three patients are resistant to medications and are potential candidates for surgery," said Dr. Ismail Mohamed, a pediatric neurologist at the IWK. "Magnetoencephalography is a superior addition to the tools that we currently have for determining the suitability of the patient for surgery."
Current estimates suggest that up to 4,000 adults and 1,000 children in Atlantic Canada suffer from drug-resistant epilepsy. Surgery removing pathological brain regions (to alleviate seizures) while retaining "eloquent" brain regions (to maintain function) is the only curative therapy. Post-operatively, between 50 to 90 per cent of patients are seizure-free or have a dramatically lower frequency of seizures.
MEG is a passive (no radiation, sound, or magnetic field) and non-invasive medical technology for imaging normal and pathological brain activity. There are no risks associated with MEG scans, making them a safe and patient friendly medical device, which is ideal for pediatric patients.
MEG scans help clinicians to make better decisions and offer safer, curative surgery for patients with epilepsy or brain tumour.
"The development of a clinical MEG service at the IWK is an outstanding example of how research is contributing to care," said Dr. Patrick McGrath, Integrated VP Research, Innovation and Knowledge Translation at the IWK. "This innovation is bringing Atlantic Canadians the best care possible."
~ iwk.nshealth.ca
Maritime Newborn Screening Program expands
Newborn babies from the Maritime provinces will soon benefit from earlier detection and treatment for severe combined immunodeficiency (SCID) disorder.
All babies born in the Maritime provinces have access to newborn screening and are screened for a number of serious, but treatable disorders, including metabolic, endocrine and blood disorders. In March SCID was added to the screening panel.
SCID is a disorder that leads to a deficiency or dysfunction of the baby'simmune system. Babies with SCID are not able to fight off common infections, such as a cold, flu, or pneumonia so these infections can be life‐threatening. Early identification of SCID through newborn screening and treatment for SCID is critical to prevent adverse outcomes and can lead to longer, healthier lives, improved quality of life, and reductions in the number of emergency room visits and hospitalizations.
The Maritime Newborn Screening Program is the second in Canada to provide this screening. Currently, the IWK Health Centre does newborn screening for all babies born in Nova Scotia, New Brunswick and Prince Edward Island.
~ iwk.nshealth.ca