Is it the "wear and tear" disease? New research suggests that this isn't the case.
One night while working as a Licensed Practical Nurse (LPN) at a nursing home in Lockeport, Nova Scotia, Tina Harvey dropped something on the floor. When she stooped to pick it up, she felt a pain in her left knee as if she'd twisted it. Tina says it swelled three times the regular size, but she still worked the rest of her shift. A hard-working woman all her life, the mother of two dismissed the pain in her knee as another on-the-job injury.
The next day at outpatients, a doctor told her it wasn't an injury at all. She had severe osteoarthritis (OA) in her knee. After a few corticosteroid injections, she was told the only solution was knee-replacement surgery. "Once I aggravated it, the pain never went away," Tina recalls. Within a year, Tina had a new knee. That was 2012, when she was 47. She hasn't been able to work since that time.
While the diagnosis of OA in her knee came as a surprise to Tina, it made sense. She was first diagnosed in 1999 with OA in her right hip. In 2003 at age 38 when her youngest son was just two years old, she had her right hip replaced, followed six years later by her left. Since her knee replacement in 2012, doctors have found the disease in both shoulders, her hands, all her fingers and her neck and back. "I lost my job after 22 years. Regular housework is really hard. You don't get to do the things you want to with your kids. It's been quite a trial."
Tina is one of more than three million Canadians—about one in ten—living with OA. It's our most common form of arthritis and occurs more often in women than men. Arthritis is the number one cause of disability among Canadian women and number three for men. According to a 2008 Statistics Canada study, Nova Scotia ranks number one as the province with the highest prevalence of arthritis in Canada, at 23.5 per cent of the adult population. That number is expected to rise with the aging of the baby boomers because the likelihood of developing arthritis increases as we get older.
Tina's diagnosis is consistent with what the medical community believes are the major causes or risk factors associated with OA. The disease is nicknamed the "wear and tear" arthritis because, as Canada's Arthritis Society explains on their website, OA is "the result of the body's failed attempt to repair damaged joint tissues." As an LPN, Tina worked hard, 12-hour shifts, which often involved lifting her clients. Nursing in a seniors' home means a lot of stresses on the body. "Ever since I graduated, I've been working on those cement floors," says Tina.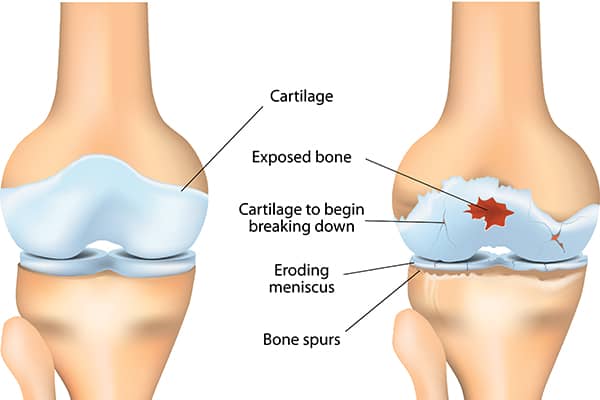 According to the Arthritis Society, there are four main risk factors when it comes to OA: age, family history, excess weight and previous joint injury. In other words, aside from genetics, OA is caused by a lifetime of wear and tear from which the body has difficulty recovering. According to the society's website, "ballet dancers, professional musicians, elite athletes and construction workers are at particular risk." LPNs might be added to that list.
The eight authors who published a paper on OA in the July 2017 Proceedings of the National Academy of Sciences of the United States of America entitled "Knee Osteoarthritis Has Doubled in Prevalence Since the Mid-20th Century" looked into the recent rise of the disease. They set out to test the theory that because life expectancy and obesity have both increased in the last half century, they are the two major causes in the increase in cases of OA.
To test the theory, the authors looked at long term trends in the prevalence of osteoarthritis of the knee by examining skeletal remains of people aged 50 and older in the early industrial era (the 1800s to the early 1900s) and in prehistoric hunter-gatherers and farmers (from about 6000 to 300 years ago) to compare them to those of the last half century. Having controlled for age, body mass index (BMI) and other factors, the authors concluded, "Our results indicate that increases in longevity and BMI are insufficient to explain the approximate doubling of knee OA prevalence that has occurred in the United States since the mid-20th century." In other words, the study casts doubt on the long-held theory that OA is the "wear and tear" arthritis.
The study suggests that the relation-ship between physical activity and osteoarthritis is more complex than originally thought. The Arthritis Society says that while some types of extreme and repetitive physical activity may increase the risk of osteoarthritis, too little activity may also be a risk factor. It may be that as technology makes life easier and we drive more, watch more TV and spend more time on our phones, we are increasing our risk for many illnesses, including osteoarthritis. The authors conclude that knee osteoarthritis can now be considered a "mismatch disease." In other words, as our bodies become increasingly mismatched with our modern environment, we see corresponding rises in OA and other diseases "such as hypertension, atherosclerotic heart disease, and type 2 diabetes, that also have become epidemic during the last few decades."
While there is good news, according to the study that, "many modern cases of knee OA may be preventable" through changes in lifestyle, people like Tina Harvey suffer. There are treatments to alleviate symptoms of OA like pain and inflammation, but there is no cure. If science does heed the call in this study for more research into the causes of OA, results may someday lead to prevention. In the meantime, people like Tina continue to live with the disease.
"The worst pain is in my shoulders and fingers," Tina says. Because of allergies, she is limited to certain types of over-the-counter oral and topical pain medications for relief. "I try not to take anything, if I can help it." She also gets injections of corticosteroids in her fingers every couple of months. "The rest of it I can deal with, I guess."
For more information, contact The Arthritis Society with branches in each province. Their website arthritis.ca has an introductory 20-page pamphlet called Osteoarthritis: Causes, Symptoms and Treatments. Or call them at 1-800-321-1433.