Acupuncture is one of the most sought-after alternative therapies, and can be used to treat a wide range of ailments.
After a shoulder injury sent her to hospital in excruciating pain, Donna Gillespie was desperate for relief but wary of resorting to pain medication, as she prefers to avoid pharmaceuticals whenever possible.
"I've given birth to four kids without any drugs, but this was the worst pain I'd ever experienced in my entire life," Gillespie says
Her problem began after a fall while out skating with friends on the lake near her house. "I was skating backwards and hit a hole in the ice," she says. "I fell and held myself rigid as I hit the ice. It hurt, but then it just kept getting worse and worse."
The pain had been building for days and her usual remedies for this sort of thing—rest and massage therapy—weren't working and the pain hit a tipping point. A trip to the hospital gave her a diagnosis: frozen shoulder (Adhesive Capsulitis), which—as the name implies—is stiffness and pain in the shoulder joint that makes movement extremely difficult. The condition usually comes on slowly after an injury, or surgery, and can take months, sometimes even years, to resolve. Not wanting to wait that long, Gillespie talked to her massage therapist about her options. The therapist recommended she try seeing a chiropractor who, in turn, recommended some sessions of acupuncture.
It worked.
"She did needles in my shoulder and down my back," Gillespie says. "It was a slow recovery process but I began to feel better right away," Gillespie says.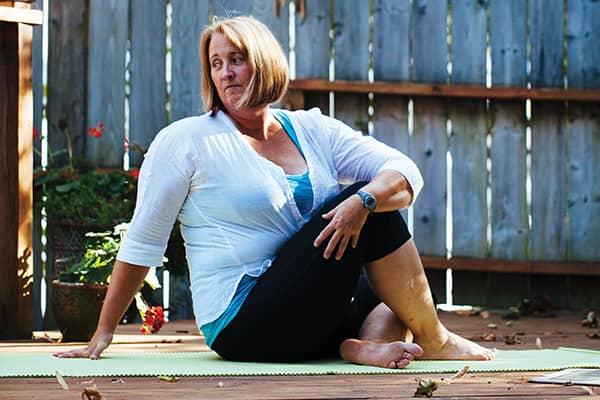 What Is Acupuncture?
Acupuncture is one of the most widely used alternative therapies. In traditional Chinese medicine—where it has been practiced for more than 3,000 years—acupuncture involves inserting long, fine needles into the skin at key points throughout the body. Acupuncturists who have trained under the traditional Chinese medicine model believe that the treatment works to stimulate qi or energy flow, which circulates along meridians through the body and is essential for good health.
"It stimulates points on the body to bring it into balance and allow the healing process to begin," says Lisa Gallant, an acupuncturist based in Dartmouth, NS. "From a Western medical standpoint, studies show that acupuncture stimulates the nervous system and therefore activates endorphins and hormones. This in turn may influence physiological processes of the body. Many studies are always being done to prove how and why it works. It is all interconnected, which is what makes traditional Chinese medicine so effective."
Gallant got her training in acupuncture from the Canadian College of Acupuncture and Oriental Medicine in Victoria, BC. After receiving a three-year diploma of acupuncture she went on to do a fourth year at Pacific Rim College, earning a diploma of traditional Chinese medicine as well. After graduation in 2011, Gallant returned home to Nova Scotia, where she began working as an acupuncturist at Natural Path Wellness in Dartmouth.
Gallant has experienced for herself how well it can work. As a young woman growing up, she had struggled with digestive issues, eventually diagnosed as irritable bowel syndrome (IBS). After years in and out of doctors' offices, trying various treatments and medicines, Gallant went to a naturopath, thus starting her interest in acupuncture. "I finally started to get results and begin feeling some relief. It changed my path completely."
What Does Acupuncture Treat?
Acupuncture can treat a wide range of ailments. The World Health Organization recognizes its use for everything from digestive disorders and respiratory problems—such as sinusitis, bronchitis and asthma—to neurological and muscular disorders—headaches and pain, osteoarthritis, sciatica and frozen shoulder, as in Gillespie's situation. It can also be used to treat urinary, menstrual and reproductive disorders and problems.
Michelle McNeill is co-owner of Five Corners Wellness, in Dartmouth, NS. A registered acupuncturist who received her training from the Canadian College of Acupuncture and Traditional Chinese Medicine in Bedford, NS, McNeill furthered her studies with a month-long internship at Liaoning Zhong Yi Yao Hospital in China.
While she regularly uses acupuncture to treat a wide range of ailments, McNeill says some of the most dramatic results are with stress and anxiety-related issues, and for treating infertility.
"To see the anguish of a couple who have been trying to conceive and then, after just a few treatments of acupuncture they call to tell me the good news, it's very rewarding," McNeill says.
Preliminary results from a 2014 study in the Women's Journal of Health indicate that "acupuncture may improve menstrual health and coping for women experiencing delays falling pregnant," while noting that "the actual mechanisms involved are not yet clarified" and that further research is still needed.
What Does The Research Say?
Over the past couple of decades, ever since acupuncture became more available and sought after in North America, the National Institutes of Health (NIH) in the United States has backed a variety of studies and clinical trials to gain a better understanding of acupuncture's efficacy. It is now well-documented that the stimulation of acupuncture points affects both the central and peripheral nervous system, triggering the release of endorphins and other analgesic effects within the body, which has benefits for a wide range of conditions and ailments.
While research has shown acupuncture's value as a treatment, in particular for back and neck pain, osteoarthritis and knee pain, and headaches, the National Center for Complementary and Integrative Health (the primary NIH organization for research on acupuncture) states: "researchers are only beginning to understand whether acupuncture can be helpful…for other health issues." Adding that "many factors—like expectation and belief—that are unrelated to acupuncture needling may play important roles in the beneficial effects of acupuncture on pain."
In other words, some of the effectiveness may be due to what's known as the "placebo effect."
Dr. Ben Connolly is a naturopathic doctor. He is trained and certified in acupuncture, which he uses at Cornerstone Naturopathic in Upper Tantallon, NS—a clinic he owns with his wife, Julie Connolly—and their two satellite clinics in Yarmouth and Bridgewater. Connolly agrees that more research is needed but says his own experience with patients is that it does show benefit.
"Research shows acupuncture is extremely safe with very little risk to the patient when received from a trained professional," he says. "In my experience it is a positive adjunct to an overall treatment plan, based on each individual patient and their own needs."
Who Does It?
The question of training can be somewhat tricky for the average healthcare consumer to figure out as some people are trained solely as acupuncturists, while others—such as doctors, physiotherapists and other health professionals—also provide acupuncture as an additional treatment.
Christene Misener is a registered physiotherapist who works at Kinesis Health in Dartmouth and has practiced acupuncture for more than 20 years. Misener received a certificate in acupuncture from Acupuncture Canada in 1997 and became an instructor with the Acupuncture Foundation of Canada Institute in 2001.
While many acupuncturists come from a traditional Chinese medicine background, Misener's training and practice is more of a blend between the Chinese method and a conventional Western approach.
"I like how acupuncture works with the body," Misener says. "For me, I came to it through my interest in neurology. I like how acupuncture uses the neuroscience of the body to heal itself. I use acupuncture to treat pain and deal with muscle imbalances in the body, although I treat for a broad scope of issues, not just muscular pain."
Acupuncturists are regulated in Newfoundland and Labrador, Quebec, Ontario, Alberta and British Columbia, which means that practitioners must meet a minimum standard of training to practice in those provinces.
"I'd like to think we're close [in Nova Scotia] to getting regulation," says Lisa Gallant, who had to pass board exams following her training in BC. "It protects the public so they know what they are getting when they book in for acupuncture."
In the absence of regulation, it is up to the healthcare consumer to determine whether or not they feel safe with the level of training a practitioner has. Gallant recommends that people ask about the practitioner's education background and whether or not they are registered, as that has bearing on the insurance they carry and ensures they meet certain standards regarding their knowledge and use of acupuncture.
Part Of a Holistic Approach
Gillespie's bout of frozen shoulder resolved after receiving acupuncture twice a week for one month, then once a week for another month.
Although she has not needed acupuncture again, Gillespie says she would not hesitate to seek treatment for pain or other ailments if she needed to, as it aligns with her belief in naturopathy and complementary treatments as part of a good preventative medicine plan that takes a more tailored approach, based on the individual person and their needs.
"I feel like in our society, in our medical model, we get siloed. We have specialists for things and you just go to the specialist and that's it… when you see a naturopath, they see the patient as a whole person. That holistic approach has been much more beneficial for me than the one-off approach."