Jennifer Fiander snuggles with her son Cameron. She holds her cheek next to his and makes a little con-tented hmmm sound. Cameron responds in the same manner. It's their way of saying, "I love you." It's one way Jennifer and her husband Corey have learned to communicate with their non-verbal son.
Nine-year-old Cameron has Angelman Syndrome (AS), which is a neurogenetic disorder that occurs in 1/15,000 live births. It is named after the doctor who discovered it in 1965, Dr. Harry Angelman. AS children are non-verbal, most do not say anything or just a very few words. They have very poor fine and gross motor skills. They have seizures, as well as difficulty eating and drinking. They are known for their usually happy demeanour-although, Jennifer says Cameron can have his fussy moments. "I think a lot of the fussy part is because he can't communicate what he wants and he can't go and get it for himself because he can't walk or crawl," she says. "We have to figure out what we think he wants."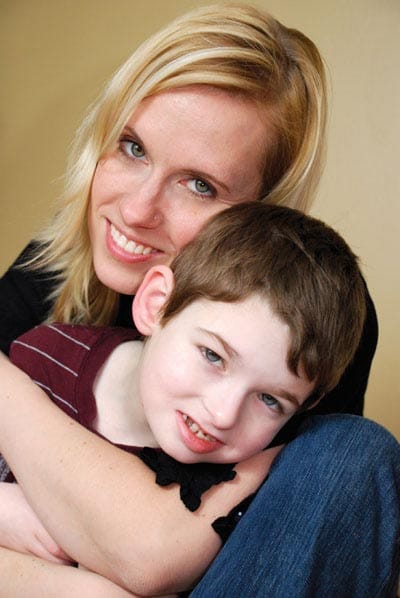 Cameron goes to a regular grade 4 class in their town of Hampton, New Brunswick. He doesn't do the academic work; is physically much smaller than his classmates, and has a full-time teacher's assistant (TA).
Jennifer, a former elementary school teacher, wrote a story about Cameron to share with his classmates. "It's about why he has braces on his legs for walking, why he doesn't talk, why he has a tube for feeding and why he needs a person to help him." She's updated the story as Cameron grows and shares it with teachers and other classes as well. She and daughter Kennedy also made a poster to explain non-verbal communications (expressions, gestures and signs) that they use with Cameron. They also send recorded messages back and forth between home and school so that Cameron's classmates get to know more about his life. His classmates have connected more with him because of it.
"We almost moved back to Nova Scotia this summer," Jennifer says, "to be close to the IWK. The only reason we didn't was because our school system here and the people in our small community are so accept-ing. They are just phenomenal. Cameron has a great TA and a great school."
That community rallied to help pay for a wheelchair van for Cameron. Jennifer had successfully applied for funding through President's Choice Children's Charity and received $20,000. Local community groups including the Lion's Club and the Rotarians and others, raised the balance. President's Choice Children's Charity also named their Christmas fundraising bear after Cameron, with a portion of the proceeds going toward the charity.
Over the years, Jennifer says the IWK has been a great comfort. When Cameron was born at the Saint John Regional Hospital, Jennifer knew something was wrong. Even though her baby boy looked healthy, he couldn't nurse and his reflexes were delayed. "Cameron didn't develop the milestones; he wasn't sitting up, wasn't rolling over, he didn't sleep at the right times. We had seen the ear, nose and throat specialist to make sure everything was formed fine. We saw a neurologist because of his questionable reflexes and everything seemed to be okay."
Cameron had reflux problems and couldn't keep anything down. With limited resources in New Brunswick, Jennifer did her own research and found out if she thickened his formula, it would stay down. When Cameron was eight months old he stopped drinking from a bottle for two weeks. He was really dehydrated.
While the neurologist in Saint John made the diagnosis of Angelman Syndrome from a blood test, and did another test on Jennifer to ensure she wouldn't pass this condition on should she have more children. But they didn't have much information. The family had a lot of questions and no answers.
"When Cameron was one year old we decided we wanted to move to Nova Scotia, partly because we would be close to the IWK, and partly because Corey was able to get a job transfer. At the IWK Cameron saw physiotherapists, occupational therapists, a neurologist, a paediatric dentist and the developmental team. He had tests for reflux, swallowing studies and different gastric treatment. He was seen for seating for his first wheelchairs and was fitted for standers."
And, just as important, Jennifer got answers and lots of support. "When we went to Nova Scotia and got pregnant with our second child, Kennedy, we got prioritized because we were already expecting to see the genetics team at the IWK. That was amazing. They've got the room and the couches and the Kleenex. They sit down and look at everything, explain things to you, answer questions. They tell you it's not your fault. They are an amazing resource," she says.
When Cameron was admitted to the IWK for a week last May, Jennifer had another talk with the genetics team and they listened to her concerns. Cameron is also on a ketogenic diet to help prevent seizures. The hospital nutritionist gave training sessions to Cameron's parents and is only a phone call away when they need advice.
Jennifer says society's perception of children with disorders has changed dramatically in recent years. A few years ago, people who were different for whatever reason were not out in society. They were not part of everyday life, not respected for who they were. She hopes that by her being so open, people will be more accepting and will recognize the value of having a child like Cameron in a regular classroom. She doesn't want to hear that people are sorry for her. She isn't sorry to have an incredible son like Cameron.
"Life is hard, but we can't imagine not having Cameron in our family. I always knew I loved children and wanted to work with children but I struggled with, 'What is my purpose?' And then I had Cameron and I never, ever wondered again. I belong to a listserv for parents of AS children and some parents have intentionally adopted children with Angelman Syndrome because they are such nice children."
Jennifer is an enthusiastic advocate for Angelman Syndrome children. She started her own online business Li'l Angel Gifts, inspired by a special needs journal she developed for keeping track of Cameron's treatment. In 2008, Jennifer/Lil' Angel Gifts was named eBay Canada's "Mompreneur of the Year."
Cameron will be featured on the 2010 IWK Telethon broadcast this year in June and is being promoted as ambassador for the Telethon in New Brunswick starting in January.
For more information on Angelman Syndrome go to www.angelman.org and for Jennifer's website go to www.lilangelgifts.com.