Getting to know Joanne MacDonald.
Joanne Macdonald is a wheelchair sports pioneer. Born with spina bifida, she competed in Canada's first Paralympic Games, in 1976. She's won 61 medals in sports such as track, basketball and table tennis, and numerous athletic awards. Last December, she was named an Officer of the Order of Canada "for helping to empower her peers by challenging stereotypes and promoting equality." Saltscapes spoke with Joanne about her family, fairness and hope.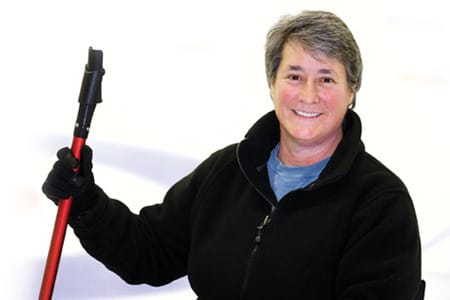 Q What was your early life like?
A I went into foster care when I was six. I spent a fair bit of time in hospitals, orphanages and other foster homes before I went with the family I ended up staying with.
Q Your mother gave you up at birth?
A She was young and new to the city of St. John's. She didn't feel comfortable about bringing a baby back home and certainly a baby who had a disability. She was from a large family and very poor, and having a child out of wedlock had shame attached to it.
Q Did you have much to do with your biological mother?
A I never met her. She died in April, 1994. My foster mother died a month later. It seemed so symbolic.
Q What do you know about your father?
A Not a thing. But I have an interest in genealogy, and have determined I have some good Aboriginal genes. Mi'kmaq.
Q Why did your high school ban you from sports?
A There was a concern I might get hurt. Looking back, I wish I had been allowed to participate-I wasn't involved in wheelchair sports until I was 21. Having a disability and being a foster kid, you didn't need another reason to be removed from your classmates.
Q How did your classmates treat you?
A Very good. There were more issues with being a foster child than having a disability. It meant that a mother and a father didn't want that child.
Q Was there a moment you decided to become an athlete?
A I was in a standard wheelchair competing in my first national competition in track. The gun went off and within 20 metres, my front wheels started to shimmy, which literally stopped me in my tracks. I was, you might say, a little upset. I said to myself, well that's it. If I'm going to do this, I'm going to have to do this properly.
Q What was driving you?
A I'm very competitive. I really enjoyed training, competing, travelling. If I could finish an event knowing I went into it fully equipped and fully trained and did my best, then wheeling off that track and congratulating the other people wasn't nearly as difficult.
Q What you wanted was a fair chance.
A To give myself a fair chance. Absolutely. I want others who are individuals with disabilities to have the same kind of opportunity as anyone else in this world.
Q You once demanded the arrest of a man who constructed a building without wheelchair accessibility.
A I presented myself at the Royal Newfoundland Constabulary. They didn't know what to do with me. We were trying to make a point.
Q You've taken up photography?
A As a little girl, I took pictures of my family. Now, I don't go to bed without my camera. If I were reborn, I'd want to be a photographer.
Q What do you find discouraging?
A Attitudes, ignorance, people judging people.
Q What makes you hopeful?
A People.
Q What do you do for exercise these days?
A I just started curling, which I'm enjoying. We're hoping we go to the Nationals in March.