Seeing Cape Breton's landscape and culture through Irish eyes.
Smashing! Really smashing! The only ice we get in Ireland is in our drinks!"
Maire Neville, a university exchange student from the west coast of Ireland, climbed down from a large piece of pack ice near Cheticamp, in Cape Breton. It was a beautiful Sunday afternoon last spring, and she had just spent 20 minutes scrambling on the extensive ice "clampers" rafted up on shore.
She spoke with a lovely Irish lilt, characteristic of someone from the city of Limerick. Located on the River Shannon, Limerick has a population of about 91,000, and is home to 10 institutions of higher learning. One of these, the University of Limerick, has an exchange program with Cape Breton University, on the outskirts of Sydney; Maire and the three other students with her that day were part of an international student exchange program.
The young Irish visitors, accomplished musicians, were enrolled in the Bachelor of Arts in Irish Traditional Music and Dance program at home. They were here four months studying Cape Breton-style Celtic music.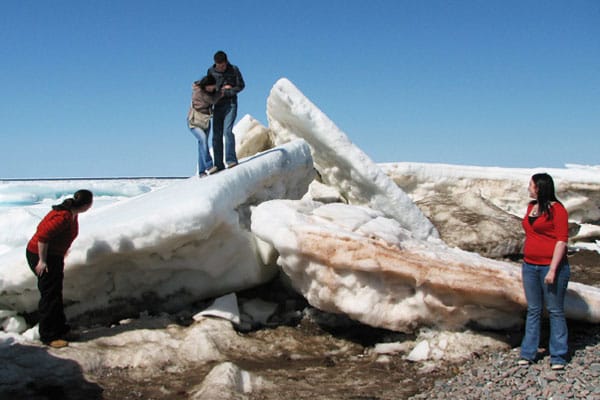 So why would four extremely talented young Irish musicians cross the Atlantic Ocean to study Cape Breton music?
The Cape Breton style of fiddle playing is recognized internationally as a unique form of traditional music. It came to Nova Scotia with the Gaelic-speaking immigrants from the highlands and islands of Scotland, most of whom arrived between 1770 and 1850 as a result of the infamous Highland Clearances.
The music has survived largely intact in Cape Breton, while the original culture has virtually disappeared in Scotland. The relative isolation of Cape Breton as an island, with its weak cultural assimilation-especially in Inverness and Victoria counties-has resulted in one of the few remaining authentic Celtic cultures in the world, arguably the only one outside Europe.
As an unexpected result, many of Ireland's and Scotland's young musicians come to Cape Breton to experience this vibrant tradition first-hand. Although some come on their own, and others as part of the annual Celtic Colours International Festival, most are participants in an international student exchange program, such as the one between Cape Breton University and the University of Limerick.
I spent several hours at Cape Breton University with Caroline Murphy and Naill Fitzgibbon, both third-year exchange students from the University of Limerick. Caroline, from Galway, plays the button accordion, while Naill plays the fiddle, guitar and bouzouki, a Greek instrument similar to the mandolin. University or college level tuition is inexpensive in the Republic of Ireland; it's "free" for anyone who has lived in the European Union for a minimum of three years, although students pay a registration fee ranging between $800 and $1,000, depending on the program, and they're responsible for residence, meals and books. In contrast, a year's tuition in the Bachelor of Arts in Celtic Studies program at Cape Breton University is $5,840.
While in Cape Breton Caroline and Naill were studying a history of Celtic music, with special emphasis on Scottish and Cape Breton musical traditions, and the history and social context of Celtic music with reference to Ireland, Scotland and Cape Breton. Naill was also taking Fiddle Music for Dancing, a course taught by one of Cape Breton's finest Celtic fiddlers, Kyle MacNeil of The Barra MacNeils.
Back to our trip last spring: pianist and guitarist Mario Colosimo and I had offered to take four exchange students on a tour around the Cabot Trail. I first became acquainted with these young musicians at the Thursday evening traditional music jam sessions held at Rollie's Wharf, a popular restaurant and lounge in my home town of North Sydney.
Although the students were a little reluctant to participate the first two weeks, preferring to sit and listen, when they did break out their instruments they became an integral part of each week's session.
Following lunch in Cheticamp, they asked to see the pack ice up close. The warm waters of the Gulf Stream ensure that Ireland has relatively mild winters. The temperature seldom falls below freezing, and snow and ice are found only on mountain peaks. Snow tires, winter boots and salt on the roads were therefore an unexpected part of their Cape Breton experience, as was this opportunity to cavort among the ice formations along our western shore.
Afterwards, we headed up French Mountain, the first of five mountains we would traverse that day. Although we didn't see any moose, we did visit a winter survival cabin on the top of MacKenzie Mountain, passed several frozen waterfalls, and saw hundreds of seals basking themselves in the warm afternoon sunshine.
Although I may be a little biased, and with all due respect to the scenic brilliance of our autumn colours, winter/spring is my favourite time of year around the Cabot Trail, especially after the pack ice arrives in early February.
There is no traffic to speak of; the scenic look-offs are solitary places. Many of the restaurants and motels haven't opened for tourist season yet, but you can always get something to eat in Cheticamp, Cape North, Ingonish and Wreck Cove.
Early that evening we arrived at the home of fiddlers Paul Cranford and Sarah Beck, about halfway between Cape Smokey and Baddeck. A hearty supper was followed by a wonderful ceilidh-the exchange students had brought along their musical instruments in the back of our rental van.
By the time we took the little cable ferry at Englishtown and made our way up and over Kelly's Mountain and back to the university, our young visitors were asleep in the back of the van. Our Cabot Trail excursion covered about 240 miles-a significant distance in a small country such as Ireland or Scotland-over roads well-known to me, but I saw them that day as if for the first time.