Rather than chatting on Facebook, my gang and I make it a point to get together face to face - the original social networking.
Many people have recipes for happiness. Some go south in cold weather; others stay home and ski. In spring gardeners attend to sprouting greenery; fishermen head for water anywhere. Some folks devote energies to family and friends; others volunteer for worthy causes. Whatever it is that we do for satisfaction, we usually do it with or for other people.
We, my gang and I, get our jollies from gathering on a regular basis for food and chatter. We're a group of seven-three guys and four gals-and our usual watering hole is the Esquire Restaurant on the Bedford Highway in Bedford, NS.
We straggle in around 7:30 on Saturday mornings, put a few tables together and park ourselves for the next couple of hours. When each person arrives there's a round of hugs and kisses-and when we part the same thing happens. It's as though we've not seen one another for years, and won't see each other again for…well… at least seven days!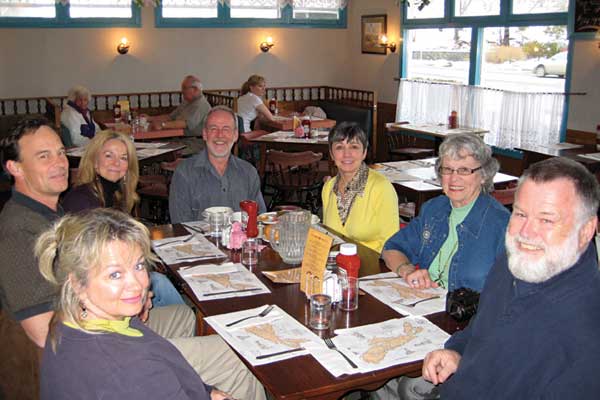 The Esquire is a bustling place on weekend mornings, with all ages present-from the highchair crowd to the elderly. We can usually tell who is travelling, who is having an affair, who partied last night and what sports teams are competing. We get a giggle out of the couple who sit quietly staring at anything but each other, never exchanging a word.

We tend to dominate our corner with chitchat and laughter. Sometimes we think the regulars come just to watch and listen to us! Topics range from the meaning of words to the meaning of life; to books we've read or want to read; to what one of us is wearing, who had a haircut this week, or what we're doing for the rest of our lives.
We never talk about work. We don't share workplace interests-in fact I don't even know what work each one does. Generally yes, but specifically no. Whatever the topic, be assured there will be a quip that dissolves into gales of laughter-and on it goes.
Saturdays are sacred. And, for some reason, so is the Esquire. Occasionally we venture out to a different venue. On Wayne's recommendation we recently tried a delightful spot on Portland Street in Dartmouth, Our Thyme Cafe, operated by the Elizabeth Fry Society for and by women "at risk of becoming in conflict with the law."
It's a bright, cozy, pleasant place with a good breakfast at a good price. We chuckled when our plates arrived-the chef had made a happy face with the food on each plate! That reflects the disposition of the people who work there. I can't say I've had a more pleasant waitress anywhere! We will return again soon, probably for lunch. It's rumoured that the soups are to die for!
But back to our usual haunt. Why the Esquire? We don't know! This topic came up when we met there recently for dinner (two-for-one nights are our favourite). Wayne thinks it's because it is such a welcoming, community sort of place. Noreen says it's because it's open early and the parking is good. Ian is always late-he likes it because they serve him quickly, so he can catch up.
Jo says she doesn't care where we meet as long as we're together, but I suspect she prefers the Esquire because of the porridge. Colleen didn't say so but I think it's because she can wake up slowly over multi cups of coffee. Derek likes it because he can have his harem of friends around him. And me? It's because of the friends and conversation-and I don't want to miss anything!
We all agree that the staff at the Esquire is special-we like returning partly because of them. Many have been there for longer than we've been gathering, and that has been for a dozen years or more. The Esquire opened in 1955-it changed ownership in 1998 but nothing about the atmosphere has changed. It's as solid and constant as our friendship!
We go in separate directions when we part. Some go to the market or the gym; perhaps to the cabin on the lake. When we parted the other night Wayne was departing for a few days in Brazil, Jo to Sydney, Derek and Noreen to Cuba, Colleen just got back from the sunny south, Ian was headed to Montreal-and I was going home. We always look forward to our next gathering, when tongues will flap with questions and repartee, and the bonding gets cemented again.
We all agree that our Saturday mornings are a great way to start the weekend. We part, each with a happiness in our gut that lasts for the next couple of days. Our collective regret is that we miss the last hour and a half of Stan Carew on CBC Radio's Weekend Mornings. Stan primes me with excitement and anticipation during my hour-long drive to the Esquire. Often I sit in the parking lot waiting for a break in the programming so I can turn the car radio off. If we could talk any restaurant into airing CBC Radio One from 6 to 9 a.m. on Saturdays, we'd switch allegiance in a heartbeat!
People seem to be enthralled these days with all things net related. Some tweet on Twitter, others connect on Facebook; and strangers meet first online, then for coffee and dating. Not us! We each do our net connections for some things, but we meet because our live, warm bodies like the hugs, and the sounds of our voices talking, interrupting, laughing or enjoying a serious conversation together.
Wayne waxes eloquently about our gatherings as a means of establishing and maintaining a community of friends. He makes a good point about all of us growing up in small towns or villages, places where the community raised the young as much as did the parents. The true sense of community. Perhaps subconsciously we knit together because it keeps us in our comfort zone-we get sustenance and strength from each other. The same may be true of the women who operate and work at Our Thyme Cafe-they share and support each other in their own circle of friends and contacts.
These things don't happen by accident-we have to consciously work at maintaining the connection and the friendship.
My mind goes back to my early days in small town northern New Brunswick. I recall with such pleasure how my Dad and I would take an hour to walk a five-minute hike down the street; everyone knew him and everyone stopped to talk-most times about nothing in particular. Just connecting and being a friend. That was a good foundation-I loved the camaraderie then, and I love it now.
That's what life on the East Coast is all about - we're people who need people. Friends in a friendly kind of place. In my gang we make it a priority to be together. What about you?