Writer Donna Morrissey won the $10,000 Atlantic Fiction Prize for her last two novels: Sylvanus Now and Downhill Chance. Her first novel, Kit's Law, won the Canadian Booksellers' Association Libris First Time Author award. Her work has been translated into Japanese, German and Dutch. Donna, who grew up in northwestern Newfoundland and now lives in Halifax, talked to Saltscapes about the role family plays in her fiction, and how the darkest moments of her life led to her greatest achievements.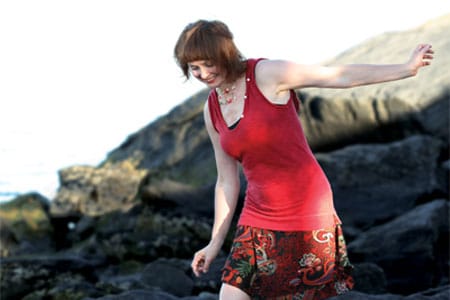 Q Tell us about growing up in The Beaches, your home village in northwestern Newfoundland?
A It's a funny place in my heart. All of my writing comes out of there. I've often said if you put a bell jar over that place, you could see most anything there. In a small place like that, you can't choose the people you socialize with.
Q You've lived and worked across Canada, and yet you write only about Newfoundland. Why is that?
A Because it is what lives so strongly within me. It's what formed me and everything grows out of that… Most literature is regional. Even the Bible is regional. How do you get away from it?
Q You were once misdiagnosed with a terminal illness. How did it change your life?
A It was one of those nightmares that you never wake up from. I was given up to six months left to live-it was a diagnosis that was quickly fixed, and yet it was something that scarred me forever. I never ever took a sunny day for granted again. Sanity is something that I value most dearly in the entire world… After going through a very dark time I found my way into university, which was quite amazing for me because I had flunked out of Grade 11.
Q You wrote your first novel, Kit's Law, at your mother's bedside when she was dying. Penguin Canada called to accept it for publication the day after she passed away?
A It was such an incredible journey going through my mom's illness with breast cancer, and she was beside me all while I wrote the book. It was such a great desire of hers that the book get published. I was the unmarried one in the family and she wanted me to have something. She was so proud of the book. My mom died at 4 o'clock on a Sunday and Penguin called Monday morning at 9 o'clock. I've never separated the two-my mom and Penguin. Because where Penguin had rejected me [previously], I thought she went up there and pried the hand of God. A grand mixture of emotions, that day.
Q Others have noted that your novels of rural Newfoundland read like great epics or mythology. What do you believe is heroic about the lives of your people?
A I think we are all heroes in our own lives. I think the centre of the universe is exactly where we stand. To me life is a grand affair. I take every bit of it seriously. As long as you can't tell me why the berry is red in the field, there's learning enough right here in this moment.
Q That's poetic. Why do you write fiction rather than poetry?
A I have too much to say. I can't even write a short story.
Q After all your critical and commercial success, is there anything about writing that still causes you anxiety?
A Of course. Every time I sit at the chair, every time I write a page I worry… I'm three-quarters through a new novel and the anxiety is im-mense. I gave a friend some pages to read because I need someone to tell me it's good. I tell friends, you have to lie if it's not good. I have the greatest liars in the world for friends.