Down memory lane - and through grassy knoll - at a reunion on New Brunswick's Wood Island.
The single, perfect pink rose bud nodded in the breeze. I picked it, as I had often done in childhood. The aroma was gently sweet. Ah, the memories.
Wood Island, New Brunswick, is a mile-long largely deserted island with its share of rocks, trees and a few scattered buildings, but at one time, in the late 1940s, it was a thriving community. There was a school, a church with its own generator to produce electricity for the lights, a post office that also sold us penny candy, and the cemetery where Wood Islanders were buried. There was no electricity other than at the church, and only one telephone, for emergencies. A narrow road, the width of a single wagon, wound its way from one end to the other. The main livelihood was fishing; people moved off the island as the fish stocks declined in the late '50s, in some cases taking their houses with them.
Here we are, the remnants of that community along with numerous descendents. We have come back in search of our heritage and traditions, as is the case every three years. Although the island had been deserted for years, a few have now built summer places here. It is hard to say what draws us back.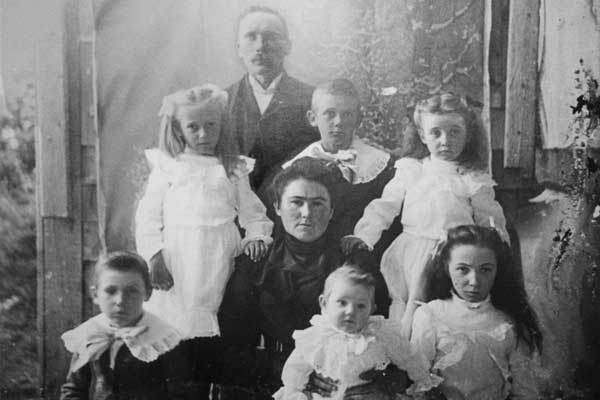 Early on a Friday morning, my mother and I sit in line waiting at Black's Harbour for the ferry that will take us to Grand Manan, then on to Wood Island. Who else here is headed for Wood Island, a tiny wind-swept island that makes up part of the Grand Manan archi-pelago? There must be others.
The car in front of us discharges my uncle and a cousin, and the talking and reminiscing begin. Is that a banjo we hear? Sure enough, there are five people in the line beside their trailer playing bluegrass. People converge on them. My mother and uncle remember some of them from when they were children, know all their relatives and many of the people who have gathered to hear them play. The reunion begins.
The one-and-a-half-hour trip across the bay is uneventful. We have breakfast-you never take the Grand Manan ferry in the morning without having breakfast on board. It doesn't matter if you have already eaten. Eggs, bacon, toast and coffee are required to make this an authentic trip. And, of course, you always meet someone you knew, who went away like you did.
I'm looking forward to meeting two friends from my teen years, who I haven't seen since 1955. I want my picture taken with them. We had wonderful dreams and plans, most of them unfulfilled. Friday night, at the first gathering and roll call, we meet.
No one has warned me that one of them is ill and not the bright and vigorous person I remember. I am devastated. When we were 16 we would lie awake at night, talking and planning that we would ride our bicycles across Canada. We had never heard of anyone contemplating such a thing, but we thought it would be a wonderful experience. We never came close to doing it.
Saturday morning dawns bright and clear, with none of the fog that often blankets the island. I make coffee and take it out to the verandah of the cottage where I can sit and look at the ocean, and the symbol that always means Grand Manan to me-Swallow Tail lighthouse. Perched on its cliff, it welcomes all who come to this special island. I have stopped to look at pictures and paintings of this light in many places across Canada.
We assemble at the Seal Cove Wharf before 9:30, ready to travel in a small fishing boat across the narrow channel of water to Wood Is-land. The sun is wonder-ful, the breeze slightly brisk. I recall many trips across this stretch of water, in every-thing from a rowboat to a large herring boat. Sometimes the sea was churned into huge waves (by a child's standard) that sprayed us while the wind whipped our hair. Oh, I remember the feeling.
I recall the Easter I went to visit my grandmother during school break. The only person going to the island was a cousin, in a small dory with an outboard motor. My aunt and I climbed in. It was rough, and I was distressed because the spray soaked my new spring coat. Whatever would my mother say?
This time the boat ride is not long. We climb into a dory and are rowed ashore. There are many trips-only a few can be transported safely to the rocky beach at a time. The men pull at the front of the dory to get it as far up onto the beach as they can. Those who do this regularly have boots on, given you have to jump the last stretch from the dory to the dry beach. Strong arms help us over the hurdle. How many times in the past have I gotten my feet wet by misjudging the distance, slipping on the seaweed and sliding into the water? Many, many.
On Wood Island we do the nostalgia thing. We trudge down the grassy track that was once the road. We visit the cemetery. Family members gently brush away the grass from the stones that mark the resting place of a loved one; the young people get a lesson about their ancestors. My mother was a Wilcox. Her grandfather's burial site is here. He was one of several families settling the island. I remember some of the other names-Harvey, Green, Guptill, Griffin.
We cross to the church. The old Bible, tattered and loose from its bindings, is still on the pulpit. I play the organ. It sounds the same. I sit in the pew where I sat for Sunday school. My grandfather always insisted that everyone go to church. My mother watches me and I wonder what she is remembering.
Down through the woods, where the trees close over the road, there's a lonely stretch referred to as Ghost Alley. I inhale the pungent smells of spruce and fir. I remember coming along this stretch and wandering off into the roadside clearings where we found tiny birds nests with colourful eggs or newly hatched young ones. Oh, and there was a small white flower that I always stopped to smell. I want to find some, to bury my nose into those fragrant white bells. We called it tea-berry. Later in life I often looked for it but never found the same flower and smell.
There are names for every stretch of road, every turn, every point of land. Hardwood Cove, Down Through, Lower End, Old House Hill. We pass houses that have collapsed; we stop at the one-room school; we glide on, past other decaying landmarks.
My great grandfather's house. All that remains are huge clumps of wild roses growing around the remnants of the foundation. The fence and the "bars" at the entrance to the lane are gone. My cousin taught me how to lean over those bars, wrap my arms around the top and somersault over them and into the lane. I recall when Great Grandpa's son used to come home from Toronto, with his wife and children. My aunt always fed us with her delicious cookies. Wonderful smells and tastes.
Near the end of the island, all that remains of my grandparents' house is a shell. After we had moved to the mainland I spent many summers there. The section that was my grandmother's kitchen and pantry is gone. I remember the thick, warm slices of fresh bread, lathered in homemade butter that I helped to make (or so I thought), dripping with molasses.
People visit the places they hold in their memories. I wander back to the beach where we landed. There is a crackling fire in a circle of stones and someone is assigned the job of sharpening the ends of alder branches. We spear our wieners with them: the Wood Island wienie roast begins.
Men pitch horseshoes; children romp through tall grass. We check out the blueberry bushes and the beach peas. The only thing missing is the pick-up baseball game. Time for a group photo, but where is my mother? Somewhere on the beach lost in memories? I climb over the rocks, picking up special stones: round, smooth, sparkling, different colours. I drop them into my pockets to take home to my grandchildren.
Back on Grand Manan, we gather in the Seal Cove schoolhouse. Most of us have travelled from other parts of the Maritimes - I have come from Halifax-and also Maine. One has come from BC. There are about 150 of us here. Most of us are in some way related. Those who are not are tied together by an island and a way of life that's gone.
Stories are shared. My mother responds to a question about who were Buck and Brown. "Clarence Chase's oxen," she shouts. I hear stories about me as a child. The bluegrass group plays and sings. The patriarch of this family sings with them, beam-ing with pride in his family. A former schoolteacher recites a poem about the modes of travel on the island, though it's really a love poem to her husband of 50 years. He sits on the sideline with his quiet smile.
Each year those who once lived on Wood Island are fewer in number. Who in the new generation will understand what lies buried on that island? Will my grandchildren go into the old church and play the organ? Will they know where grandfather sat and where I had Sunday school classes?
My uncle has brought copies of my grandfather's hymn book. I take four, gifts for my grandchildren, who will never have the opportunity to hear him sing his compositions. But I hope I can bring them along to one of these reunions.
I inhale the perfume of the small pink rosebud. Although it is wilting it still smells wonderful. It still evokes memories.