They're more likely to be found wearing dungarees and workboots than glamorous, neatly pressed uniforms, company ties and shiny black shoes. They double as baggage handlers and only stay overnight at a destination if the weather's really, really bad. They coax and manhandle small, sometimes vintage, flying machines in often treacherous weather conditions over some of the most inhospitable terrain on the planet.
"They" are the largely unheralded veteran bush pilots of Newfoundland and Labrador.
It was a wilderness aviation pioneer, the late Bill Bennett, who first told me, "There are old pilots, and there are bold pilots -but there are no old, bold pilots!" As my profession increasingly obliged me to fly in and out of remote wilderness locations, I was to discover that what I had taken as a flippant cliché was ominously accurate.
We were flying around parts of Labrador in Bill's dependable DeHavilland Beaver on floats in the mid-1980s. The plane was chartered to fly me to outfitter lodges so I could perform annual facility inspections as part of my job with the provincial government.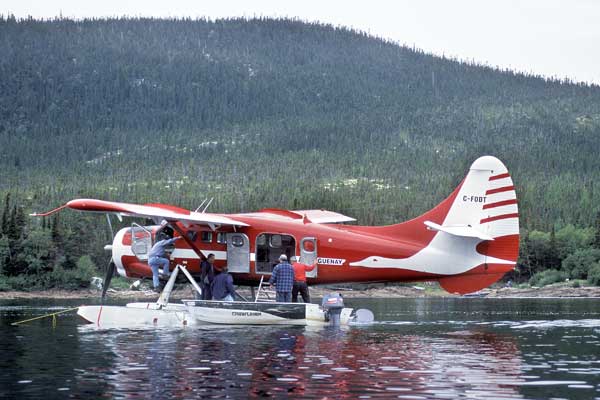 We encountered some "iffy" weather ahead - rain, mist, wind gusts and decreased visibility. Bush pilots are obliged to use VFR (visual-flying rules), which means the ability to see the ground as well as the terrain ahead. We were rapidly running out of both.
Bill knew the Labrador coast like the back of his hand. He remembered that there was a sheltered cove in a large lake ahead of us and set us down just before the storm struck. We bobbed around on the floats for about 30 minutes. This severe disturbance passed rapidly over us and the sky just as suddenly turned a brilliant blue, tinted with high fluffy clouds.
"Just a squall," Bill muttered. "The weather this morning was supposed to be good all along the coast, but you can't take chances." He fired up the noisy rotary engine and we taxied out on to the smooth waters of the pond and were soon airborne. Bill was one of several pilots I have flown with over the years - one of the "old" pilots who had survived because of his attention to safety and reluctance to take unwarranted risk.
I also flew with much less experienced aviators who had yet to learn that lesson.
A young pilot and I lifted off the water at Lobstick Lodge near Churchill Falls late one summer, heading back to Goose Bay in a bush plane, our tour of western Labrador lodges completed. The sky was CAVU (flying expression for "clear all the way up, visibility unlimited.") Not a cloud was visible when we left in late afternoon.
Halfway back to Goose, we encountered a wall of cloud. We dropped lower in altitude as visibility faded and were soon flying just a few hundred feet over the treetops. My pilot, in his early 20s, had flown straight into a storm - and now it had closed in behind us. We circled, dropping ever lower, desperately trying to find suitable water on which to land and ride it out. We weren't quite in panic mode yet, but I certainly worried about where and how he might set the plane down in the trees if we couldn't find a pond.
By chance, we emerged on to the Churchill River, banked hard, and proceeded to fly eastward as the cloud cover forced us down to about 75 feet. The lowering ceiling forced us to snake along the river valley, turned into a tunnel by the low cloud. My pilot communicated via radio with the pilot of a helicopter who had left Lobstick a half-hour earlier than us. He was flying along the river about 10 miles ahead and warned about the weather we would encounter.
"Watch it when you go over Muskrat Falls," he cautioned. "You'll have to drop down a little, there's only about 50 feet of visibility on the other side."
As we finally approached Goose Bay, it was nearly dark with extremely low visibility. The runway lights at the airport guided us through the mist toward the seaplane base at nearby Otter Creek. My pilot flipped on his landing light and we descended blind until he could see the water just a few feet below the plane. We set down softly, taxied into the wharf and cruised to a stop, relieved that we hadn't been forced to spend the night on a remote pond - or worse.
The company's senior pilot, Howard Mercer, greeted us, none too happy about the flight and chewed out the young pilot for "taking chances." (It is testimony to the perfidiousness of that environment that Mercer lost his own life in a flying accident a few years later while returning to Goose Bay with a group of caribou hunters during inclement winter weather.)
Among the veteran pilots all too familiar with the unpredictable challenges of flying in these vast wilderness areas of the region are: Rick Adams, who operates from the Newfoundland town of Springdale; Rex Boyd, whose company lost two aircraft in the late 1980s within months of each other; Clyde House, a Goose Bay pilot who narrowly escaped from a serious crash but lost part of a foot in the process; Tony Powell of Charlottetown, Labrador, who has walked away from a couple of close calls; and Clayton Pilgrim, known as "the saltwater cowboy" because of the western boots he always wore while flying.
Chief pilot for Provincial Airlines' Goose Bay Twin Otter operations is Noel Bennett, son of Bill Bennett - who got a head start on his flying career. At the age of four, he was accompanying his dad to salmon lodges in Labrador. At 12, he knew almost as much about airplanes as men more than twice his age. At 18 he enrolled in flying school to learn the formal aspects of aviation, such as map reading and navigation.
"Dad tried to talk me out of it at the time," he says. "He told me it was a tough career, that flying planes had no future, and jobs were not that easy to find. Now with roads going into most wilderness areas and development of the North, he was right - the need for bush pilots is fading."
Noel has flown just about everything with wings, from a single-engine Cessna to 727 jets. His career has taken him from flying into the small lakes of Labrador to traversing parts of the Arctic, even flying twin-engine planes in Africa. The aircraft have been as varied as the locations in which Noel has flown, but it is the love of flying that keeps him at the controls.
"Not many pilots, especially Newfoundlanders, can say they used to fly into Timbuktu once a week," he laughs. "But my first love has always been for Labrador, and I left Ottawa and flying as first officer on 727 jets to return here and fly the Twin Otters for Provincial."
It seemed a natural thing for Noel Bennett to follow in his father's footsteps. His proximity to the Gander Aviation aircraft; growing up with them and going to Labrador each summer to help at the camps, instilled a love of the outdoors and the life of a bush pilot. Upon acquiring his pilot's licence, he flew the Beaver during summer months, servicing the three Labrador lodges operated by his father. Even when working steadily for other companies, he would take a leave of absence during the summer to return to Labrador and fly his first love - the DeHavilland Beaver.
"For ease of operation I really like the Twin Otter. It has power, and you can reverse the engines, making it easy to manoeuvre. But for sheer enjoyment of flying and for the feel, I love the Beaver. It's a great plane and will be around for a long time."
The Beaver has actually been out of production for several decades, but the aircraft's characteristics make it a favourite with bush pilots. The aircraft's wide wing span, dependability, power, and load capacity, in addition to its "feel," make it a pleasure to fly.
The list of Newfoundland-based hunting and fishing outfitters who also became bush pilots includes Angus Wentzell, Gerry Pumphrey, and Bob Skinner (now in his mid-80s). However, there are not many "old" pilots still flying bush planes. Mike Byrne, in his early 60s, has flown various aircraft in Labrador for several decades, as has Lester Powell, another senior pilot with tens of thousands of hours of bush plane experience. Mike says Lester's flying experience may exceed even his own - about 30,000 hours.
Both men are flying with Tamalik Air, a subsidiary of Air Labrador, and based in Goose Bay during the summer. They fly the larger Twin Otter aircraft, which are equipped with two turbo engines and can reach their destinations through inclement weather by flying instrument guidance systems under Instrument Flying Rules (IFR) and the technology of Global Positioning Satellite (GPS).
Mike also flies medical evacuation flights, or "medivacs," transporting physicians and nurses to remote Labrador coastal settlements to deal with seriously ill patients. Those who are critical and can't be treated on the spot are flown to Goose Bay hospital for care, or in some cases transferred to a hospital in St. John's for specialized treatment. Medivac pilots are on call 24 hours a day.
Mike, who figures he's probably the oldest commercial pilot still flying in central Labrador, began his career as a mechanic with Eastern Provincial Airways in 1958. He was bitten by the desire to pilot his own plane and began to fly in 1969.
"I loved it. The romance of being up there in the clouds, on your own, the excitement, that's what got me into it, and I guess it's still like that for most young pilots today. In those days I was flying all VFR (visual flying rules), by the seat of your pants so to speak, and it was never boring. These days it's pretty routine with the wheeled aircraft and instruments."
Mike is a firm believer in never taking chances, and credits that philosophy with getting him through some potentially dangerous situations. "You never push the weather," he says.
Gene Ploughman has operated his own flying company, Thorburn Aviation, since 1980. Gene began at a time when there were only two other flying services, Newfoundland and Labrador Air Transport operated by Pierre Meagher in Pasadena, and Bill Bennett's company, Gander Aviation. One other service, Labrador Airways, operated in Goose Bay.
"I felt there was room for another carrier to handle charter flights in this eastern area, so I applied for my commercial carrier licence and, after a lot of red tape, I finally got it going."
Like many who love the outdoors, Gene was impressed by a documentary film he saw as a boy, produced by American sportfishing legend and bush pilot, the late Lee Wulff, (who died in a crash while piloting a light aircraft at age 84).
"When I was a kid we had no movie theatre, but a local restaurant used to show movies now and then," Gene says. "I watched one with Lee Wulff flying into Labrador in his bush plane and fishing in a remote stream. I thought, 'that's for me', and that movie's what got me started."
Thorburn Aviation is a family business. His wife, Lorraine, has been active in the office since Gene began completing mounds of paperwork for his application in 1979. They communicate by high frequency radio while Gene flies, with Lorraine keeping him apprised of activity back at the base. Son Steve flies as well, but his main job is maintenance. He joined the company in 1996 after completing his apprenticeship with Provincial Airlines and working as their top mechanic responsible for inspections and maintenance. He now inspects and maintains about 40 commercial and private aircraft a year from the new Thorburn Aviation hanger near Clarenville, some from as far away as Nova Scotia and Ontario.
Not only does Gene transport his own clients, he charters to other outfitters as well as wildlife officials and anyone else with a need to reach remote destinations. Whether it's dropping off and picking up a couple of residents for a weekend of trout fishing on a remote lake, or transporting meat and passengers from a hunting camp back to civilization, Gene keeps busy during the peak flying months of summer and fall.
He also owns and operates a fly-in hunting lodge located at Island Pond in the Bay du Nord area, catering to non-resident hunters and a few local fishermen. "You have to be diversified these days," he smiles. "Since 9/11 things have changed quite a bit in the flying business." The company's latest venture is building new bush planes on floats, what Gene calls "puddle jumpers," which carry the pilot and one passenger. Built from a kit, they will retail for much less than a used aircraft and provide "weekend bush pilots" with a relatively inexpensive way to fly.
Gene has covered nearly every square inch of insular Newfoundland in various aircraft and has flown the Labrador coast extensively in float-equipped planes - but he has never had a close call. "You have to trust your instincts," he says. "There's a thin line between being too brave and being too careful. You get a feeling about it, like 'this doesn't feel right', and you don't fly. That gut feeling has pulled me through without a hitch."
The common thread among these old hands appears to be a combination of subtle instinct and raw intuition that is only borne of experience - "old" rather than "bold."