If not through keepsake posters or commemorative plaques, how do you find out when great aunt Ruby died?
Most people interested in genealogy become stuck at some point, unable to find out when a family member has died. In some cultures, including the Cajun, funeral posters were put up in a prominent place within a community to announce a death and, by implication, invite concerned parties to the wake or burial. Among German Protestants, funeral sermons were sometimes printed as souvenirs of a funeral. These Leichenpredigten were rare, but informative. Another way of marking a death was the funeral hatchment, a shield hung in a church where an armiger - person with a coat of arms - was buried. These are rare in Canada, yet Saint Paul's Church in Halifax possesses eight of them. Just as Protestants may have had a funeral sermon, many Roman Catholics who died were commemorated by funeral cards, useful as bookmarks in missals, asking the recipient to pray for the repose of the beloved's soul. If your family was not German nor Catholic nor armigers - and you've determined that relatives can't help you - it's time to turn elsewhere to find a family member's date of death. Many newspapers keep files of obituaries for the past 20 to 40 years… but the period before about 1960 can stretch back like a desert. What to do? Perhaps you know where the relative was buried and there is a headstone. Maybe Aunt Ruby belonged to a church you can identify, and the church or the cemetery connected with it has burial records.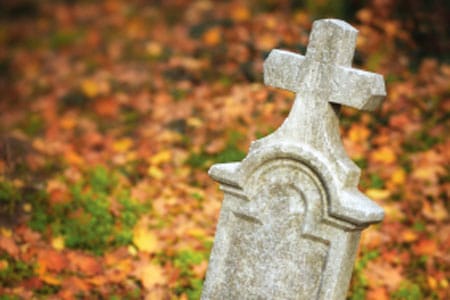 Or consider this idea. For the past 120 years, funerals involved professional funeral directors, or undertakers as we once knew them, who maintained burial registers. Apart from names and dates of death, you might also find the cause of death, place of burial, names of next of kin and place of residence. Records from some funeral homes have been deposited in provincial archives, through it's more likely that they're on hand, either in their original books or in microform, at various local and regional museums, genealogical and historical societies.
If the person lived in a city or good-sized town, there will be sets of directories in the community library or a heritage-related body. If you can find that Ruby is listed in the 1942 city directory, "Slippers, Ruby, wid. (widow of) John," and she is not listed in 1943, it's possible that this omission from the directory followed a more permanent disappearance. Check the directories for two or three years on either side of 1942 and 1943 to ensure that she was there until 1942 and gone after 1943. Note that directories missed people - or misspelled names - through carelessness or because there was no response at a specific address. But at least you can narrow down the likely period of death in which to focus a search through, say, the obituaries of newspapers.
You can sometimes learn a death date most readily by examining an index to probate records for the county or district where a family member lived - assuming the deceased owned property. Since 1900, death dates were usually entered in indexes to estates probated. If not, and you find that there was a will, find the date of the will and the date of the earliest probate document and you'll know that the death date falls within the period. For example, Ruby Slippers made her will on September 18, 1942, and a document in the estate file is dated August 8, 1943, so you have 11 months of obits to search through. If you know the province, but not the specific probate jurisdiction, there will be notices in the province's Royal Gazette, inviting people with claims against the estate to put in their accounts. From these notices you can see which county/district applies.
A few final ideas to keep in mind. Did the person belong to a society that might have noted members' deaths in minutes, newsletters or bulletins? There were Masonic Lodges, Royal Canadian Legions, Charitable Irish and North British societies, etc. University publications also sometimes note deaths of alumni. Leave no stone unturned. One man discovered that his grandfather was dead by a certain December because his estate made a donation to the Goodfellows fund, which appeared in a daily newspaper. Be prepared - with an open eye, ear and mind. Genealogical clues turn up in the darndest places.