"The people keeps me anchored - I needs to be with my people and my land."
That was Winnie's response to my query about what keeps her in Newfoundland. We hear much about the downside of the island-no fish, no jobs, people leaving and not coming back, resettlement. But we don't hear enough about the wonder of the island, or about the people who stay and the things that make them happy. Not everyone is gone from the small communities-people are still there keeping the wheels running. Who are they? What are they like? What keeps them there? What is their future?
A couple of weeks in western Newfoundland gave me some answers; not all, but some. A first impression is that the landscape has shaped the people. Colourful houses, clean and tidy properties, impressive mountains, rough roads. And tuckamore-hardy softwood trees intertwining, bucking the wind and staying connected in life and death. These characteristics are reflected in the people. They, too, are colourful and impressive, and they stay connected in life and in death. "The graves and the gardens need tendin'," Marie told me, "so's I can't go too far away." She ventured from Bartlett's Harbour to Port au Choix for work - a distance of about 50 km - but wouldn't think of going on to Deer Lake or Corner Brook, let alone Alberta! "The bones of my forerunners are here. If I left, they'd think I didn't care no more."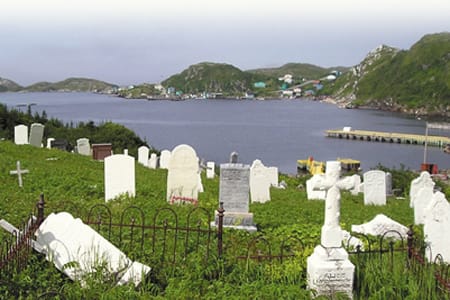 Caring for each other is important to the western Newfoundlander. "We kick at each other just to see how tough we are," says Barb Genge, a barely five-foot dynamo of a woman. "But we don't like it when outsiders kick at us."
Lured by the promise of glitz and gold in Toronto, Barb left the island a while ago. For a few years she ached for back home. She'd go to the subway, stand in the tunnel to catch the wind created by the train, close her eyes and envision the smells and sounds of home. "I'd feel the salt wind, smell the seaweed and fish guts, hear the waves, then I'd open my eyes and look for anybody that looked like a Newfoundlander."
The only way to remove the ache was to move back home. When she talks of her island she swells to the size of Gros Morne with passion about what is and what can be. If she were off the island, spouting forth as she does, you'd consider her unique. On the island she's a mouthpiece for many more like her-passionate about the people and places of home, and hopeful about its future.
Barb has carved out one of the best outdoor lodge operations that I've seen - Tuckamore Lodge in Main Brook. It took all those Newfoundland characteristics to get it operational-guts, strength, wind, and sometimes a few rocks to throw. She compares its development to a horse riding competition-many hurdles to jump, a few barriers to kick aside, and a strong desire to keep going. Talk with her for five minutes and you know what's important: her island and her people. She doesn't just make do with what's around her; she builds capacity. Her guides and staff come from the area and have been with her since she opened her doors. The materials for her lodges come from "right here," and her menu sports food and drink from the area. In her desire to support local ingenuity she buys her bread from Dot's Pantry in Port au Choix, some 130 kilometres distant, because she knows that owner Caroline Lavers shares her sentiment about the island. Barb spreads her joy and shares her largesse. She says that that's what Newfoundlanders do, whether they're home or in one of the many Newfoundland colonies all across the country.
Is there a future here? The men aren't too optimistic. They say "the arse went out of 'er," implying that there is nothing left, beside the fishery. They rant about the government and confederation. The men appear less hopeful than the women that Newfoundland will rebuild. The women say the fishery collapsed, or the plant closed, then ponder aloud about what can be done now. Mr. Tucker in Daniel's Harbour groaned about his three children living in Ontario and Alberta, but doesn't want them to come back to the nothing that's here: doesn't want their children to come back either. But Winnie of a smaller cove along the coast is optimistic. She sees the promise of a future: "I don't know what it will be but it will be something good for us here because we're the ones that'll make it happen."
Barb aches for those who had to move away. Going away, coming back and having to go away again breaks their hearts and spirit, she says. Her example helps to pave the way for them to come home to stay. If they'd all come back and give what they have to this island, we'd be another Ireland (a country that turned its fortunes around). Marie says that you don't get this feeling for a place nowhere else, so we have to make it work for us here.
Ellen and Violet are part of a larger group of enterprising women from the south coast of Newfoundland. They were not going to be buffeted about by the economy, and they were not going to part with their island and its people. So they started a home care network, usually palliative care. Ellen does a three week off island stint of looking after a person in his or her own home, then returns to her island home while Violet takes over for her three week stint. They tell stories, cook, knit, plant gardens… generally care for their charge as they would treat their next door neighbour at home. Wouldn't you want to stretch your last days out by having these caring, strong-willed, colourful Newfoundlanders around?
When I was a kidlette I read comics about the strong women of the Amazon, the Wonder Women. They hunted and fished; they were the rulers of their land and people. I believe I've finally met them-they're the amazing women of Newfoundland. The sea or the mainland claims their men and their children, but nothing takes their future away. They care for the living and tend to the dead. The graves are just like the people and the land-colourful, strong, shoulders to the wind looking out to sea, sometimes in a fog but always knowing where they are. They're home. Home is where the graves are, and home is where they'll stay.
Two weeks and more than 2,300 kilometres later, I left the island, and confess to doing so with moist eyes. Watching the church spire and the houses of Port aux Basques fade in the distance must be heart-breaking for those who leave with their worldly possessions in tow. Like Marie said, "Being here gives you a feeling that you can't describe. It's just a feeling that creeps into your soul like the fog."