Who knew a whimsical bovine brand of ice cream would be such a big deal on the Island and beyond?
It began innocently enough that summer in 1983-a skinny young guy packing an old-fashioned ice cream maker with rock salt and ice on the boardwalk at PEI's Cavendish Beach. He was serving scoops of extra-smooth vanilla ice cream made from a treasured family recipe.
The tourists loved it.
The next year Scott Linkletter asked good buddy Marc Gallant, graphic artist and environmental activist, to design T-shirts for his staff. Gallant came up with several distinctive, brightly coloured versions, all using cows in whimsical, absurd settings, with funny cutlines.
Whimsy, it seemed, sold almost as well as ice cream. "People loved the designs," Linkletter says. "The staff were literally selling their T-shirts right off their backs."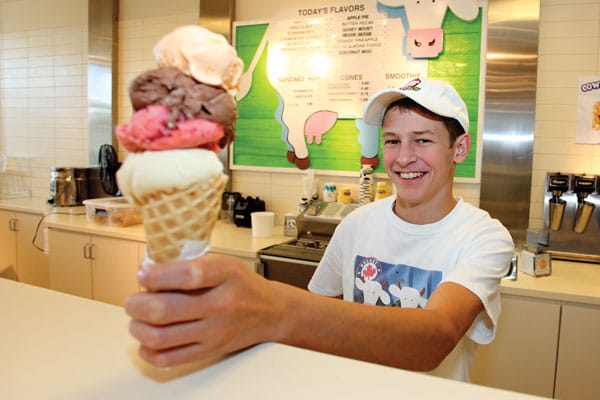 The next season, in 1985, the business expanded to include selling T-shirts, and the remarkable fusion between the business acumen of the budding entrepreneur and the talent of the enterprising graphic designer began to evolve.
Marc Gallant died of cancer in 1994. As friends and family left the church in North Rustico after his funeral, they were serenaded with the strains of Blue Skies over the sound system.
Whimsy in life, whimsy in death; and blue skies for Cows ice cream and Scott Linkletter. What began with that one old-fashioned ice cream maker now extends to 10 shops, some in tourist hotspots across the country such as Niagara-on-the-Lake, Ont, and Whistler, BC. Some shops are seasonal; some are open year round. Linkletter also owns an oyster farm called Raspberry Point, Anne of Green Gables Chocolates, and two cheddars: Cows Creamery Cheddar, and Avonlea Clothbound Cheddar, the latter based on a recipe from the Orkney Islands off Scotland, where the Linkletter clan originated.
As well, there's Avonlea Village, painstakingly recreated from period buildings collected and hauled to the Cavendish site for refurbishing. An old Presbyterian Church gives new life as a theatre, where plays from the time of Lucy Maud Montgomery are staged.
And now there's Cows Creamery, a huge white building on the main highway leading into Charlottetown, opened this past summer as world headquarters of Scott Linkletter's many enterprises, and the seat of Cows' Culture.
Scott Linkletter is tall, still skinny, with a droopy mustache and a relaxed, soft-spoken and friendly-but retiring and reserved-demeanor. He comes to work in a sweatshirt and corduroy pants, and shuffles about in a pair of well-broken Birkenstocks.
"He never stops thinking," says Cows CEO Jackie McIntyre. "Wherever he goes, wherever he works, his mind is always going."
Which may be a partial explanation for an innovation like chocolate-covered potato chips. You take potato chips cut from premium-quality local potatoes; you coat them with premium milk chocolate, and voila-you have a pricey little product to purvey to the summertime visitor.
His business genius is subtly applied but clearly evident. You will not see a picture of him accompanying this article-Scott Linkletter guides his companies with a reclusive hand.
And although he refuses to take centre stage, his presence is felt in every aspect of his business interests, including the creation of a unique culture. Young salespeople in the brightly lit Cows Creamery outlet will tell you that he knows everyone by their first name: "He'll always ask us how we are doing… it's just like having a second family." That family begins to form each spring when 250 or so people are hired for jobs across the country, selected from hundreds of applicants, and assembled for what amounts to a pep rally called the Cow Wow. The youngsters are inculcated in Cows' culture and the Cows message to its consumers: whatever you purchase - an ice cream cone, an oyster, a T-shirt or a slice of year-old cheddar-will be fashioned from the finest ingredients.
Take the base for that old family recipe for homemade ice cream: heavy cream from contented PEI cows; cane sugar and fresh farm eggs. From there ingredients are added in order to churn out more than 32 flavours, some with names like Gooey Mooey, Wowie Cowie and Messie Bessie.
See? There's that whimsy thing again. There's a saying on Jackie's computer: "The most wasted of all days is one without laughter." Which in turn leads a young man named Cody Kneabone to adopt a Cows version of his own name, "Cowdy, the Scoopervisor," as he serves up the icy treat to customers, many of them from away. All the ice cream sold by Cows - amounting to about 1.6 million scoops a year-is made on the premises, and shipped to out-of-province outlets.
You also get to be a part of Cows culture, sort of, when you wear a T-shirt emblazoned with a contemporary bit of whimsy, like the one that features a dressed up cow and her partner and the line: "Dancing with the Steers."
Quality ingredients and a company culture based on whimsy that brings employees together as "family" may seem an odd recipe for a successful business enterprise, but clearly it works. The company's newest product, Cows Creamery Extra Old Cheddar, came third at the American Cheese Society competition this past August; Avonlea Clothbound Cheddar won gold. It's all quite "moo-vellous" and "pheno-moonal" as well.