Riding the rails with a resident tour guide keeps the adventure from whirring by in a blur.
"Welcome aboard," said the attendant, Henry Joey, looking rather like an affable pirate with his two earrings and black beard.
"Once you're settled, go along to the Park car for a glass of champagne."
"Curses," I replied. "We're booked for the first sitting for dinner tonight."
"Go afterwards," he advised. "Tell Cathy that Joey sent you."
It seemed to be a promising start to our 21-hour trip on the Ocean, the VIA Rail train that travels 12 times a week between Montreal and Halifax year-round. We were taking a special excursion called "Easterly Class: A Maritime Learning Experience," offered in summer and fall. The Maritime Learning Experience package provides a sort of B & B on rails, featuring stories, history, folklore - plus three meals and a wine-tasting - along with the usual passing pageant of scenery.
The Ocean, the longest-running train with the same name in North America, has been transporting people to and from the Maritimes since 1904. It follows the route of the Intercolonial Railway, completed in 1876 to connect New Brunswick and Nova Scotia to the rest of the country. During the First and Second World Wars it delivered Canadian troops to Halifax before they crossed the Atlantic for Europe - and brought the survivors back home.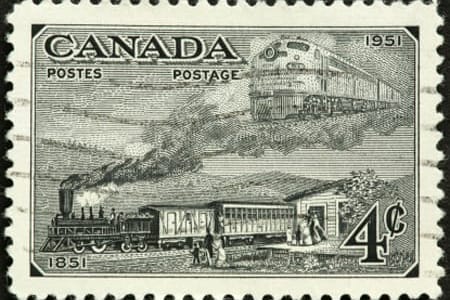 With a daughter and her family living in Halifax - forever, we suspect - my husband and I have travelled every which way from Ontario to Nova Scotia: by car, plane and train, and the latter is absolutely our favourite.
The Ocean's relatively new Renaissance cars are compact - so it's best to be on friendly terms with your train mate. They were originally manufactured for a proposed overnight service between England and France via the Eurotunnel; however due to competition from low-cost airlines, the proposal was shelved, and VIA Rail purchased the cars. After being completed or modified, they entered service in 2002 but, because they were made to British specifications, the cars are smaller than the usual Canadian cars. There's a bench that converts to a bed beside a large picture window. There's also a bunk bed you pull down from the wall. Behind a door is a discreet cubicle with a toilet and washbasin; the cubicle itself also serves as a shower stall.
My husband and I stowed our bags in our room, then swayed along the narrow corridors towards dinner. The meals were fresh, tasty and regionally inspired: Maritime chowder or duck confit salad, for starters; veal medallions, stuffed chicken or saumon à l'ancienne as entrées, with a mean chocolate caramel torte for dessert.
Afterward, we headed to the Art Deco Park car with its Mural Lounge, complete with original work by artists such as Tom Forrestall and Michael Snow. Handsome prints and posters decorate the rest of the train. We sipped our champagne in the Skyline dome car, and watched the small towns of Quebec's South Shore whirl by.
Back in our room, we browsed through the Maritime Learning Experience guidebook, which provides answers to the vexing questions one always has on a journey, if unaccompanied by free Internet service: What is the population of New Brunswick? (It was 729,500, when we took the trip). Where are the highest tides in the world? (Almost 17 metres at Burntcoat Head, NS).
I watched my husband gallantly creep up the ladder to his upper bunk before I climbed under my duvet, falling asleep while being jiggled gently by the train. I managed to wake up at dawn, to enjoy the fiery wonders of the sunrise on the Baie-des-Chaleurs, then went back to sleep.
Later, somewhere in New Brunswick, I awoke again to a moving band of trees and more trees. The long snake of the train curved around a corner; water glinted in the distance. I saw white birch trimmed with green fir and small, painted houses with cedar shingle roofs - all against a musical refrain of rattle, rattle, click.
After breakfast we headed to the Bullet Lounge, where coffee, tea, fruit - and newspapers - are served all day. Cathy Deal, our learning coordinator-cum-tour-guide was waiting. There are 20 coordinators in the program, five full-time and 15 occasional. They're members of the crew, so make a three-day round trip and then have three days off, then head out again. Often they've had other on-train jobs with VIA before being selected. Some may have outside experience relevant to the position, but not always. All receive special training from Maritime heritage experts in history and folklore; in fact, many have gone on to receive their TCP (Tourism Certified Professional) designation. The men sport vests in the tartans of the provinces. The women wear tartan scarves or vests.
Cathy, who had previously managed a vineyard for 10 years, was eager to provide information about the places we were passing through. "Bing Crosby, Humphrey Bogart and George Bush Senior, all fished in the Miramichi," she said.
She gave a brief talk about lobster lore: "Only the poor ate lobster in the 18th century; it was used for fertilizer. Two pound lobsters are the best - the larger the lobster, the tougher the meat." She then demonstrated the workings of a trap to a surprisingly well-informed group. Turns out one was a fisherman from Yarmouth, NS.
The day passed quickly: we strolled, read murder mysteries, played cards, and just watched people sleep. After lunch (a lobster roll and black forest cake for me), we went back to the dome, where Cathy led us through a wine-tasting session. "I know a lot about vineyards, not so much about wine," she said, telling us that a gang of raccoons can eat 100 pounds of grapes in a night, even knocking down electric fences to get at them.
But she also introduced us to L'Acadie Blanc and Leon Millot - the latter, "a cousin of Marechal Foch." Wines were paired with smoked gouda and havarti, including a mysterious fenugreek havarti from Fox Hill Cheese House, a sixth-generation family farm in Nova Scotia's Annapolis Valley.
We passed through the waving grasslands of the Tantramar Marsh, in New Brunswick - once the heartland of Acadia - and then by the lakes and woodlands of Nova Scotia.
It was soon time to return to our rolling room to pack our bags. In late afternoon, we pulled into Halifax's charming station, with its indoor street-lamps, trees and greenery, ready for further adventures - but we already had a big part of our vacation on the train.
The "Maritime Learning Adventure" is offered from early May to the end of October. For more information go to viarail.ca or call 1-888-842-7245.