About this time every year a large proportion of our wobbly, winter-weary citizenry begins to stir. They've been suffering from seasonal affective disorder (SAD) times 10.
As if suddenly affected by some celestial event, they are—all of them—at once motivated, alert, engaged and inspired. Their mood conspicuously improves: their step is suddenly springy as body language portends something promising in the wind.
They cluster in small groups, animated and smiling and speculating about "ice-out" and forthcoming weather. They take to the phone lines and e-mail accounts. They dash around hardware stores and niche retailers, suddenly panicked. They're utterly preoccupied, disappearing into basements, sheds and garages and delving into dusty corners, rummaging furiously.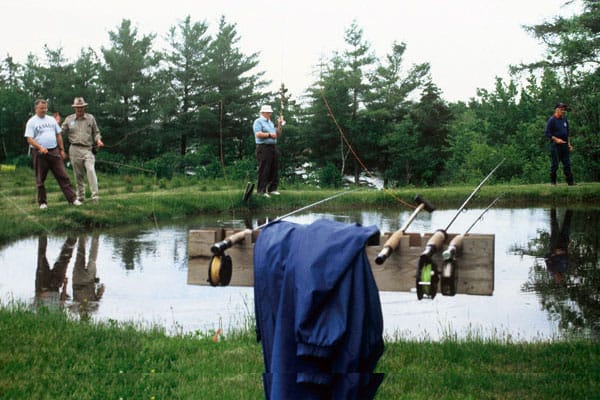 It's almost fishing season again in Atlantic Canada.
For the afflicted ("blessed," in their minds), this annual sacrament symbolizes the end of all that is wrong with what passes for early spring weather here, and signifies the real "new year" celebration. As Nature grudgingly unlocks the lakes and the land from her icy grip, water flows generously and joyously once again. There is renewal and there is relief.
As afternoons become warm and deciduous trees begin to bud, the first insects emerge and white-throated sparrows sing in celebration. Lakes commence "turnover" as solar energy warms the surface and the layers reverse, so lethargic fishes may finally emerge from muddy bottoms where they have spent the winter and gorge greedily on the smorgasbord of spring offerings.
The same natural rhythms and rituals have played out precisely (almost to the day—for sunlight, not temperature, is the governing factor) and annually since the last Ice Age.
In their enthusiasm for the process, our forbears took note of annual and coincident natural occurrences…
When the alder leaves are the size of a field mouse's ear then the mayflies will emerge from the rivers and the lakes, and the trout will rise to feed on them.
When the maple buds turn red then the water will have warmed so tiny baitfish leave the sanctuary of the gravel and become vulnerable to predation.
And off they go—men in trucks, families in campers and vans, kids on bicycles. "Car topper" boats of every description adorn roof racks of every description on vehicles of every description. Back roads everywhere reverberate with the low snarl of internal combustion engines. Camps, big and small, posh and pitiful, are opened and warmed and cleansed of mouse poop and cobwebs. Outboard motors are cranked. Rods and reels are readied.
It's time!
At one end of the scale are the devotees, mainly grizzled macho men who, unable to contain their glee, are given to singing out loud on the water. They write poetry about springtime love, for heaven's sake (love of fishing, that is).
At the other end are kids and families—less than expert, but no less enthusiastic and no less likely to have a good time.
In the middle are the weekend warriors: those who go for a single weekend every year at the same venue, or the beer chugging buds who just like to get out there and give it a go.
But fishing and catching are not the same thing. Fish, especially the salmonid species we enjoy here, tend to live in beautiful places; requiring a pristine habitat in order to thrive. Fishing means sharing that environment with them. Catching is only a bonus.
In fact, surveys of the angling community invariably reveal that actually catching fish is quite far down on the enjoyment priority list—number six in one major North American study and number 11 in another.
Having access to a clean natural environment is consistently priority number one. Spending meaningful time with friends and family and relaxing in low-stress circumstances tend to be the prime motivators. Many a solid, loving and life-long parent-child relationship has roots in the bonding that took place on fishing trips.
There's a change in the wind, too—attitudes mainly. The old "frontier mentality," of catch and cook all you can, has given way to tighter regulation and hook-and-release as a prevailing conservation ethic. Instilled in the young, it becomes permanent.
And women have been taking up fishing in unprecedented numbers—not necessarily in the company of men either. Mature women are taking casting lessons and fishing vacations together, and teenage girls are heading out fishing—without boyfriends to protect and mentor them. Two young Canadian gals host one of the better North American TV fishing shows. No longer do women wear ill-fitting fishing gear borrowed from men. Manufacturers produce women's sizes in suitable shapes and colours (sky blue and plum replace dull old khaki in fishing vests.) The internet is alive with women's fishing sites.
The real growth world-wide (women included) has been in fly fishing: the gentle art. Thousands are discovering every season that cultivating a higher skill level produces enhanced satisfaction in the experience. Fly casting courses and schools have popped up all over the place, including in Atlantic Canada (check out Atlantic Fly Fishing School online at flyschool.net, for example.)
It is a simple statement of fact that some of the most accomplished fly casters in the world reside in Atlantic Canada. Since Atlantic salmon fishing here has been traditionally restricted to fly fishing only (something that may be unique in the world), the angling public has been obliged to learn how to fly cast. Since salmon fishing on the larger rivers often requires long and complex casts in all weather conditions, the overall skill set here is extremely high. That skill has been transferred to other species, for the most part trout, but also striped bass, American shad and smallmouth bass.
Societal changes
Sales of hunting and fishing licenses have been in decline in western society for several decades now. In Canada, the number of licensed anglers dropped from more than 4 million to about 3.2 million between 1995 and 2005. It's assumed that this trend has continued.
Newfoundland & Labrador and Nova Scotia, however, have bucked the trend: the only jurisdictions in Canada to do so.
Nova Scotia has been particularly proactive in recent years with special programming aimed at getting seniors, women and kids out fishing.
Pursuant to improved airline connections, on insular Newfoundland, the home-for-the-holidays Fort McMurray crowd has been swelling the ranks of summer anglers.
In Newfoundland & Labrador more than 25 per cent of the total population goes fishing every year: the highest in the country by a mile (and possibly the highest participation rate in the world). PEI and Nova Scotia hover around five per cent while in New Brunswick it's about six per cent.
Today, fully one quarter of those anglers are women.
The mean age of the Canadian angler has been increasing as well—about five years in the past decade—evidence that young people are increasingly missing from the ranks.
Canadian anglers are spending just as much time at it, though, as they ever did (averaging 13 fishing days per season). In 2005 they caught 215 million fish and cooked and ate 72 million of those. Anglers in places where fish are plentiful kept and cooked more fish per capita than other provinces—Quebec (67 per cent) and Newfoundland & Labrador (72 per cent). The Canadian average is about 40 per cent retention and 60 per cent release, and improving all the time.
Urbanization, marriage breakdown and single parenthood, lack of time, diminishing wildlife resources and habitat—and the absolute devotion of young couch potatoes and Mac jockeys to electronic gadgets—have produced a situation where a gap has developed in the generational hand-off of both the interest and the expertise. Sadly, fewer grandpas than ever take kids fishing. The fear is that the pursuit of happiness at the end of a fishing rod is simply fading from the consciousness of much of society.
It's not just the adult-to-child mentoring that's missing either. Studies have revealed that many (mainly male) adults who fished as children and young adults retain the skills and the desire, but have moved in search of employment and lost their network of neighbourhood buddies—and the local knowledge of nooks and crannies and woodland paths to favoured spots.
In remote areas like Northern Quebec and Labrador, and to a lesser extent Newfoundland and the Maritimes, commercial fishing camps are failing as viable enterprises and being bought out by private, often American, interests.
Since the angling community has been responsible for virtually all of the financing and volunteer work related to fish and fish habitat conservation, grave questions are being asked as to who will act as guardian of the resource into the future.
Indeed, we have suffered significant fresh water resource losses within Atlantic Canada as well, particularly in Nova Scotia and PEI where both trout and Atlantic salmon populations are in serious trouble resulting from agricultural runoff in PEI, and from a combination of forest clear-cutting and acid rain in Nova Scotia. Aquaculture pens are strongly suspected of being detrimental, and hydro dams have wreaked havoc on wild Atlantic salmon stocks in Nova Scotia and New Brunswick as well.
But while we have seen losses to our indigenous cold water salmonid species, introduced warm water species (mainly smallmouth bass) have provided significant new opportunity in both New Brunswick and Nova Scotia. (Some non-native species, particularly the aggressively predatory chain pickerel, however, have been illegally introduced and intentionally spread from watershed to watershed where they have proved devastating to local trout populations.)
Regardless, the cultural enthusiasm for fishing remains strong in the Atlantic region in contrast to some of the rest of North America and Europe.
And environmental degradation notwithstanding, significant opportunity remains within the region. New Brunswick alone boasts more than 60,000 kilometres of river and lakeshore, including the largest Atlantic salmon-bearing watershed in the world (the Miramichi system), while Newfoundland & Labrador remains among the best fishing destinations on the planet.
We're still blessed.