The tale of a convicted New Brunswick murderer, and the curator obsessed with his story.
"Curiosity got the better of me," says Donald Alward. As manager and curator of New Brunswick's Albert County Museum, Alward was hired for his business background, not his historical expertise. Yet he was passionate about history—especially Albert County history. "Generations of my family are from here," he says.
"It's my history."
His passion led him on a mission to uncover a link to New Brunswick's past—a link that for more than 75 years, was buried beneath sheets of galvanized metal. He longed to know what lay beneath the metal that encased the original plaster walls of two of the three cells of the Albert County Gaol. Built in 1845 in the heart of this one-time thriving shipbuilding community, the county gaol—a British term for jail—closed its doors in 1955, and today is part of a nine-building museum complex owned and operated by the Albert County Historical Society.
In summer 2008, Alward led the restoration of the historic landmark.
Despite the muggy weather one fateful August day, the gaol cells were considerably cooler than the rest of the building when Alward arrived that morning. The restoration crew was already hard at work, preparing to paint the largest cell. It was a now-or-never moment to find out what was beneath the metal.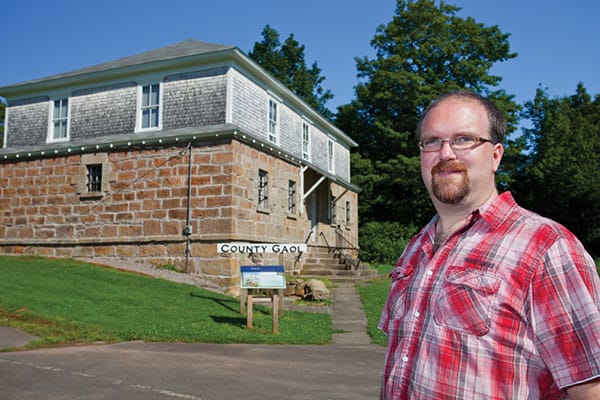 "My intention was to remove a piece of metal, see what was underneath, and if it was nothing, just put it back on," he says. Yet one wrong move could trigger the collapse of the fragile plaster underneath, reducing its secrets to a pile of dust. Alward scrutinized the walls of the 10 by 14 foot cell for a section that could be removed easily.
After taking a photo for reconstruction purposes, he gingerly pried out the square galvanized nails that affixed the metal to the wood strapping, which was directly attached to the old plaster walls. He worked from left to right across the bottom, and when he hit the corner of the room, Alward turned upwards. With one corner free, he pried back the metal, exposing some markings.
Unable to decipher their meaning, he quickly pulled out more nails along the top of the section. Rolling back the metal further, Alward revealed an etching of a pair of women's legs with the date, "August 2, 1905."
"I stood there and stared," he recalls.
One by one, the workers—stopped in their tracks by Alward's thunderstruck expression—gathered round to see what he'd discovered.
"They were as shocked as I was. The first thought that went through my head was: 'That was here when Tom was here,'" he says.
"Tom" was Thomas Francis Collins, a 21-year-old from England, who came to Canada in 1906. It's thought that he'd been in New Brunswick only a couple of months when he was hired by the priest in New Ireland as a handyman for the Catholic rectory.
A week later, the body of the priest's cousin and housekeeper, Mary Ann McAuley, was discovered at the bottom of a wood pit with her throat slit and an axe wound to her head. Collins, who had disappeared, became the subject of a province-wide manhunt.
Charged with the murder of McAuley, he spent more than a year in the gaol while his fate was being decided at the adjacent courthouse. After standing trial three times he was convicted, the only person ever sentenced to hang in Albert County's history. Whether Collins was guilty or innocent is still debated today.
Anxious to discover evidence of Collins' existence in Albert County Gaol, Alward and his crew proceeded to remove the rest of the metal in the cell. The exposed walls revealed names of those who had been incarcerated, digits marking time, and dates as early as 1871. There were poems and comments on the prisoners' plights: "George Riley in for kissing a girl in September 1902 and walked out soon afterwards."
The Albert County Gaol was typical of its time, filled to capacity with debtors and deer-jackers, and these lesser offenders were apparently allowed pocketknives as protection from the more serious offenders. So in addition to using pencil, ink and even the charred wood from the stoves that provided heat in each of the cells, some prisoners left their marks in history by using knives.
Detailed sketches of horses and carriages and ships at full-mast adorned the walls. There were multiple drawings of what appears to be the same bespectacled woman, dressed in a corset with a garter belt and stockings, holding an open book.
One corner of the cell was made to look like the lobby of a hotel, with a welcome sign and the words, "God bless our commercial hotel."
"This particular cell was called a hotel because it was used mostly as a debtor's prison," says Alward, referring to how debtors worked off their county taxes. "They were assigned work details during the day then had to report back here for the night."
Despite all that was uncovered, no evidence of Collins was found in the cell. The museum was closing for the season, and a disappointed Alward had to turn his attention to business matters.
The whispers of the past were still beckoning him, however; more than a month passed before he found time to work on the centre cell, the smallest cell, at 10 by nine feet. With its low-arching ceiling, iron ring for shackles cemented to the floor, and double set of iron bars on its tiny window, this cell—used primarily for solitary confinement—was nicknamed "the dungeon."
His crew long disbanded, Alward mostly worked alone as time, light and weather permitted in the tiny unheated space. His hope was fanned when a life-size sketch of someone thought to be a sheriff at the time was uncovered. It was drawn in blue pencil.
"We know that Tom did a sketch of a woman in a winter coat carrying a muff that's done in blue pencil," says Alward, referring to a paper sketch that's part of the museum's archives. "So there's a possibility that he did this one.
The case is made stronger by the fact that, although Collins is known to have spent time in all three cells (including the third, rarely used "women's cell"), as a convicted criminal he would have spent considerable time in solitary confinement.
As September turned into October, Alward continued his quest. On one cold, damp day, as black rain clouds made it hard to see in the tiny cell, he was perched on a wooden box so he could reach the windowsill, struggling to remove a piece of metal.
"When I peeled the piece off I nearly fell off the box," he recalls. Carved into the wood casing beneath were three simple letters: "T.F.C."
"Chills went down my spine… I stood there staring in disbelief. It made it real for me: he was actually here. Before this, Tom Collins was just one of the stories that was told at the museum."
Alward exposed more of the plaster over the next several months. Nothing more connected to Collins was discovered and, not wanting to risk crumbling the plaster, he turned his attention towards cleaning and preserving the historical artwork. Still, hope thrives as Alward is continuously discovering hidden treasures in the layer upon layer of graffiti that is once again covered, this time by Plexiglas.
"The inmates drew on top of each other's drawings," he says. "Every time I come in here, I see something new."
The Albert County Museum, a nine-building complex, is located at 3940 Rte 114, Hopewell Cape, NB. Get spooked on October 29-30, 5pm-8pm, at the Haunted Captain's House (the captain's house is beside the gaol). Information: (506) 734-2003 or albertcountymuseum.ca.