Nova Scotia's remote Eastern Shore was once well travelled, and a heritage of hospitality remains.
"Two roads diverged in a wood, and I—I took the one less traveled by. And that has made all the difference."
So concludes Robert Frost's poem "The Road Not Taken," which ran through my head from the moment we left Sherbrooke, in Nova Scotia's Guysborough County, and headed farther along the Eastern Shore towards Canso. Every mile seemed more devoid of traffic; each bend in the road disclosed a natural beauty as we marvelled at the intricate pattern of land and sea that made it hard to keep eyes on the road, somewhat moot given we had the road to ourselves.
On another morning we were returning from Tor Bay when my wife asked to stop to look at a brook whose waters climbed down their stone stairway to vanish beneath the wooden bridge where we stood. We crossed the pavement to watch the stream skip to the sea beyond. Walking back to the car we spotted blueberries, the wild, tasty kind. We could one-up "buy local" when the price was free, and 15 minutes of our time netted a litre of the delicious fruit to take home.
Lunch was shared with a squirrel, who began by circling the table and ended up making a third for peanuts and crackers. Then a grey jay and her youngster began inching out on a branch, obviously wishing to join the party. When a junco joined the party we were five. Had we not decided to wander down the beach, we would still be hosting an impromptu wildlife party.
We added these little chums to our list of critters seen along the road not taken, which already included a boreal chickadee and piping plover.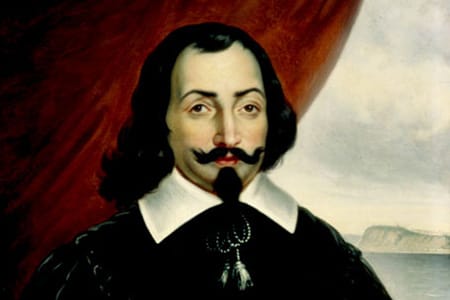 By now you may be asking what this has to do with genealogy. We were travelling along the Eastern Shore because I was speaking at an event called the Festival Savalette, hosted by the Tor Bay Acadian Society.
At Larry's River, just past Tor Bay, we joined a group of family historians, Acadians and other interested folks from near and far, and listened to anthropologist Dr. Tom Abler speak of the effect that European contact had on the Mi'kmaq, and vice versa.
There had been many European fishermen and traders in the area from as early as 1565, when Captain Savalette, a Basque fisherman from St.-Jean-de-Luz, in southwestern France, began to use Tor Bay and environs as a base to catch and dry fish for some 42 years. He and his men were known for their hospitality, hosting many visitors—among them Samuel de Champlain and Marc Lescarbot, in 1607.
Tor Bay offered a sheltered inlet, a gravel beach and a supply of wood for building flakes. Europeans had been drying codfish on shore there for more than a generation before the first French settlement in Annapolis Basin, and there was sustained contact with the Mi'kmaq more than half a century before anyone landed at Plymouth Rock.
Part of the charm of a road trip is discovering local delights, such as the cable ferry across Country Harbour. If those wooded waterfront lots were anywhere else, the developers would have been beating off people seeking a property. But it's too remote. There's no gas station for miles. Just beauty, great people and an empty road.
The sense of being in another place did not prepare us for Seawind Landing in Charlos Cove. Raspberry bushes, seaside walks on grassy paths, the mingled scent of fir trees and salt water cleansed the city fumes from our nostrils. You might have expected these, though not all in one place.
Then you meet Ann Marie and David deJongh, your hosts, and you have known each other forever yet you have just met. Let them feed you a dinner you'll never forget and the breakfast of a lifetime, and you'll think "Remote? Hah! A city restaurant could offer more choices but not more excellent ones."
And I, a genealogist, found all these wonders along a road not taken, with a rich heritage of hospitality. You too should follow Champlain, Lescarbot and Savalette.
Dr. Terrence M. Punch is the author of three volumes of Erin's Sons: Irish Arrivals in Atlantic Canada 1761-1858 (Baltimore: Genealogical Publishing Company).