Cherry Paris grew up in a close-knit community in New Glasgow, NS. While racism was a part of daily life for many, she remembers a happy early childhood—only later, as she approached adolescence, becoming aware of the extent of prejudice.
A lifelong church goer and community volunteer, Paris has attended Second United Baptist Church, on Washington Street, since childhood. We met in the office of the church—where she has previously served as deacon and is now the clerk.
I come from a family of 10 children, and my father of course was the only person bringing in any money. He was a moulder at Maritime Steel, in the foundry. He worked hard, and in order to have some money for himself he took on this little job of cleaning flues after work. He had this whole clientele of people who would call, and my mother would be the secretary and take the messages. He would come home from his job, and then go out with a friend and do two or three flues. In those days he charged $4. That was his pocket change to keep him afloat.
I was born in 1936, and grew up on the Vale Road. The area has a slight rise, and people from outside the community put the N-word in front of the word "hill." It's one of the unpleasant things that came our way.
My early school years were not bad. There was some bullying and some jealousy, but it didn't necessarily come from the white kids. One thing I did note was that we weren't invited to birthday parties. I don't ever remember getting an invitation to a birthday party for a white child. You felt left out, but you didn't make a big deal about it.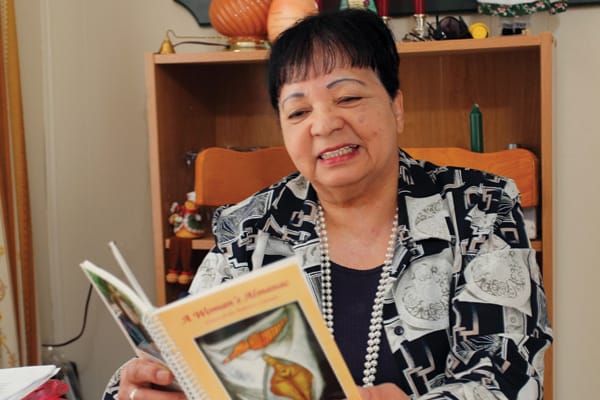 But things were worse downtown.
There was a time you know, right here in New Glasgow, when you couldn't go into a barbershop if you were black. You couldn't go to a salon to get your hair done. We didn't go shopping with our parents much, but I'd go at Christmas time maybe to help my mum carry the parcels. We couldn't stay past the lunch hour though. Where would we eat in town? We couldn't go to the restaurants except for a couple of them. My dad used to get coffee at The Coffee Pot, but he was turned down one day when he asked for a slice of lemon pie, too. They told him he'd have to take the pie outside. Of course he said no.
There were no segregated schools in New Glasgow. That's one thing we didn't have to worry about. But in rural areas in Nova Scotia there were black schools. I taught at two of them, in Lucasville in 1954, and Upper Hammonds Plains in '56, after I graduated from teachers' college.
I really wanted to go into nursing—that's where all my hopes and dreams were. But Reverend Thomas, the minister at my church, had a sister-in-law who lived in Lucasville. He told me they needed a teacher and asked if I would go. It was already November, and they had nobody.
I had 37 kids that first year. I taught grades Primary to 3 in the morning and grades 4 to 7 in the afternoon. Getting organized when you are teaching four classes in one room at a time was a major task—but I didn't have any difficulty doing that. I went to a movie with the people I was living with on Saturday night, I went to church on Sunday, and I went to work. That was it.
Going into these communities, I knew they had a segregated school, and I knew they needed to be taught the same program of studies as other students. That year in Lucasville we organized a home and school association, and we had a Red Cross going—and then we did the same thing in Hammonds Plains.
I taught for approximately 17 years here in Nova Scotia—I was the first black schoolteacher in New Glasgow.
I also taught in Bermuda, and did some substituting in New Brunswick. Then I grew tired of it. The noise level got very high in the classes, and I just couldn't cope with that.
My last year of teaching was 1970, and at the time there was a growing interest in an organization called the Black United Front. It aimed to improve housing, education and employment opportunities for black Nova Scotians. I worked with them for approximately 27 months.
We organized five youth groups, but the adults were harder to organize. They didn't like the change. To them it was really taboo to get involved in the black consciousness movement. (These would be the older people.) First of all, they didn't like the terminology, because they saw themselves as "coloured" and now we were moving to the stage of saying "black Nova Scotians," and later "African Nova Scotians."
We ran into some resistance right here in the church. The minister of the day wouldn't let us hold meetings here, because we were deemed too radical. I had very close ties to our minister—he was someone who influenced my life. When he said no, that bothered me.
After that we really had to work hard to get a meeting place. So we began holding the meetings in some of our homes, and in the carpenters' union hall. In those days—we're talking about the early '70s—you didn't dare go approach local government offices and ask if you could have a meeting in rooms they weren't using. That's all changed now. That's a good change.
And speaking of local government, my youngest brother, Henderson, is a town councillor now. Ward 1. He's my councillor.
In 1971 the Black United Front organized a province-wide youth conference in Truro, and it focused on education. That was in the days when a lot of black kids were automatically shunted into general courses, not the academic courses, and some of them should not have been there. They had the same abilities as the other students.
We also did work in the local community. In New Glasgow, none of the individual streets off the Vale Road had names. But they were streets or avenues, just like on the west side of town. So we began asking to have the streets named. Some people liked the idea. At least they began discussing it. And then they began saying yes, it does make sense to have our own street names. Our road became Ghana Avenue. They chose a country in Africa, and it stuck.
In 1977, a few years after my work with the Black United Front, I went to the launch for Dr. Carrie Best's book That Lonesome Road. [Dr. Best was an influential African Nova Scotian poet, author and journalist also from New Glasgow; the book is an autobiography and social history, published when she was 74]. I met George McCurdy there, who was director of the Nova Scotia Human Rights Commission, and he told me there were three positions to be filled. I asked for the Digby office, and I got it. I became the commission's first female regional supervisor.
I was there 18 years. During part of that time, I was on the committee for the Education Incentive Program for black students. They would receive a small amount of money as an incentive to stay in school. That was something that might have been needed at the time, but it didn't always work to the best interest of black students.
I retired in July 1996 and moved back to New Glasgow to take care of my mother and brother. My mother was in failing health, and my brother had suffered a stroke in 1994, and was not doing well.
I live in the same house that I grew up in. My parents bought the land back in 1940, for $15 I think. My mum and dad built the house themselves, with help from relatives and friends.
I've added on to the house. The last add-on was to make room for books. I have a lot of books and bookcases—tall ones. When I left the Human Rights Commission I told my secretary, "If they ask what I want, tell them I want a bookcase. A tall one." And I got it.
We still need to do more in areas such as education, but things have been happening for the better. Back in the 1970s, there was a mayor I felt I could raise questions with. He just happened to be my dentist at the time. So I'd be sitting in the dentist's chair and would voice my opinions.
We've had other good mayors too. We have a good one now [Barrie MacMillan]. I never thought we'd get to the point where you'd find someone who was approachable, to whom you can go and raise any kind of question or express an opinion.
His office will call now when anything is going on to let people in the community know if they think we'd be interested in attending—he called me personally to ask if I wanted to attend an event honouring civil rights activist Viola Desmond.
We never got those kinds of calls before.