Change is bittersweet yet inevitable—so you might 
as well embrace it
It's the change time of year—nature and people are gearing up for different phases of existence. Migratory birds are readying for departure and cottages are closing.
Change brings with it excitement and challenge, fear and passion. Starting something new, be it a job or a lifestyle, can be daunting, but it can also inject enthusiasm and a sense of adventure into life. A new idea, a new house, a new rhythm, a new love, a new season—a new groove! Sometimes we are simply bored with the everyday routine—gotta get rid of the same old same old. Mowing that same patch of grass week after week, year by year, can be tedious. Some people burn out, move on, and sometimes circle back later in an incarnation of the old person.
Sometimes change is forced by other circumstances—death of a way of life through divorce, a departure, a move or simply an empty nest. Memories are always there though. How they are resurrected and dusted off dictates how we survive those experiences. Will it be with smiles or tears?
Most of us lack the temperament for sustaining prolonged delight or sadness. We need a bit of both—the downs in order to fully appreciate the ups; and the good times to help us survive the bad. And one sometimes leads to another: without cooler temperatures and shorter days in fall, we wouldn't have such a colourful display of leaves.
Leaving is the subject of many writers. Pick up any novel or book of poetry and you'll find something in it about someone being on the brink of despair because of something or someone gone. The pain and agony of leaving home, the heartache of parting with a loved person or pet, broken hearts and broken dreams—these have been fodder for wailing souls for centuries. Leaving a family home, or even leaving a cottage at the end of a season, often brings tears to the eyes and pain to the heart.
We on the East Coast relate to John Denver's song Leaving on a Jet Plane, especially the line "Oh babe, I hate to go." Those leaving and those left know that the ties that bind to home will be stretched to the limit. But let's look at the other side of sadness, at the joy and challenge of new experiences.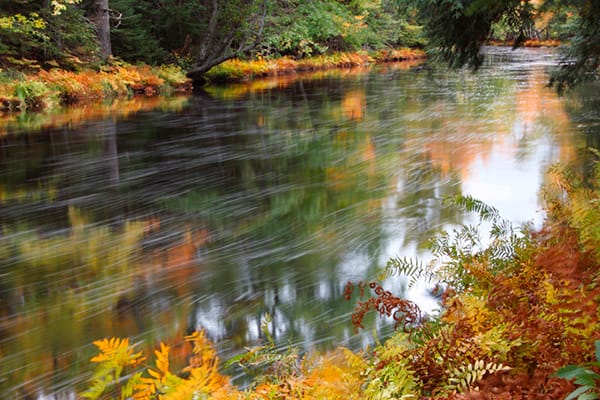 The blending of roots from eastern and western Canada often softens the initial blows of departure. New sons and daughters-in-law from away enrich the family bloodlines. New experiences and culture add to the cache of family lore. I wonder if the statisticians know how many families in the East have connections out West and up North. Think of the excitement on both sides of the country when it's visiting time! To get the full picture of the sweet and sour aspects of our lives, spend some time in the airports or train and bus stations of our Atlantic Canadian towns and cities. At any time of year, the East and West meet there with both joy and sadness.
Do you know what keeps our sons and daughters connected to our eastern provinces? It is family, friends, culture and heritage—and it is owning a patch of local ground as well. Many Easterners wander elsewhere, thinking they will eventually return home to live—and they need that anchor of owning land to drag them back.
What happens when the family home changes hands? Pieces of hearts often go with it, but the memories remain within the souls of the previous owners. I recently made the decision to part with a little cabin on a lake within the city limits of Halifax. I'm sure that the walls of the cabin still shake with the good times that took place over the years! And, fortunately, walls can't talk!
But I felt no tug of regret as I held the pen. A friend who has lived away from Nova Scotia for several years carried within her that yearning for a patch of homeland. Bottom line: she bought my little cabin with the swayback roof and we are both happy as clams at high tide. She will put her own imprint on it, will create her own bank of memories, and our mutual friends who love the place can visit from time to time.
Songwriters pen the melancholy of departure; singers touch the heartstrings of those who mourn. Stan Carew wouldn't have enough airtime on his CBC radio show Weekend Mornings to play all the "love done me wrong" torch songs! Cry Me a River, Your Cheatin' Heart, Frankie and Johnny, D-I-V-O-R-C-E, I Can't Help It—I'm sure you can add to the list.
Separation from a partner through death or divorce is traumatic whether you are the leav-er or the leav-ee. Have you lived through it yourself or with friends? More frequently we hear about people who have separated physically but remain connected. They share homes, children, pets and memories, so continue their relationship on a different basis—something in between being a partner and a best friend. To go from sad to happy in a relationship, from the familiar to the unknown, takes work. Some friends say that they worked harder at their separation than they ever did at their marriage; that they are better parents to their children, and that they fully enjoy shorter bouts of time with their former partners. Isn't this easier on everyone than the old ways of bitterness and bickering?
Taproots are developed by marrying, sharing what we have with others, and grieving. Maybe as Canadians we in the East are the most fortunate. When ex-pats make their travel arrangements to come here they say they are "going home." And when the vacation is over they are "going home." Home is an aura not a structure, and it is a shifting site. It proves the adage "home is where the heart is," and the heart can be as big as the great outdoors.
For almost everyone there is a viewscape that inspires a sense of awe. It may be one that's familiar, or it could simply be a burst of pleasure at waking to a beautiful autumn day. We need a balance of coming and going, of leaving and returning, of love and friendship, of solitude and the company of others. Satellites in the sky bring the rest of the world into our living rooms. As you gaze upward on a clear night will you let their fast travel detract you from the wonder of the stars?
Embrace and enjoy any change in your season, with enthusiasm and passion.