Challenging the Atlantic region's status quo
The great myth of rural Atlantic Canada is that she is a region whose best years are behind her. For those of us who live and work here the stereotype is nothing new: We are too old, too dependent on faltering traditional industries, too reliant on government, too parochial… The Georgetown Conference—Redefining Rural—is our region's opening salvo at fighting back… Georgetown will be a conference about ideas and success, not failures of the past.
I am sitting amidst a couple hundred Atlantic Canadian "doers and producers" in a packed King's Playhouse theatre on the main drag in Georgetown, PEI, experiencing what seems to be a cross between a football pep rally and a fundamentalist religious revival meeting. This is the Georgetown Conference, intended in the minds of those who dreamed it up to be the beginning of a movement to restore the legitimacy of rural Atlantic Canada, to "hit the reset button" for rural Atlantic Canada, as the conference slogan has it.
It is why delegates have come to Georgetown from the Annapolis Valley in Nova Scotia; a bunch more in an aircraft charter from Newfoundland; others from the forest lands of New Brunswick and the farming and fishing communities of Prince Edward Island.
This is a conference about survival—the survival of rural communities and their people, currently hard done by trends towards urbanization, centralization of services, globalism and federal governments with an economic focus moving ever westward.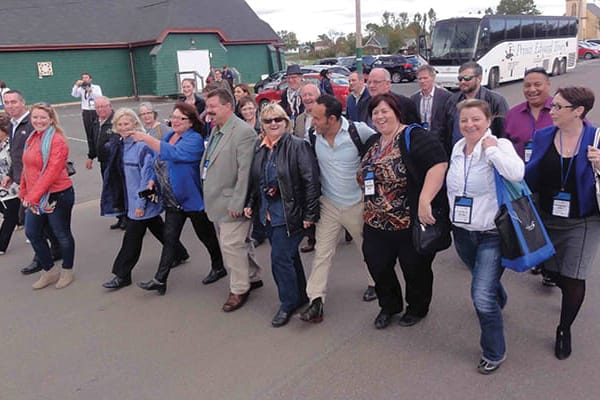 It is a conference about young people lured west by the promise of big bucks to harvest oil and gas and bitumen made accessible by advancing technology; leaving their hometowns and countryside denuded of their skills and their presence.
And it is a conference about attitude, about shared experience, about risk and risk-takers; about success and coping with failure and what has been achieved by some who stayed here—and how they did it.
It is a conference about reversing the sentiment once expressed to me: "If you was any good, you'd be somewhere else."
Alan MacPhee lives in Souris, PEI, where he owns the local supermarket and a hardware store. He's been active with a group trying to keep hospitals open in several Island communities. Early on in the conference, he issued his own clarion call to the packed theatre.
"It is up to rural communities to protect and promote our own best interests," he told the delegates. "We in rural communities; we here in this room are responsible."
Long pattern of out-migration
There is really nothing new about the draining of the economic and social underpinning of Atlantic Canada. Indeed, the outward migration was accelerated by the confederation of the colonies forming British North America, and the protectionist policies thereby enacted to change the natural direction of trade from north and south, to east and west.
In the 19th century the emigration route was southward to "the Boston States." The boats carried would-be carpenters, trolley drivers and housemaids from Halifax and other ports to work in Boston and environs, who squirrelled away money to marry and return home to buy a bit of land.
After the First World War, the way was westward ho on harvest trains, settling the prairies, workin' on the railroad, and mostly never coming home at all, because there was so much empty space to fill in the western landscape.
Then came the second great conflict, with the greatest per capita enlistment coming from these eastern provinces by the sea, and the highest percentage killed as well; with many of those who made it home going off to the burgeoning factories of Toronto and Hamilton and the like.
That pattern of outward migration has been a reality for more than 150 years. Thousands upon thousands of Atlantic Canadians have built a nation elsewhere from the values they learned on hardscrabble farms, heaving fishing boats and hacking coal deep in the blackness of underground.
That has been our history but the question is this: Need it be our future as well? Is this a time when that inexorable tide can be at least slowed; when traditional values of hard work and self-reliance and community spirit can be adapted to better practice in the homeland?
Negativism sucks energy
The 200-plus Atlantic Canadians surrounding me in the King's theatre in Georgetown during three days last October would answer with a loud and enthusiastic "Yes!"
Those days had all the characteristics of a revival meeting for the best of reasons; it was a revival meeting—a revival of the Atlantic Canadian spirit.
There was a simple premise at play: Negativism sucks energy—positivism projects energy; co-operate or evaporate.
And it begins with self-belief and self-reliance.
It is axiomatic that you are unlikely to win a battle you are convinced you are going to lose. Our essential nature does not work that way. If you believe you are going to fail, you most likely will.
As speaker Zita Cobb explained, "Newfound-landers are always accused of setting their expectations very low, so when there is failure they are not disappointed."
Which is really another way of saying any pursuit without risk is hardly worth the effort; that it is better to fail grandly, than succeed miserably.
Ms. Cobb was brought up on Fogo Island, located off the Newfoundland shore smack in the middle of the Labrador Current, where the codfish hung out. In her youth about 6,000 people lived on the island, and the codfish was king. As she puts it: "Those times nobody seemed to notice there was shrimp swimming by the codfish."
The locals warned the politicians that the cod were being overfished. The politicians weren't good listeners, and finally the depredations of foreign trawlers ended the fishery altogether.
Many of the 2,500 Fogo Island residents now fish shrimp for a living. There are lots of them swimming about with the predatory codfish gone.
Young Zita Cobb watched it all from away, then came home just over a half dozen years ago with something like 50 million dollars tucked into her bra and a burning desire to do what she could to make life better for the people still on Fogo.
Zita is a trim woman, with close-cropped hair, boundless energy, a solid belief in her cause and a mind like a steel trap—sharp and pragmatic, a visionary with common sense. She is well aware her Shorefast Foundation is challenging conventional thinking with projects like a high-end hotel perched on the rocks where the sea pounds just below.
Pollster Don Mills outlined the realities facing the delegates, using statistics gleaned by his company—statistics that, in the words of Donald Savoie, the official conference reporter, "suggest that Atlantic Canada remains far too rural for its own economic interest."
Mr. Mills' figures also demonstrate that "Atlantic Canadians have a deep attachment to their home communities, notably their rural roots."
And therein lurks the contradiction of head and heart that the delegates have come here to discuss, and find ways to bring together. They are bound together by one quest—as Mr. Savoie puts it—"to find ways to develop rural communities, not abandon them."
Given the enthusiasm displayed during this conclave, there clearly is a body of Atlantic Canadians willing to climb a very steep hill.
Do it for yourself
It was by absolute intent that no provincial or federal politicians were invited to participate in the proceedings, save one; and Doug Griffith's invite was not occasioned by the office he holds as Alberta's Minister of Municipal Affairs but by a book he has written, bearing the odd title 13 Ways To Kill Your Community.
He, Zita Cobb, blueberry baron John Bragg and others with notable stories of success were role models. They were joined by come-from-aways like Ben Cowan-Dewar. He built a golf course on the sand dunes of western Cape Breton, creating an economic focus and revival of the village of Inverness.
Their message is clear: Find something within your own community upon which to focus your economic case; approach your task with a positive can-do attitude; stay in control of your efforts while using the resources of government, if necessary. But never, never, look to government to find solutions to the challenges confronting you.
There is risk in this, and risk always has been something to be avoided in closely knit societies where there is no veil of anonymity behind which to hide.
One other thing: Ignore the naysayers, the ones betting on you to fail; the ones dubbed "volunteer vampires." It is safer to predict failure until that becomes a self-fulfilling prophesy. Instead, says a delegate from Annapolis Royal, "get off your arse and do it for yourself. No more moaning."
According to another, look around and say, "that is something I can do."
"I get a sense we're all going back home bursting with energy," said Newfoundlander Corey Parsons, recently elected Deputy Mayor of Fortune, as he boarded the charter aircraft to take him home.
"I was starting to wonder if it was futile," said Sheila Lee, of Riverhead, NL. "But I really think we can change the tide…".
Donald Savoie is not so sure. He entitled his report on The Georgetown Conference: Rural Development: It's All About Attitude, Up To A Point.
That "point," as he determines it, is when governmental policies at the federal and provincial level inhibit rather than encourage rural development.
Mushaua Innu First Nation Chief Simeon Tshakapesh was simple and direct when talking about the struggles in his own village: "We will never again be passive observers to our own future—do not wait passively for opportunities to come knocking and do not look to government for solutions."
And so, these "doers and producers" scattered back to their home places, their spirits renewed, their quest confirmed—ready to preach the gospel of self-reliance and self- belief as the essential qualities of survival.
Only history will record the degree of their success.
Lighting a spark for change
Paul MacNeill is publisher of the Eastern Graphic and West Prince Graphic weekly newspapers on PEI, where he often rants about government neglect of country folk and rural communities. He has been president of the Canadian Community Newspapers Association and is active in Newspapers Atlantic, the Atlantic Provinces' version of that body. It was to that organization that he took his idea for a conference of Atlantic Canadians bent on preserving rural life and its values. The Atlantic Community Newspapers Association responded with a grant of $25,000 in seed money.
Mr. MacNeill then set out to raise money from private industry and other sources, but none from government. That was the first real test of his notion that reawakened self-interest and self-reliance was the key to any form of rural revival. The result was an assemblage of "doers and producers" dedicated to the principles he and other conference organizers espoused.
He refers to himself as "just an organizer" of The Georgetown Conference, but in reality it was his drive and enthusiasm that caught fire with others and delivered a remarkable three days of interchange between like-minded people.
Post conference, Paul MacNeill says: "Our hope was to engage Atlantic Canada, to bring new people to the table who would bring a new energy…a single mother being able to sit down with John Bragg to talk business. And that damn well happened. The challenge for the conference is to continue to act as a conduit for the exchange of ideas and for the championing of the rural voice."
13 Ways to Kill Your Community
Doug Griffiths was an oddity in Georgetown—the only politician above the municipal level to be invited as a guest speaker. Then again, Mr. Griffiths is not your usual politician. He was elected to the legislature of Alberta when he was 29 years old, has been re-elected twice, and now serves as the Minister of Municipal Affairs. He brought to Georgetown the accumulated wisdom garnered from visitations to 270 of the 422 rural communities in his province. He is a superb performer, commanding the stage of King's Playhouse theatre, speaking without notes, and sprinkling his message with bits of humour. He has embodied his philosophy of rural development in a book entitled 13 Ways To Kill Your Community. They are as follows:
Don't have quality water
Don't attract business
Ignore your youth
Deceive yourself about your real needs or values
Shop elsewhere
Don't paint
Don't cooperate
Live in the past
Ignore your seniors
Reject everything new
Ignore immigrants and outsiders
Become complacent
Don't take responsibility
Doug Griffiths' book is published by Frontenac House.
Next steps
If Paul MacNeill's inspiration led to The Georgetown Conference, Wade MacLauchlan was the onstage presence who guided the delegates through three intense days without ever losing his smile. His demeanor was firm, his manner persuasive, as he performed the somewhat miraculous feat of hustling 250 or so willing hostages gathered together in an off-the-beaten-track PEI village from event to event—on time, on schedule.
Wade MacLauchlan is a native Islander and President Emeritus of the University of Prince Edward Island. He comes from a rural background and now lives in West Covehead where he is currently writing a book about the tenure of Alex Campbell as premier of PEI through an era of change to rural life in the 1960s and '70s.
Mr. MacLauchlan says: "I've been going to conferences for decades, and I've never seen this consistent caliber of language and presentation. The overall result was synergistic. The new sense of energy or power that was in the air at Georgetown was a demonstration of what can happen when a strong and coherent program builds from one session to the next.
We aimed to build an energy or momentum that would extend beyond the conference. 'What are you going to do?' became translated to a collective level. In the immediate term the emphasis is likely to be on local and area collaborations and capacity building.
I believe the best long-range approach for Georgetown is to maintain independence from government."