To identify their traps in some of Atlantic Canada's busiest fishing harbours, these PEI lobstermen paint their buoys every colour under the sun
Stand on any wharf during lobster season in northwestern PEI, and you'll spot the most garish buoys in all of Atlantic Canada bobbing in the water. Painted in an array of intricate patterns and crazy colour combinations of everything from fluorescent pink to highlighter yellow, the buoys here are prime examples of function meeting folk art.
Lobster buoys are simple pieces of fishing gear. Made of foam and wood, they mark the location of traps in the water. In most harbours, each fisherman paints his buoys in one unique colour combination, so he's able to identify his from everyone else's, but in Tignish, Seacow Pond and Skinners Pond in PEI, lobster fishermen take colour to the extreme. Most buoys there sport at least three or four colour combinations, with some displaying up to 11.
For several years, I've photographed these bright buoys, freshly painted and lined up alongside neatly stacked traps before both the spring and fall lobster seasons—in May and October. This year, I decided to find out the story behind them. The explanation I received most often from fishermen (and not everyone would answer my questions), was that fishing grounds off the northwest tip of PEI are some of the most crowded in the region.
Tignish alone has the greatest number of boats and lobster licences of any harbour in Atlantic Canada. One hundred and nineteen boats fish the spring lobster season, with another 30 fishing in nearby Seacow Pond. Each boat fishes 300 traps, which totals almost 45,000. It makes for a very competitive fishery.
"There's a little game going on," said harbour master, Russell Gallant. He explained that late in the season, when the traps are close to shore, "the gear is so close together, you could walk ashore on top of them."
In such a crowd, you need to be creative to outsmart your competitors, because if another fisherman sees a concentration of one colour of buoys, he'll know it's a good place for lobster, and put his gear there too. Having a variety of colours on your buoys confuses everybody. Or at least that's the theory.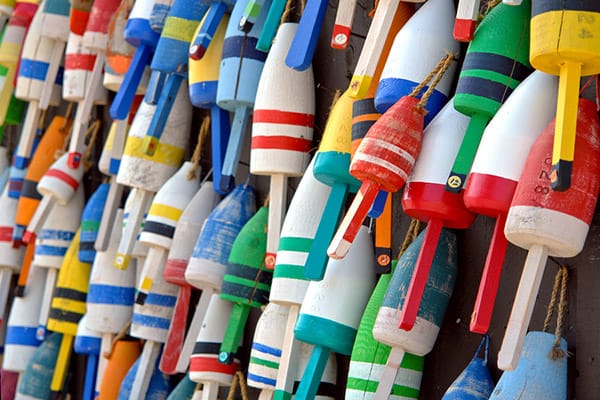 In such a tight-knit fishing community it's difficult to believe that fishermen wouldn't get to know one another 's buoy colours. But that doesn't mean they won't try.
"Some guys change their colours in the middle of the season," said one fisherman with a mischievous grin, as he and his crewmates loaded traps onto their boat. He added that on calm days, he'd even seen fishermen painting the tops of their buoys in the water.
On setting day (which was delayed by weather until May 1), I joined Tignish fisherman, Kenny McRae, to watch him place his buoys in the water for the first time this year. I was supposed to meet him at the wharf at 5am, but when I showed up early at 4:30, he was already there. "I couldn't sleep," he said.
The official start of the season was 6am. While we waited, boats from the inner harbour inched their way into the narrow run, and idled four boats wide, engines rumbling. Each boat was piled high with up to 150 lobster traps and buoys. At precisely 6am, just as the sun edged over the horizon, the parade began to move. Well-wishers on the shore shouted and waved as the boats sped up out of the channel and into the Gulf of St. Lawrence. The race was on to get to the choicest spots.