In five decades behind the desk of her Yarmouth motel, Lucille Deveau watched as tourism's ebb and flow shaped Nova Scotia's South Shore
Lucille and Henry Deveau opened the La Reine Motel in 1957 on the shores of Doctors Lake, just a few kilometres from downtown Yarmouth. They raised seven children while running the business and caring for a wide range of guests from tourists to business travellers. Today, they still live on the property—which was once Henry's family's farm—in a home overlooking the motel and pool.
Lucille grew up in West Pubnico, the oldest Acadian community Nova Scotia, and can trace her lineage straight back to Philippe Mius d'Entremont, who founded the community in 1653. Like many Acadians in an area with close links to New England—often called the Boston States by locals—both she and Henry were born in the US and hold dual citizenship. When they were growing up, ties to Massachusetts were much stronger than to the rest of Canada, and travel was easy with ferry service available for many years.
My family are d'Entremonts from West Pubnico, and a lot of my relatives are still there. My parents were Acadians who had gone to Massachusetts to work. Dad took a trade—he was a carpenter—and mum worked in a shoe factory outside Boston. There were all kinds of other factories nearby.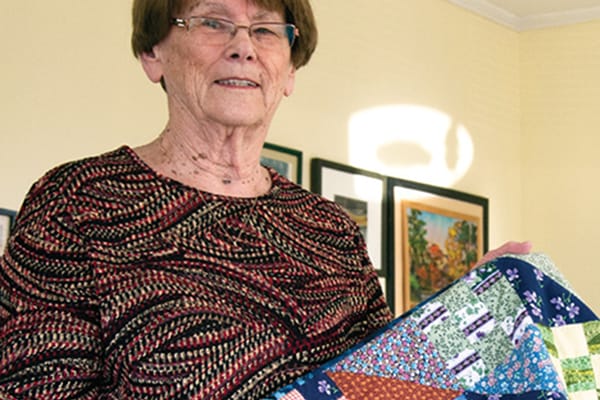 My parents had never lived anywhere else but in the village of West Pubnico, but when they got old enough, they went to live near Boston because there were jobs there. It was an adventure. They could go across on the boat for nearly nothing, and they knew enough people who had already gone to Boston. Going to Halifax or Montreal didn't even enter the picture.
I was born in Stoneham, not far from Boston. There were 13 of us kids in the family, and I was number five. When things were getting rough because of the Depression, my parents moved us to West Pubnico. It was 1930, and I was four or five months old at the time. In West Pubnico, my parents could have a house, and they could have a garden and there were grandparents who had cows. You could have help. That's why they decided to come back, and it's a good thing they did or we would have starved.
I was always planning to move back to the States myself, but I had to help Mum with the crowd of kids, and by the time I finished school, Dad had started a country store, and I worked there for six years. Then I married Henry—it was the only way I could get out!
Henry is from Dayton, NS. He had served four years in the American forces—we're both dual citizens—and after he came back, he started coming to Pubnico, looking to meet girls. I met him in '55. All us kids from Pubnico would go to the Red Cap restaurant. It had a dance floor and a jukebox. We were there every night, and the boys would come from town and the nearby villages. I met Henry in the spring, and in the fall we got married.
It's always been a tourist area here. People would come for tuna fishing and hunting, and stay at cottages inland, where there were guides. There was the Lakeside Inn, which was the big CP hotel nearby. Kate Smith, [the American singer], used to stay there. Babe Ruth would come here to hunt, and Amelia Earhart visited too. A lot of people came on the Boston boat and would stay for the summer—of course, the ones visiting relatives would come in droves. It was the slow pace, the easy living here. That made a difference.
There had been no Boston boat during the Second World War. The boat was used as a troop ship, and when they brought it back after the war it wasn't that appealing. Then the Bluenose [ferry, not the schooner] started up in '56, so people knew we would be getting more visitors, and they started building motels.
Henry's family had a farm and 25 dairy cows. His father was getting tired of milking that many cows, and Henry was going to help him. Then some people who were looking for land to build a motel came, and they wanted to buy this piece here from Henry's father, but he wouldn't sell it. He was going to use it for silage. We thought about it and decided why not make a motel ourselves?
There was one motel on this stretch of road here, then another one was built—the El Rancho—and then we built six units and a lounge. It took pretty near a year, because we cut wood on Henry's parents' woodlot across the road, brought it to the mill and had carpenters build the motel. We were ready to open on New Year's Day 1957, in the wintertime when there was nobody. Later we added another two units, and eventually we had 23.
The land where we built the motel used to be fields of turnip for cow feed. At first we lived with Henry's parents at their house, and he would help with milking the cows at suppertime. They kept the cows for a couple of years more, and then they sold them.
We needed a name for the motel, so we started looking in books and ended up in the Eaton's catalogue. They had some diamond rings called La Reine, and I thought it looked good. Being French and that, we decided maybe that was all right.
But we should have chosen a different name, because it wasn't good for business. We had lots of people who told us they were going to write or call, but they couldn't remember the name. And a lot of them called me Lorraine. They thought it was named after me.
There were people who would come every year and stay for weeks. Some were visiting family, but it got so there were people from Massachusetts that would come down, and their grandparents had all died. They had no place to stay, but they would come and visit their cousins and stay at the motel. Those were good customers.
We had regular commercial travellers, government inspectors and Japanese businessmen who stayed for a large part of the summer. They would buy roe, swordfish and tuna. There was one who bought herring scales to make jewellery. We had cowboys here for the agricultural exhibition, too, jumping in the pool, their boots covered in manure.
We built the pool more than 40 years ago, because we were working all summer long. We had seven children, and we couldn't take the kids anywhere during the summer. Their friends were all going camping or to cottages. But once we built the pool they had lots of fun. All kinds of friends would come over if you had a swimming pool. The kids all helped out. One of them was paid 10 cents a day—or maybe it was a week—to put up the flag and take it down. And they would get paid to mow the lawn. And the girls helped in the office and cleaning rooms. Our kids are all still in Nova Scotia and most of them live close by.
We kept the motel running until 2002. By the end it was shorter stays. Visitors would come and say, "How long will it take me to go around the island? Three days?" They came by boat and thought Nova Scotia was an island. They might call from PEI, drive from there, then take the boat to Maine the next day, or drive to Cape Breton. It had changed dramatically. People didn't stay in Yarmouth as much anymore.
We used to have an international airport and regular flights to Boston and St. John's. We had the trains, the bus—but we lost everything. When they took the boat, that was the last thing. That was the end. There are so many places that closed down. People here are happy that we're getting the boat again, but it's going to take more than just that to make it really good for tourism here.
We closed the motel because business was going down. People didn't want to pay what we needed to make a go of it because it was an old motel. It didn't matter if you trimmed it with gold—it was still an old motel. So we turned it into 12 apartments, which we still own. Our son Anthony takes care of renting them out. I remember that some of our guests would come all excited and nervous, and wonder if we would be able to talk to them—because they had never been to another country and didn't know what to expect.
They would go round the province, and by the time they came back they would be all relaxed. Nobody complained about much—well, the weather sometimes wasn't that good— but they were all happy. And some of them came back over and over.