An outspoken community advocate and French-language champion, Father Éloi Arsenault isn't your average Catholic priest
Born and raised in Saint Chrysostome, in southwestern PEI, Father Éloi Arsenault trained as a priest in Quebec before returning home and being ordained at his local church in 1970 on August 15—the Acadian national holiday. Having attended seminary during the era of Vatican II (the groundbreaking Catholic council held under Pope John XXIII, which sought to modernize the Church), he brought a new approach to his ministry—one that often put him at odds with his superiors.
He has spent much of his life as a champion of Acadian language and culture—helping lead the fight for French-language education on PEI, re-introducing French-language mass and launching the funeral co-op movement in his local parish, from where it spread across the Island.
Father Arsenault retired in 2010, and lives in a small home overlooking the ocean. Now age 71, he spends his winters in Mexico, not vacationing at the beach, but working on educational and economic development projects.
I grew up just a couple of houses from where I live now. We grew up in French in this community. There was not much influence from the outside at that time. We couldn't even speak very much English until the radio came in and then television, and that's how we learned.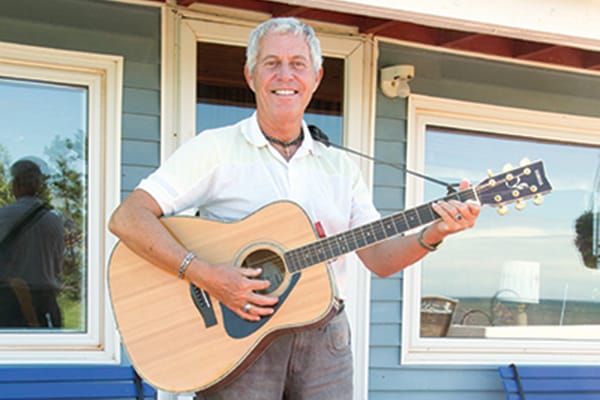 We had a lot of kitchen parties in my home because my mother was very good at playing the organ and all kinds of reels. I started playing guitar when I was 10 or 11 years old, and whenever there was a local concert I was often asked to play. I could do a jig too, and I could sing and play harmonica. Music was a really important part of my ministry too, because music is universal and people appreciate it—and it helped me get closer to young people.
The local school had two big classrooms: Grade 1 to 5, and 6 to 9. In those days, all the books were in English because the government would not allow us to have French books. It was supposed to be an English school, and that was it. But since it was a homogenous kind of community—we were all Catholics and we were all French-speaking—we did half an hour of Catechism every morning and we also had French grammar. The teacher would give all her lessons in French, even though the books were in English. We would translate as we would go. When the inspector came, we would hide our Catechisms and French grammars. So that's how we kept the French language going.
There were seven children in my family. I have a twin, and the two of us were right in the middle. When we were young, my twin brother and I were very religious. We would say the rosary, and kneel and say a prayer before every meal. I went to church for all the services and served as an altar boy, and the idea of being a priest just gradually came to me. I can remember being 11 or 12 years old and thinking that's what I want to do.
An Education
In 1958, when I was 15, I left to go to college in Quebec, and I was there for 12 years. I did my bachelor of arts, and then went across the street to the seminary to do my bachelor's and master's degrees in theology.
When I was 18 or 19, I went out with girls a few times, and I remember thinking it was unfair that I had to decide between the priesthood and getting married. I still felt I wanted to be a priest, but I couldn't get married because of the darn stupid rule of celibacy. I finally chose to become a priest, even though I had to accept celibacy as part of the bargain.
Vatican II was happening when I was in the seminary, and there were all kinds of hopes of transforming the Church. Priests who taught us were saying that in five or six years, priests will be able to get married.
From the day I was ordained, I wouldn't wear the collar unless I was doing mass. I wore jeans and I wanted to be treated like a regular person. In the past, local people would put the priest on a pedestal, and that made me very uncomfortable.
I got slapped on the fingers a few times by the bishop because of some of my controversial ideas that had to do with the Church. Some people were scandalized by the fact that I would sometimes talk openly in church about married clergy and about the ordination of women, but I would say it's my opinion and I think the Church should go in that direction.
For the love of community
One of the reasons I wanted to come back to PEI after seminary is that the Acadian population here on the Island is very small, and we were struggling for our rights. As much as I was motivated spiritually to preach and be a pastor for my community, I also wanted to be involved culturally and socially.
We had pockets of Acadians in Charlottetown, Summerside, Tignish and Palmer Road, and they were being assimilated and losing their language. They had core French in schools, but many of the core French teachers couldn't really speak the language. We fought and fought and fought to have French schools. We even went to the Supreme Court to get a French school in Summerside, and we won. And those schools are what's allowed our language and culture to survive.
When I was growing up I was very aware of co-operatives because my father was part of three or four different co-ops, and he was involved in starting the Acadian Fishermen's Co-op. You know, we were called the co-operative capital of the world here in the Evangeline area. Because Acadians are a minority, and we were poorer than most of the population, the co-operative movement helped us give ourselves services and create some economic strength and value.
But I had never heard of funeral co-ops until I went to Quebec. When I was the priest at Palmer Road, I held a meeting with the Knights of Columbus to talk about the idea. They were all quite excited. So we started, and we were overwhelmed by the response.
Just about all the families have a membership in the co-op. We transformed the church sacristy, which was fairly big, into a funeral parlour, and we had a licenced embalmer who would do the embalming in the basement of the church. I would have all the caskets delivered to my house—I always had 20 or 25 caskets of different types down in the basement.
Later, the Palmer Road co-op built a beautiful full-service co-op funeral home, and they bought a second-hand funeral coach. Now we have seven funeral co-ops on the Island, and I've given pep talks to people in New Brunswick and Nova Scotia to help them start their own co-ops too. I like to say that at the funeral co-op we are the last people to let you down!
I never regretted my ministry. It was sometimes a challenge, but I always enjoyed it. I did regret that the Church did not adapt to the times in its language and approach, and in its ideas towards welcoming people.
It bothers me. It's not that I wanted to be different from others, but ever since I was a young priest I thought that the main thing was to be close to people, to welcome them, to love them and help them in their needs. That's it. Basically what Jesus taught: Love your neighbour as yourself and love your brothers and sisters as I love you.