Historic barns and farmsteads—from the restored to the decrepit—can tell Atlantic Canadians a lot about where we've come from
For as long as I could remember, the barn at the crossroads in Glenelg, in St. Mary's River, had been engulfed in bush—and to be truthful, I took its presence for granted," says Meghann Jack, who grew up in nearby East River St. Mary's, NS. A PhD candidate at Memorial University, Jack loves barns and knows their history as few people in Atlantic Canada do.
"I presumed [the barn] would continue to weather and decay until it collapsed upon itself," she continues. "A good death for a building." Instead, the barn was disassembled in 2011 and moved to the Annapolis Valley, beginning a new life as a pool house, and losing its agricultural, social and historical context. Jack mourned the loss of the 150-year-old barn and "its eradication from the landscape it belonged to."
Equally upsetting to her, was that she, a lifelong resident in the area, knew nothing about the barn. "Why did it look the way it looked? How was it used? How did it interact with the farmhouse and fields adjacent to it? What did it mean to the people who built and used it?" So began her study of farmsteads—barns, houses and the land surrounding them.
As Jack illustrates, people's emotional connections to barns are powerful. Barns are also about connections between humans and between humans and animals. Icons of the countryside, barns in Atlantic Canada represent the history of the region.
Their varied architecture reveals details about the settlers who built them, when, and for what purposes. And contemporary barns continue to bring people together for learning and hard work.
The word barn derives from two Old English words, bere (for barley or other grain), and aern, for storage place. Beretun (barton), meaning barley enclosure, was also used, and signified a threshing floor—the place grain was beaten with a machine or flail to separate the grains or seeds from the chaff.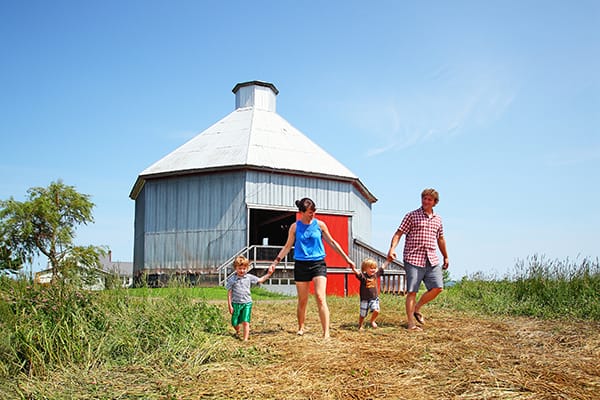 Set high on hills, low in valleys, their forms are multiple—wood, brick, stone, steel and aluminum. Many barns are painted red, a favoured colour for centuries. Some barns have heritage status and are recognized for their antiquity, or because they represent a regional form and style. Other barns are new and sprawling, built for serious agriculture. Then there are the small, family-owned stables, or extravagant schooling barns for the equestrian set. An increasing number are re-purposed as houses, offices, venues for weddings, dances and music. In the end, they become tilted and collapsing buildings like the one Jack remembers: barns they were, and will be, until the last timber falls.
Barns Worth Fighting For
Meghann Jack's thesis is an intensive study of one small region: Pictou and Guysborough Counties. Last summer, she studied more than a dozen barns along the St. Mary's River valley, all of a regional type and all of which remain standing, including her family's barn.
"It was built around the turn of the century, a New England-style bank barn," she says. "It's a curious space—very traditional design and plan, but the builder employed circular-sawn studs, posts and rafters rather than hand-hewn."
The family's two draft horses—Molly, a Belgian mare and her foal Ripley, a Belgian-Percheron cross—were stabled in the barn. "They were really just big pets," says Jack. "Dad used them for logging, just for firewood, and we used them with a wagon and a sleigh in winter."
New England-style barns are descendents of the English barn (the symmetrical ones you see set on a low foundation, with three bays of equal size) and have single-storey with a central threshing floor and hay mows on either side. Robin H. Wyllie, author of Survey of Barns, calls them, "the ancestor of most barns found in the Maritimes and New England."
One of Jack's favourite barns is the heritage-designated, wood-framed octagonal Yuill Barn, built in the late 1800s in Old Barns, NS, near Truro. Octagonal barns were made popular in the mid-1800s by their designer, Orson Squire Fowler, a New York phrenologist who believed the shape was conducive to mental and emotional well-being. The fad passed, as did people's tolerance for building such a complex, expensive structure.
The Yuill Barn, known locally as "the round barn" is one of only two octagonal barns surviving in Nova Scotia. Now nearly completely restored, it sits behind the farmhouse of ER doctor, Beau Blois and his wife Laura.
The Bloises have been working on the barn for four years now. Beau, an eighth-generation Nova Scotian originally from Gore, comes from a farming family, and knows how to put in a long day of labour.
Work on the barn began with mucking out all the old hay on the barn's ground level. Then he and Laura began the renovation. They replaced the stone foundation with concrete and then, along with a crew of family, friends and skilled and enthusiastic locals, added new hemlock flooring, securing the planks with nearly 8,000 screws.
"It took us a whole summer to do the floor," says 34-year-old Beau, smiling and pointing to the gleaming golden wood and the hand-made plugs hammered in over the screws. Last September, he and Laura held their wedding in the barn, followed by an old-fashioned barn dance.
Nova Scotia's other octagonal barn, the Troop Barn, located in the Annapolis Valley, came close to demolition five years ago. Built in the late 1880s, the building was purchased by the architectural firm, MacKay-Lyons Sweetapple in 2009. It was disassembled and relocated to Shobac, architect Bryan MacKay-Lyons' seaside farm built on historic village ruins near Lunenburg, NS, and then stunningly reconstructed. MacKay-Lyons' Shobac Cottage and Studio rentals currently rents out the barn for weddings, workshops, theatre performances and concerts.
The Way Barns Were
T oday, families often enjoy barns first at museum sites. Among the most popular of these is Orwell Corner Historic Village, on PEI. Located midway between Charlottetown and Wood Islands, the reconstructed historic village offers a view into life in rural PEI in the 1890s. The site has most of the features of a country village, including a pair of two-storey barns and a carriage house from the 1860s—all of post and beam construction.
Barn and village life in the 1800s is also well represented at Kings Landing Historical Settlement, a re-built Loyalist township in Prince William, NB. Draft horses toil here, along with oxen, which have their own barn. Equally faithful to early settler life is the museum site at The Highland Village in Iona. Its barn (an sabhal, in Gaelic) was built in the 1920s, and still has an intact threshing floor.
In Newfoundland, "barns are rare," says Dr. Jerry Pocius, a research professor in the folklore department at Memorial University. "People didn't come here to farm," says Pocius. "Our way of living was from the sea, catching fish."
Barns do exist in Newfoundland, he says, with some older ones in the Codroy Valley and the Bonavista Peninsula. Riding stables also dot the region. "But overall, the barns here are not ancient and not large."
One exception, he says, is the Old Stone Barn in Brigus. First built in the 1820s, the handsome structure was once a doctor's residence, a customs house and then a barn. Now, it's a museum. "The fish stores where they stored salt fish, those were barn-like buildings in their shape and construction," says Pocius. "The men who came here knew about building barns." But it was cod, not sod, which became the Newfoundland way of life.
"Being Part Of A Family"
Some barns are bright lights in their communities, attracting and welcoming the young people in their midst. One of these family barns is Caberfeidh Stables, owned by Scott and Adrienne Smith in West Bay, Cape Breton.
"I got into coaching because there was no one available in this area," says Adrienne, an Equine Canada-certified western coach and president of the Nova Scotia Equestrian Federation. To date she has taught hundreds to ride, including daughter Helen, now a barn owner herself.
Adrienne is a lifelong rider and competitor. Scott, on the other hand, hadn't even seen a horse close up until he and Adrienne married. He was soon a horse enthusiast.
The original barn at Caberfeidh—which is Gaelic for stag's head or deer's antlers—was constructed in 1975 from purchased building plans. "Everyone said, 'Why did you buy barn plans?'" Adrienne says with a laugh. But it was because she knew exactly what she wanted.
This included a wide, cement aisle-way in which to groom the horses, box and tie stalls, storage and tack rooms. The couple and their friends had an old-fashioned barn raising. "It was an attractive little building, and then we grew."
Among the many students Adrienne has taught is Louisdale high-school student, Kendra Delta Sampson, who was 14 when she first started to take riding lessons. "Caberfeidh was the first barn I started to ride at," she says. "I was a little timid at first, but they welcomed me with open arms."
Now 17, Sampson is a confident and capable rider. She and close friend Janine Lock fill the barn with laughter and high spirits. They even decorated their horses' stall doors for Christmas last year. "Being part of Caberfeidh Stables is like being part of a family." It works both ways. "It livens up a barn to have young people in it," says Adrienne.
Living Legacies
When Meghann Jack returns to East River St. Mary's, it's her mother and her neighbours who are happy to see her arriving. Sadly, her father is gone now.
"Before my father died in August 2012, we sat on two lawn chairs on the threshing floor of the barn and I interviewed him about how the barn was used, where animals were kept, what kind of work was done in the barn, his memories of childhood, and the round of work on a very small farm that was subsidiary to his father's waged woods work," she says.
Jack still enjoys the cool interiors of her barn, though her childhood horses are gone now, too, both buried on the property. Two years ago, before Ripley was put down, Jack spent extra time with him. That was the spring that her father was very ill. Time together for all was precious.
"I arrived [home] the beginning of April and I mainly cared for Ripley from then until June, as my mom was caring for my dad. I was happy to do that for my father," she explains. "I remember before I left…watering the horse in the morning at the brook beside our house where the horses have always been watered and bringing him back into his stall in the barn and grooming him for a long time and saying my goodbyes."
Jack's research will stand as a record of the barns she grew up with and deeply cherishes. She knows that she can't keep all of them intact, but she can, "record them and know them better while they are still visible ... That's the business I am in as a folklorist—the study of everyday life."
For her, every day is extraordinary, and available for all dream about.
Find a barn, step inside. You'll see.
Marjorie Simmins is a journalist, teacher and author, who has loved barns all her life. Her new book, Coastal Lives, published by Pottersfield Press, is available at bookstores around Halifax, and from Nimbus Publishing.