How one woman has changed the lives of people on two continents
THE ATLANTIC region has 16 degree-granting institutions, comprising half of the top universities in Canada offering undergraduate degrees (according to Maclean's 2013 ranking).
Unlike the big campuses in big cities in other provinces, our institutions tend to be small and intimate, situated in small and intimate locations. Maybe that is why students from all over are interested in studying here—they are treated as interested and interesting students and don't get lost in the student number shuffle!
Acadia University is one of our regional treasures. Students from far and wide come to Wolfville, NS to earn their undergraduate degrees and, as the welcome note on their website says, "to make friendships that last a lifetime."
Ruth Kyatha was one of those students. In her home country of Kenya, Ruth trained as a teacher in business education and taught high school for seven years. In 1987, she came to Wolfville to study at Acadia University on a Kenyan Government/CIDA scholarship. She did two undergrad degrees, a BBA in marketing and an honours degree in international relations. She then did a master's degree, majoring in political science.
When Ruth returned to Kenya, she worked in the development world in her part of the country for about 15 years. Then her world, and the world of several friends in both Kenya and Canada, changed. The Grannies Project began!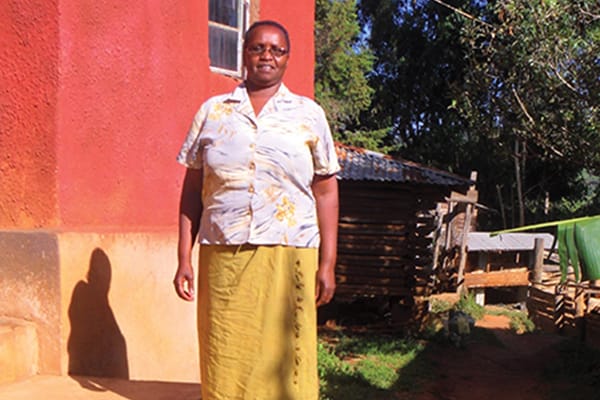 HIV-AIDS was a killer in Ruth's village of Kikima. By 2008, there were an estimated 1.2 million orphans in Kenya, and Kikima had been hard hit as well. Grandmothers were faced with raising another family—the children of their deceased sons and daughters. Attitudes there are different. Here, women who raise their grandchildren here are given kudos. In Kenya, a stigma is attached to women who die of HIV.
The situation was compounded by the lack of rainfall. There was no food anywhere. Relief food was distributed to some families, but it was not enough.
Ruth called for help to her long time friend Wendy Elliott in Wolfville, NS. From that call grew the Kings Grannies, a gathering of 28 women in Kings County, NS, who help 28 Grannies (known as Gogos) in Kikima who are looking after their grandchildren. Money raised by selling "previously enjoyed" jewellery and from a big yard sale paid for relief food for the first year and a half. About $450/month was sent by the Kings Grannies—this fed about 90 people. The project continues to be supported by the jewellery sales—about 15 sales a year. My own jewellery box swells each time I attend one of these events. I'm always amazed at the generosity of people who donate their treasures to this worthy cause! Ten per cent of the money raised on these sales goes to the Stephen Lewis Foundation, which supports similar projects throughout Africa.
A Granny in Kings is connected with a Gogo in Kikima—letters are written several times a year, bringing each up to date on the other's life. It's like having a pen pal! There are 70 children being raised by the 28 Gogos, and the kids want to go to school—but to do so, they are required to pay for tuition, uniforms, books and personal items like a mattress and washbasin. The Kings Grannies send $2,500 three times a year to pay these costs for all 70 students. Ruth writes: "The commitment of the Kings Grannies is amazing; at times, it makes us feel that we have loving mothers caring for us."
Relief food is still required, but given rain in recent years, that need is not as great as before. Water and water storage are the priorities now. The Kings Grannies have sent money to purchase 28 water storage tanks, at a cost of $500 each, to store rainwater collected in the rainy season. Some of us here collect rainwater to feed our gardens; rainfall in Kikima is collected to sustain life.
The Kikima Gogos and their grandchildren are entrepreneurial. The Kings Grannies provide money, administered by Ruth, for microloans of $2 to $20. The Gogos borrow money to buy materials to make crafts to sell. So, not only do they make some money to keep their grandchildren happy, but they are teaching a younger generation skills that might otherwise disappear—like basket making, knitting or carving. Most loans are repaid.
James, a student at Ruth's Centre, borrowed $2 from the microloan project. He bought the materials that he needed to dig and create a small dam. He made trenches, planted seeds and irrigated the land. He grew some vegetables and sold them. James now owns a store from which he sells his own produce and that grown by others. All it takes is a little money, the support of people who care, and a lot of encouragement. James was helped partly by the Grannies—and now he is helping others in his community. That's what heart to heart is all about!
Good news travels, and now others in Kings County help with the Kikima Grannies Project. A group of Acadia students raised money at a fashion show last year. Students at Horton High School did penny drives and held a red shoelace campaign (red laces were sold for $3 a pair and students wore them to spark conversations about AIDS and about the Kikima project). The University Women's Club has donated money. The Rotary Club of Wolfville donated $700 to purchase 28 goats. A ram was brought to Kikima, and there are now 39 goats in the Grannies project!
The Kings Grannies rely on Ruth to identify the need and administer the projects for the orphans—an onerous undertaking. Neither Ruth nor her capable assistant Redempta are paid out of the money raised: their services are totally voluntary. Every penny raised in Kings County goes directly to help the Gogos and their grandchildren in Kikima. As students, the grandchildren are anxious to learn about life over here, as well as their 3 R's, so Kings Grannies keep in touch directly with the grandchildren, too. So far, a number of students have graduated from high school and gone on to further education. Wouldn't it be great to have one (or more) of the students attend Acadia? The university helped Ruth, who developed friendships with Grannies in Wolfville, who help Kikima Gogos, who are helping their grandchildren. It will be a happy day when an orphaned student attends Acadia!
This project isn't unique. There are others in other provinces, and in various parts of Africa. Some raise hundreds of thousands of dollars; others small amounts. To make these causes successful, there needs to be a champion and a posse of dedicated volunteers. Kindness, generosity of spirit, patience and passion are required characteristics…
Think about Aung San Suu Kyi, Nellie McClung, David Suzuki, Stephen Lewis, Muriel Duckworth, and Nelson Mandela. Ruth is a champion in her own right—without her, there would be no Grannies Project in Kikima. Her efforts have transformed the lives of women on two continents.
Anyone interested in donating jewellery (costume or otherwise) or who wants to know more about the jewellery sales may contact Betsy Baillie at

This email address is being protected from spambots. You need JavaScript enabled to view it.

. To learn more about the Grannies Project, go to grannieweb.wordpress.com. Contributions are welcome!