How simple ingenuity and creativity have defined the recreational pursuits of Atlantic Canadians
ACTIVE imaginations and few props have been the backbone of many a game in Atlantic Canada.
In years gone by, people seemed to have more time—yet fewer dollars and recreational options—than they do today. Innovative pastimes evolved within families or communities, fostering stories, goodwill and camaraderie, ultimately creating long-standing traditions of leisure activity. Good games; even greater memories.
"My early memories of games played with family include Snakes and Ladders, checkers, Chinese checkers, and dominoes," says Murray Skaling of Forest Glade, NS. "But crokinole became my favourite."
While some aficionados say crokinole is one of the few truly Canadian board games, developed in Southwestern Ontario and Quebec in the mid-1800s, others believe it originated in England or France. The earliest Canadian crokinole board found with dated provenance hails from Perth County, Ont. In any case, the game eventually turned up in Atlantic Canada—and Hants County, NS, specifically—where it became a favourite of Skaling's grandfather.
"He had lost the fingers on his right hand in a sawmill accident, but that didn't stop him," Skaling says. "He had his own unique 'thumb' shot. It was truly a family game."
In fact, today, Skaling and his wife, Sue, of Muzzies' Country Lane Woodshop, produce what are arguably the finest crokinole boards available. The first board they made was a gift for their daughter and her husband; then they took a dozen to a local craft fair. "People, young and old, stopped to look, play a round, and share stories about the game," says Skaling. "The stories were memories of family and friends; of multi-generations gathered around a board at the cottage, at Christmas gatherings, at community tournaments; of late-night marathon games in college dorms."
By the end of the weekend, the couple knew there was a market for their boards—and that they were going to have fun.
At Avonlea Village in Cavendish, PEI, you can travel back in time to play crokinole in front of the general store with characters from Anne of Green Gables in period costume; the ever-helpful Mrs. Lynde is said to offer tutorials.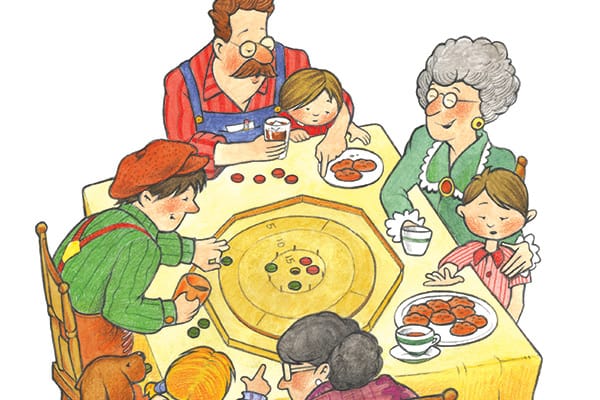 Parlour games were popular in the good old Victorian days in PEI. Examples include cat-and-mouse—players representing a cat and a mouse are blindfolded until the cat catches the mouse; and I've-been-to-market—all players sit in a circle, and the first says, "I've been to market and bought…" any article he or she can touch without standing up. (The loser is the person who can't touch any new object and remain in place). Charades were also popular.
In Cape Breton, tarabish, pronounced "tarbish" or abbreviated to "bish," is a beloved traditional pastime. It's said the card game was brought to Cape Breton around 1901 by a Lebanese immigrant named George Shebib. A tarabish deck is a regular deck of playing cards, with the twos through fives of each suit removed.
One of its enthusiastic proponents is Gemini-award-winning comedian Bette MacDonald. In spite of a busy schedule, the 20-year veteran of stage and television still finds time to enjoy her favourite game.
"Tarabish is a very big deal in Cape Breton… no pun intended. My older siblings taught me to play. They also taught me to smoke. I'm happy to say that the cigarettes are long gone but tarabish remains. Maynard [comedy partner and husband, Maynard Morrison] and I have had a long-standing tarabish game with my sister Donna and our friend Rhonda. Although we take the game very seriously, it often inspires the kind of teary-eyed, doubled-over belly laughs that can only come from family and close friends around a table with many cups of tea and a good game of bish."
Newfoundland and Labrador residents have other memories of games played in a family setting. "As children growing up in small, isolated communities, we had to be very creative in finding things to do when not in school," says Betty Flynn, who lives in Forteau, Labrador. "Outdoors, in winter, we used pieces of floor canvas for sliding and barrel staves from pork barrels for skis. One game was to see which was faster: a sled or a piece of floor canvas.
"At my husband's home, a popular game when he was a child was hide-the-clothespin. The game was played when his mother wasn't at home. The challenge his father placed on the players was that everything had to be back in order before Mom got home."
When asked to list some favourite games played in her province, Roberta MacKenzie of Gagetown, NB, came up with a cornucopia of activities, including ring-around-the-rosie, hide-and-seek, hopscotch, I spy, tag, marbles, red rover, and Simon says—all involving more imagination than props.
"My husband, Keith, remembers playing a game they called war horse," she says. The game involved two young fellows, each carrying another on his back; both riders would try to knock one another off using brooms. "It was quite violent, but boys did this sort of thing.
"One of the more original 'games' I recall involved trying to crawl into the henhouse through the hole the chickens used," she says, chuckling.
"The object was to steal an egg to make mud pies."