Hurling hammers and leaping lassies at the Antigonish Highland Games
Philosophers may debate whether a tree falling in the forest makes a noise, but a tossed caber sure does. There's the prolonged "aaaaaarrrrrrggggggghhhhhhh" screamed by the caber tosser as he runs across an open field trying to throw a telephone-pole-sized log end-over-end, the clunk of the log falling on the ground and the excited cheers and chants of the audience. At least that's how it is at the Antigonish Highland Games.
Highland games are quietly noisy events. Their noise is of physical exertion, competition and culture. There is the gentle thump, thump, thump of dancers' feet as they twirl amid crossed swords lain on the stage, the hum and squeal of bagpipes, the boom and rat-tat-tat of bass and tenor drums, grunts and groans from tug-of-rope competition, and the prolonged yells of a heavy athlete either twirling in a cage to throw the Scottish hammer or building momentum for the caber toss.
Attending the Antigonish Highland Games, this year being held July 5 to 12, is like being dropped into a Celtic bubble. Walking the main street you hear people speaking Gaelic. Gaelic signs point to Columbus Field, where the games are held. And throughout the town are monuments and plaques to the area's Scottish heritage.
At the dance pavilion at Columbus Field, pixie-size competitors in tiny tartans do nymph-like steps in unison across the stage. Their focus, discipline and precision is all the more impressive given their young ages. Next is an all-things-Celtic commercial encampment selling everything from tartans, kilts, pipes, odd-looking bagpipe carrying cases, to bumper stickers showing a distinctly Scottish bias: 'If it's nay Scottish it's crrr-ap;' and 'On the eighth day God created bagpipes.'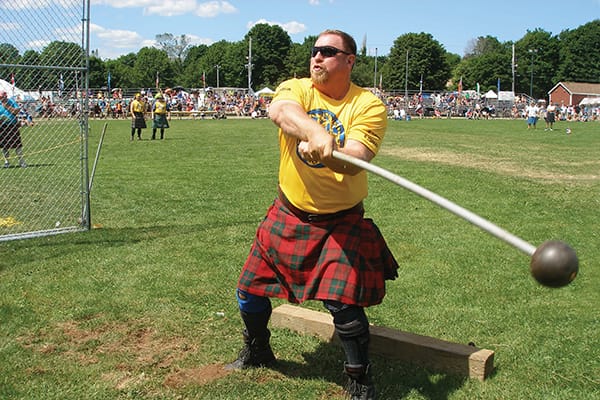 As the oldest such games outside Scotland, Antigonish can be forgiven their bias.
Lining one side of the dirt track, which encompasses the athletic field, tug-of-war teams engage in what sometimes seems like a semi-static struggle. An announcer shifts from calm observation, "The hands are beginning to burn now," to an excited scream, "They've done it! They're moving! It's a flip!" Coaches bark orders to their team, water boys race along the line pouring water on heads and necks, while the pullers' groaning increases, dust rises and spectators are bent forward in their seats or standing in the bleachers screaming their support, quickly switching to cheers and applause when one team finally prevails and leaves the other in the dust.
Every aspect of the games is governed by strict rules and/or strategy. St. Andrews Ladies' coach, Glen van Vonderen explains they use a two-and-three-quarter-inch-thick burlap rope for pulls since acrylic rope becomes too slippery for sweaty hands to hold. Rules don't allow competitors to sit or dig their hands into the ground. He explains, "It's all in technique. You've got to pull low. You can't be wiggling your feet around. When you first start you gotta pull hard and then just kinda set in on the rope, kinda rest your hands, tuck the rope underneath your arm, and push in on it. You're watching the other team to see if there's a girl starting to wear out. When that happens you switch and get down and dirty and pull, pull, pull."
Bulky and be-kilted
On the main field where athletes are competing in traditional Scottish heavy events, there's even more technique involved. Not to take away from the other games' participants, but the heavy athletes are the show stars.
What's fascinating about the games is how true they are to their roots. Other major competitions, like the Olympics, have evolved into a type of testament to science and invention in developing better equipment or costumes. Scottish heavy athletes, like generations before them, maintain a cultural purity. They compete in kilts, using irregular devices and real muscles, as opposed to gym-trained, designer muscles.
Four-time Canadian and four-time World Masters Champion World and Senior Games Caber Champion Dirk Bishop, from Perth-Andover, NB, explains that unlike other sporting events, Highland games have no uniformity in equipment. At each games a caber will vary in cut, tree type, length (20-to-26 feet long) and weight (100-to-150 pounds). It can range from spruce, fir to ironwood, "which is unbelievably heavy." Bishop says, "Every caber has a different crook in it, the weight is different, the taper means a lot to it, how big the big end is compared to how small the small end is all mean something."
Even the stones can vary. At one game they could throw smooth river stones, at another cement bricks of the correct weight. There can be lots of injuries from splinters and scraped skin, to cabers falling on tossers, to broken limbs and ribs. For the hammer toss, athletes wear boots with spikes in the front that they dig into the ground for stability. It's an invitation for injury.
The caber toss, also known as "stick turning" by competitors, is judged on whether it goes end-over-end, how straight the caber falls and the angle the caber reaches. Bishop learned his technique, which he likens to trying to balance a baseball bat from the narrow end, from his caber mentor, Doug MacDonald from the Annapolis Valley.
Other heavy events include the Braemar stone toss, heavy and light stone throws, 16- and 22-pound hammer tosses, and 28- and 56-pound weight for distance throws. Highland games eschew metric. They stick to the old rules and measures.
Pipes and drums
In a wooded corner off the playing field is Piper's Glenn. It is bordered by a river where non-kilted kayakers slowly paddle past impromptu serenades by pipers and drummers warming up before being judged in their solo competitions.
History suggests that games evolved from an ancient type of job interview. A clan chief would either host or attend a set of games to see who the fastest runners and strongest and best fighters were. These became the chieftain's messengers and bodyguards. The best pipers and dancers would provide entertainment. More recently the games have been a way to keep the culture alive.
Whatever their purpose, they're a fun experience.