"The organizations I belong to, we always try to do some good for someone"
You could call Reta MacDonald of Ebenezer, PEI a "joiner." At 82, she is outgoing and remains committed to the many community organizations she belongs to. A former teacher—who thought nothing of teaching 10 different grades herself—and a mother of three, MacDonald values the old-fashioned bonds of family and community.
She is particularly proud of her lifelong association with the Women's Institute in PEI. She first joined as a teacher, and eventually served as provincial president. While she jokes that "people have a picture of the Women's Institute as that tea-drinking group of old ladies who meet, bake and gossip," she values the way the group has connected her not only to her local community, but also to national and international charitable and educational efforts.
I was born in 1932, and I grew up out on the Number 2 highway in Milton, on a farm. I was an only child. That was a bit unusual at the time. My father had 10 in his family—well, it was a family of 12, but two died—so I've got first cousins all spread out in age. Some are the same age as my daughters.
We had a mixed farm, and it wasn't very big. Dad grew potatoes and grain, and he had hay, kept hogs and cattle, and milked some cows. My dad used horses, and then in later years he had a tractor. I used to go out and pick potatoes—I'd be in the fields with a basket, down on my knees picking them.
I went to the local rural country school, which had Grades 1 to 10, and from there I went to Prince of Wales College in Charlottetown. [The college eventually became a part of the University of PEI.] I got my teacher training there, and then I went to teach in East Wiltshire—at a little school with 10 grades.
After that I taught in North Winsloe, which also had 10 grades. I was the only teacher, and the first year I was there I had 20 students, and 10 of them were in Grade 1. There was one student in most of each of the other grades, and a couple of the grades had two. In that type of class there is a lot of help from the older students, who would help the younger ones.
When it came to discipline, I used to find that I would be really stern at the first of the year until they got to know me, and then I could be less stern. I needed to sort of show them who was boss first, because you know, I started teaching when I was 18 and when I had 10 grades, the oldest one in the school was probably 16. If it was girls it was never too bad, but if it was boys, it could be different.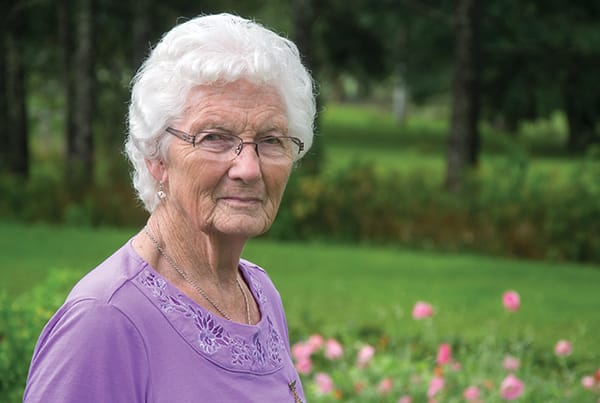 Helping hands
When I first went to teach, teachers lived in the community. I didn't have a car, so I boarded. And the local teacher was also expected to join the Women's Institute. So the first year I taught school, in East Wiltshire, I joined the Women's Institute. When I moved to a new school, I joined the Women's Institute there.
The schools were not supplied by the board the way they are now. The Women's Institute looked after them. The WI bought toilet tissue, they bought chalk, they bought blackboard erasers—they supplied the school with those essentials, in all areas. I can remember when I was going to school in South Milton, the Women's Institute coming in and washing the floors and the walls, and getting everything all spiffied up for the new school term. And it was the same thing everywhere.
After I got married, I taught at the little school that was just at the top of the hill here—10 grades again—and then I stayed home and had three children. But there was an awful scarcity of teachers, and the local trustees came to see me and begged me to go back. So I did, and I was teaching my own girls. Ian was four, so he wasn't in school yet, but Margaret would have been eight, and Norma Jean would have been 10. Teaching my own kids was different. I didn't treat them differently from the others though.
After more than 20 years, I ended up in the L.M. Montgomery [Elementary School] in East Royalty. It was quite a thrill to be in a brand new school and only teaching one grade. It was wonderful. We had central heating for one thing. There wasn't a potbelly stove in the middle of the school. And you weren't alone. There were other teachers around, and there were two classes of the same grade; the two teachers worked together on planning. That was something I'd never had before, because I'd been responsible for everything—all the programs and so on.
The other thing, any discipline problems—which I never had too much—you could always send them to the principal. There was a custodian who kept the place clean, and if an accident happened, you called the custodian. It was quite a difference.
So, not being in a small rural school was great as a teacher, but it was quite a shock for the kids when they went into the amalgamated school. I can see my oldest daughter coming in the lane yet, crying every day because she just hated it. I think she hated the distance and the number of people.
On the homefront
Before I moved into this house 15 years ago, we lived in the farmhouse right behind here. My husband, Douglas, had the same kind of farm my dad had—a mixed farm. Only after I went back to teaching he stopped growing potatoes. Too much fall work.
The shell of the farmhouse was built about 40 years before Douglas and I got married. Douglas's uncle was building the house, to be married. He was going with a girl from up the road, and she died of TB. He had spent so much time with her, he contracted TB as well and he died. So the house stood there—just the shell—for 30 or 40 years, until we got married. And then we finished it.
Are you familiar with the Rural Beautification Society? It's an organization which provides prizes for people to fix up their homes. It was started by [Lt-Col E.W.] Johnstone when he came back to PEI after the war and thought things could use some sprucing up.
Douglas and I heard about the Rural Beautification Society, and how they had prizes—so we fixed her all up one summer and we entered and won the contest. At the time, you could enter three years consecutively. So the first year we entered and won a set of silver—teapot, coffeepot—you know, it's out in the cabinet, and not used very often. Then we made more improvements, entered a second year, and won again. That year we won a chest of flat silver. And the third year we entered I think we won $100. There are a lot bigger prizes now than there were then!
The kids were small and it was a lot of work. One day, when Norma Jean was about three years old, I left a can of paint in a vulnerable spot and she got it and started painting the car. Oh, dear. We got the paint off the body, but we never did get it off the wheels.
Deep community bonds
The Institute was always important to me. My mother was a member, and I can remember her getting the place all spiffied up and getting out her good china and everything, because she was having over the Women's Institute! In the wintertime, when the travelling was bad, some of the men would come too, and dad and the men would stay in the kitchen and solve the world's affairs, while the women would be in the living room.
In the days when social life was centred more on the church, there wasn't as much mixing between groups. But we would welcome everyone. When it came to Protestant or Catholic, there was no difference there. You might belong to a church family, but this is a community family.
I'm worried about the WI. There are 10 members in our local branch, and probably eight that come regularly. It's getting pretty small, and most of our members are older—except for my daughter and a couple of others.
A lot of branches have folded, because the younger people just don't seem to want to come. They're too involved with a lot of other things, and community bonds are weaker because there are so many other things to do. But years ago, it was one of the only times that the women got out.
The Women's Institute is still very important, I think. We have a lot of new people in this district who we don't know at all. So we have a "meet your neighbour" night once a year, and sometimes we get some of the new people, and sometimes we don't. This last one we had, we got quite a number of the new people, which was great. You get to know your neighbours and they become your friends.
I get involved in everything. Well, I guess I just like people, and doing things...I guess that's the reason I'm drawn to them.