The antithesis of industrial farming with happy livestock and food that tastes as it should
"THE BEST PARTS of farming…" muses Jean-Pierre Gagnon, "are at both ends of the spectrum."
"The smile of a customer who appreciates the product and what we do is so rewarding," he explains. "But so is the first part. Getting a silly little lamb to get its first milk, seeing a chicken freak out when it discovers clover because it's the best-tasting thing it has ever eaten... These make all the hard work worthwhile."
Springbrook Farm lies on 450 acres of rolling pastures and woods outside Rexton, NB. With his wife, parents and a crew of workers, Jean-Pierre raises grass-fed beef cattle and sheep, along with pasture-run chicken and pigs. For Jean-Pierre, farming is all about relationships; connecting to his animals, the land, to his customers and community.
"Look at those chickens," he says with pride."Look at their eyes. They're so alive." Some of the birds are busy foraging while others bask languidly in the sunshine, looking like contented cats napping.
Coming home to roost
Farming runs in Jean-Pierre's blood. His parents, Paul and Murielle, bought the farm in 1979 and started raising pork as a sideline to Paul's accounting practice. Soon after, the price of pork fell from $1.60 to $0.60 per pound and interest rates went from 11 to 22 per cent.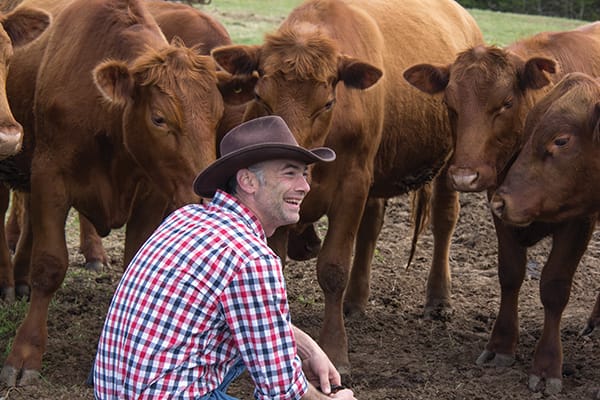 While nearby farms went bankrupt and were sold, the Gagnons left the pork business but kept farming for themselves. Seven years later, they returned to commercial pork farming.
Jean-Pierre helped on the farm while in high school. After college, he went to Calgary, "the land of money," where he met and married Sherry. Once their daughter was born though, Jean-Pierre wanted to return to his Maritime roots.
He was welcomed back in early 2002 to the family farm with a party of 250 people, mostly friends and family who couldn't attend their wedding in Calgary.
"Everyone was asking 'What are you going to do?'" recalls Jean-Pierre. "I said I was going to grow my own food and do some carpentry." At the party, people started placing orders. Pigs and chickens were sold in advance. With the surplus, he went to Moncton.
"I landed at the market with frozen chickens we called the Rockettes because their legs and wings were sticking out like the dancers." Jean-Pierre, looking sheepish, admits "I didn't know how to process them back then, but Mom and I sold out in an hour and a half. I looked at Mom and said, 'I think we're onto something. I think we're going to be ok.' I didn't need a job to subsidize the farm."
Thirteen years later, the expanded Springbrook Farm serves about 1,000 customers each week at the Dieppe Market. Demand was so great on Saturdays that Jean-Pierre created an additional Friday afternoon market.
"Consumers are asking more questions," he says. "They want to know what we feed the animals and how we raise them…. People want honest answers to honest questions."
At Springbrook, "It all comes down to the well-being of the animal," he explains. Whether housed outdoors in movable shelters or inside in the winter, the animals all have bright living spaces with windows, lots of space and a deep layer of straw as bedding. The animals look healthy, even radiant. Medications are rarely needed.
"Sunshine is mandatory," Jean-Pierre proclaims as we walk to a barn. In a softer voice, he mutters "Roly-poly little polka dotties," as 20 spotted piglets race up to us. The two huge mothers seize the moment to lie down. Immediately, the piglets run to the sows and start nursing.
"I call it the 'open bar,'" explains Jean-Pierre. The piglets nurse from either mother; all seem content.
"Tails tell you everything about pigs," he says as we look at the larger hogs in the next paddock. "You can tell these ones are incredibly happy; their tails are curly and their ears point up."
The animals are fed as close to a natural diet as possible. Whenever conditions allow, the animals are on grass. Cows, sheep and pigs graze in pastures. Chickens and turkeys have portable coops. Every few days, after the grass is eaten and scratched by the birds, the coop is moved to new ground. Once the pasture grows back, it's "the most vibrant, lush, energetic thing," twice as high as the rest of the field, Jean-Pierre says.
Eating in season
Jean-Pierre aims to strike a balance between doing what's right for the animal, meeting the needs of consumers and trying to make a living. It isn't always easy. Traditionally, people ate mostly fresh meat in the fall and preserved meat, such as corned beef, ham, bacon and sausage, in winter. With freezers, we can now preserve meat without substantially altering its flavour or texture. Eating seasonally is not just for vegetables, he says.
Jean-Pierre encourages his customers to buy meat in the fall and freeze it or buy frozen products at the market through the winter. He would love "to raise chicken only when it's best for the chickens."
"We want to grow at lot of chicken in the summer and fall and vacuum pack them," he says. "We'll freeze them properly at -10°C and bring them to the market each week—but people want fresh. And that's hard." He believes his frozen chicken is fresher than fresh chicken that is sold at the supermarket—a product that has been in transit and storage for days.
Jean-Pierre wants to change from raising the breeds that were developed for factory farms, but, again, meets customer resistance. With pork, "people seem to think pigs are like snakes." Customers want the pork chops and bacon from the middle, "but it's really hard to sell the front and back sections."
With chicken, some people value quantity over quality, he says. The result is the nearly ubiquitous Meat King, which he describes as "the laziest, most unthrilling animal that people have created." He wants to see animals that express their natural instincts, rather than ones just engineered to meet our needs. He also raises the Sasso breed of chicken, describing them as hardy and adventurous. "I've never seen anyone chase a grasshopper like these do. They burn a lot of energy but that's alright because they're doing what chickens do."
Sasso chickens thrive on pasture but grow slowly. This means more work, greater costs and a higher price. So far the challenge has been keeping up with orders. Top restaurants, including Moncton's award-winning Little Louis Oyster Bar, are ordering the poultry in advance.
Springbrook doesn't try to compete with big box stores. It has a select clientele; Jean-Pierre feels if his customers "had the infrastructure, the know-how and the ability to grow their own food, they would."
"I'm not growing food my way to sell to other people," he adds. "I'm getting people to tell me how they want me to grow their food. I'm taking care of their animals."
"I do everything I can for the animals when they are alive," he concludes. "That's pure, that's real, that's fair. The added bonus is that it tastes great."
Feeding the Future
While Jean-Pierre likes seeing his food served at high-end restaurants, he is even happier to see it at school cafeterias. Five years ago, the eldest of the Gagnons' four children complained about feeling different because she brought healthy lunches, not packaged junk food, to school.
Jean-Pierre didn't see the solution in changing what was in her lunchbox. "It was in changing the way that the kids feed themselves," he says. He started providing food for the elementary school in Cocagne, NB, and Rachel Schofield, a teacher, added food issues to the curriculum of math, science and language. The program evolved and now food from Springbrook Farm and other local farmers is served in 26 cafeterias in the francophone sud school district.
Bringing whole food into the cafeteria was a challenge. The kitchens had industrial can openers but no chef knives, and staff had to learn how to cook from scratch.
"The first day we used real food, it was like we were animals in a zoo," recalls Eugenio Bozzo, cafeteria manager, l'ecole Le Sommet. "We looked up and saw all these teachers and students staring at us. They had never smelled anything like roast chicken in the cafeteria before then."
More students now eat at the cafeteria. Rather than complaining about meals, kids thank cafeteria workers. The cooks have pride in their work and children are eating, and appreciating, healthy food.
"The cafeteria should be used as a classroom," says Jean-Pierre. "We need to empower kids to make decisions about one of the most important aspects of life—food."