We constantly hear about out migration from the East Coast—but others choose to reverse the trend and come to live here. Why?
We continue this series with a look at several newcomers to Nova Scotia as examples. We'll be looking at other Atlantic provinces as well
JOE VAN HEERDEN
Joe immigrated to Canada from strife-torn South Africa 20 years ago to find a place that was safe and could offer good education opportunities for his children. The family arrived, sight unseen, after a process of selecting a new home from English speaking countries. They arrived in Ontario, then moved on to British Columbia where they got themselves established with credentials and jobs.
With the 2008 economic downturn Joe realized it might be better to have his own business to be "more in charge of my destiny rather than depending on other people…"
So he searched the web for properties "near the water" and favoured Nova Scotia after visiting their son at Gagetown military base and travelling to Nova Scotia. Eventually they settled on an Edwardian home in Digby that was at that time bank-owned (also a result of the economic downturn).
Now, five years later, the Come From Away Inn on the Digby waterfront is open year round and distinguished by its location and the full breakfasts that Joe cooks himself. Joe says: "This is a great place and a very friendly community. People wave at me going down the road even when I don't know them. This never happened in BC and Ontario. The people in the town were welcoming. I joined the church here and sing in the men's choir. That was a brand new thing for me. I go to the gym and joined the Academy for Martial Arts. When you are in your 60s it's important that you continue to learn new things."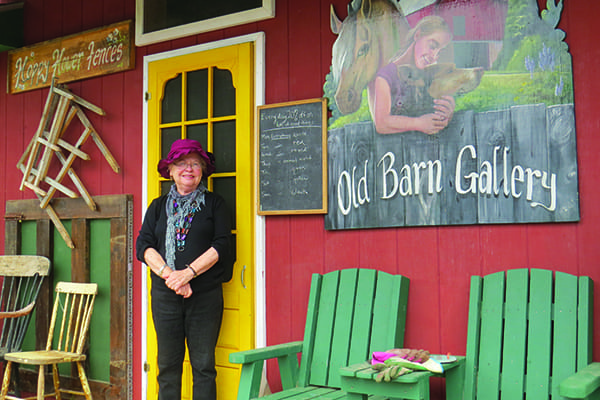 THOMAS STEINHART
Thomas is from the Black Forest area of Germany and has travelled the world as a mechanical engineer. He first came to Nova Scotia in 1995, liked it, and returned several times on holiday. In 2000, while his family spent time on the beach in Arisaig, NS, he saw a farm for sale overlooking the Northumberland shore. When he saw the view he said: "I had this "aha!" moment. This is where I want to be carried out feet-first one day."
Although Thomas didn't start his distillery business immediately he said, "I always had in the back of my mind to one day make a distillery since my family back in Germany had been in the business for generations—over 400 years.
"…When I started this business (Steinhart Distillery) I wanted to create a quality product. I use local products for the vodka flavouring—maple from Haveracres Maple Farm, strawberries from Venedam's, haskap berries for the gin from LaHave Natural Farms, lavender from Seafoam Lavender.
The grain for the vodka is not available yet in Nova Scotia, but Thomas is talking to local farmers for this year after estimating the amount needed. The unique labeling featuring art from local artists won a PAC Global Leadership award from the Packaging Association of Canada.
"I find the people here very friendly and accepting. I didn't find it difficult to setup a business here."
JOHN GRAHAM-POLE
Originally from the UK, John was a physician there and in the US for over 40 years, and now makes his home in Clydesdale—"rural, but just a bike ride from Antigonish." He moved to Nova Scotia as a conscious choice about eight years ago coinciding with retirement and marrying Dorothy Lander (herself a "CFA" who moved from Ontario to Antigonish more than 30 years ago). "Now this is home. I made an absolute commitment—new house, new world, new country, and a new marriage."
Settling in to a new environment, John tried out different groups and says: "It's very easy in a small town to get to know a lot of people. It seems to me that a small community is easier to tap into all it has to offer."
John has found a fit with the local Arts Health Antigonish (AHA!), which benefits from his previous experience with the subject in Florida. AHA! has, in a short time, had an impact on the health of the community through the arts and has created job opportunities for young artists.
When asked about the term "come-from-away" John replies: "People who choose to come to a new place—and I absolutely chose to come here—if you come, and come with the right attitude, and have a bone of creativity in you, then you bring something. There's plenty of room. I hope we CFAs offer a lot."
CAROL RIVOIRE
Carol first visited Nova Scotia in 1987 on holiday with her husband Arthur from their New Hampshire horse farm. When they saw a 250-acre farm in Pomquet they fell in love with it. Arthur saw the perfect spot to build a house with a fantastic view and land that was just right for their horses. They moved here in 1991 with 18 rare Norwegian Fjord horses and continued their horse business with international clients.
Carol explains: "We devised several strategies to get people here, beginning by promoting Nova Scotia before we even left New Hampshire, to make Beaver Dam Farm a destination. We earned a reputation for having the best Norwegian Fjord horses anywhere outside Norway. We started doing teaching vacations and made it fun as well as a learning experience." They ran the equine vacation program for 18 years, sold numerous horses all over North America, and, as Carol adds, "As a result of staying on our farm and…truly getting to know the area, several couples bought large farms in the province."
On retiring, the Rivoires opened an art and antique gallery in the barn. Arthur died in 2012, and Carol moved the art gallery to a smaller building, and opened a ladies boutique in a converted carriage house.
Carol and Arthur always told people, "This was the best move we ever made. Coming here with this beautiful big property and all the space gave us both the opportunity to express our entrepreneurial spirit." Carol adds, "Arthur always said: 'When you have land, you have opportunities! You can create things.'
"Coming 'from away' you see things with fresh eyes. When we moved here, people asked us with disbelief, '…but why did you come here?' I think there are unending possibilities here. This area has so much to offer. It's a matter of letting people know about it…
"If you have an entrepreneurial spirit and see the potential in the resources here, that's what it takes to succeed."
KULBIR SINGH
Kulbir grew up in a farming family in the Punjab, northern India. He came in 2006 to St Francis Xavier University in Antigonish for postdoctoral work in chemistry, where the equipment and support was available for him to continue his research.
When Kulbir arrived in Canada with his new wife of five months, Harbreed Kaur, they didn't know much about this new country where they would be living, but Kulbir found that "…it was a good work environment and good people.
"At the end of my second year we started thinking about our future. We realized that Antigonish has everything we need. It has a good hospital, a university, good schools, people were extremely friendly—so we really didn't want to leave. We decided to stay here. Both my wife and I tried to get jobs here but there weren't a lot of opportunities. I decided to commercialize our research findings in collaboration with my professor."
Now nine years later he and his family have built their own home. Their six-year-old daughter and two-year-old son were both born here. "We plan to stay in Nova Scotia. We have built our house here."
Kulbir's business, SONA Nano Tech, develops biomedical products for health and clean technology applications for potential global clients. He is impressed by the business development opportunities and entrepreneurial support available such as Innovacorp and ACOA.
When asked if he had heard the term "come-from-away" Kulbir laughed and said: "People underestimate where they are. Many people ask us: 'Why did you come here?' I have seen opportunities in Nova Scotia. People are doing things and are innovative here and the government is trying to bring in innovation at a commercial level, which is good. You have to make your living. We will make something that we can sell—and make our living. If you have no job, then become an entrepreneur. If you have an idea, try to commercialize it and take advantage of opportunities like ACOA, Innovacorp and BDC (Business Development Bank of Canada)."
CONCLUSION
There are several common sentiments in the comments from our "come-from-aways". Several came on holiday with no intention of coming to Canada to live, but what they saw and experienced inspired them to make a move. Others had ideas for what business they would start here, and still others saw possibilities, but had no definite business plan; and one came for a specific purpose but ended up seeing opportunities to build a business and make a home in Atlantic Canada.
Everyone remarked on the friendliness and welcome of local people. By and large they felt that there was openness to new business ideas, particularly in areas needing new growth and when the impact of the business is felt on the community in terms of jobs and opportunities.
All of these individuals are living in small communities. They see opportunities in our natural resources, the land, space, location and people. They have come by choice, and they bring new skills, talents, experiences and ideas and a fresh eye to what we have here. They often see potential in resources that we take for granted—the hay, an old barn, natural crops, land with a view, talented artists, and willing workers.