"It's the business I went into and I knew going in that it was a lifestyle, not a job"
If Luke den Haan walked into his eight-acre greenhouse in Lawrencetown, Annapolis County and was greeted with silence, he would worry.
From the heating, ventilation and hydroponic fertilizing systems to the refrigerator-like packing house to the bees buzzing about in the tomato houses to the chatter of employees as they go about their tasks, there is always a hum of activity at den Haan Greenhouses. The giant glass house produces fresh greenhouse crops—3.5 million pounds of tomatoes, and one million cucumbers each year—which are sold throughout all four Atlantic provinces. Employing 45 people at peak production season and at least 25 year-round, the operation is a growing concern.
Farming under glass
The den Haan story begins in 1951 when Jac den Haan and his wife Helena, with 12 children and one on the way, immigrated to Canada, settling in the Annapolis Valley of Nova Scotia at Brickton, near Middleton. Originally the den Haans were dairy farmers, but also grew vegetables, and in 1963 they opened the greenhouse operation. Within a few years they had added on a garden centre of houseplants, nursery stock and related supplies. Luke's parents, John and Darlene, made the decision to build a new, large greenhouse operation for the vegetable side of the business in 1999, and built the initial four-acre Lawrencetown facility.
In 2012, the family made the decision to close the garden centre operation, as Luke's parents wanted to retire, and he wanted to further expand and improve the vegetable side of the business. The garden centre had struggled in recent years with downturns in the economy, and as Luke explains, "If the local economy was slow, the garden centre suffered because landscaping and houseplants seemed a luxury. Everyone has to eat, however, so vegetables are pretty much recession proof." That same year, they broke ground to add another four acres onto the existing Lawrencetown structure, and also built a large, adjoining packing building for storing, grading, packaging and shipping out the produce. Luke went from being the production manager to take on the role of CEO; his wife Jodi was already managing sales, marketing and human resources, and brother Josh den Haan looks after the heating plant side of the business.
Sustainable power
The den Haan greenhouse facility, the largest single greenhouse in Atlantic Canada, is heated by a huge biomass burner that uses 4,000 cord of locally-harvested waste softwood—about a tractor-trailer load a day—each year. "We purchase from a number of local woodlot owners/operators, to help spread the business around and ensure an even supply of wood." Luke explains. Hot water, heated by the boiler, circulates through the greenhouse, and the crops are fed hydroponically by an automated system. Within the next several years, Luke plans to add a larger boiler, with an eye to having year-round production without any downtime and making power to sell back to the provincial power corporation.
The greenhouse is operated as sustainably as possible. Irrigation water is captured, treated with ultraviolet light, and recycled through the system, to reduce both water usage and fertilizer requirements and prevent its release into natural ecosystems. The tomato crop is pollinated by boxes of bees which live in the greenhouse year round—a much more efficient way to pollinate the plants than doing it by hand. Having beneficial insects in the greenhouse also means using biological controls to curb pest activities—Luke orders beneficial insects, including his pollinators, from Koppert, a company in the Netherlands specializing in biological controls.
Staying on top of pest management is crucial in any aspect of food production, as an insect pest getting in through the ventilation system or a disease developing due to a climate issue can quickly balloon and cost in productivity. "Customers want perfect looking, tasty food, as economically as they can get it, and if quality suffers, Jodi's job is more challenging," says Luke. "My job is to make her job easier."
Growing hothouse tomatoes and cucumbers is nearly a year-round activity at den Haan. In late October, the current crop of plants is topped, so as to grow no taller, but will still produce vegetables for another month or so, at which time the plants are removed. By this time, a tomato vine could measure 30-plus feet long. Replanting the greenhouses with fresh nursery stock supplied from an Ontario grower takes several weeks. The first new vegetables will generally be spot-picked in late January or early February before a steady supply begins to flow out to grocers, markets and restaurants around the region.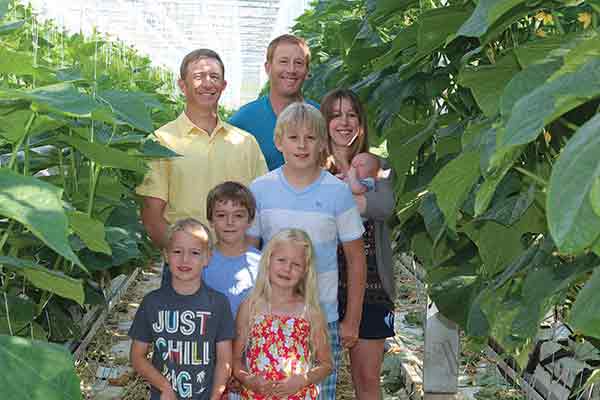 Always on duty
Asked if he considers himself a farmer, Luke doesn't hesitate. "Oh yeah. I'm full 100 per cent farmer." He worked at the business as a youth and right after high school spent some time working at greenhouse operations in Ontario and the Netherlands, learning as much as possible about the best techniques for crop production under glass, before rejoining the family business in earnest. Maybe he doesn't have to plow and isn't as much at the mercy of the elements as his colleagues, but he knows all the challenges of bringing a crop to harvest, dealing with pests and diseases, growing the best crops using the smartest and most sustainable methods and weathering swings in the market. But he says firmly, "I never wanted to do anything else."
Market fluctuations dictate changes in operating practices. For several years, den Haan produced sweet peppers, miniature cucumbers and grape tomatoes, as well as orange and yellow cluster tomatoes, but they now concentrate on full sized cucumbers, and cluster and beefsteak tomatoes. These items were only sold locally and took a lot of labour—five employees took all day to pick, and pack the grape tomatoes alone. "We gained an extra 6,000 square feet in which to plant more of our main crop, and that's where we make our income," Luke explains.
Are they ever off duty? Luke says yes, Jodi says no. They look at each other and laugh. Luke continues, "We have a good life, but the farm is never not on my mind. I just compare it to what my father and my uncle had to do when something would go wrong." The family lives only five minutes from the greenhouse, and Luke has a snowmobile, a tractor and a backhoe on hand in case of bad weather. Although he can monitor the greenhouse's functions from his phone or computer, and reset many actions without being in the greenhouse, he has spent many a night at the facility, just in case. "It's the business I went into and I knew going in that it was a lifestyle, not a job."
A successful business needs great employees along with great product, and Luke and Jodi have high praise for their staff, some of whom have been with them for 25 years or longer, including several people from one family. Tammy Moore is the operations manager at the greenhouse, and her mother Carolyn is the head packer. Tammy and Luke can often be seen early in the day walking through the greenhouse looking at the crop and discussing its management. "We have very low turnover here, and that's a little surprising because working in a greenhouse is tough work. As anyone who has ever worked in a greenhouse can attest, the labour is physically as hard as on any farm, but instead of dealing with cold and inclement weather you have to deal with heat, and in the mugginess of high summer, it can be exhausting to pick and tend to the crop—everyone is glad to get into the packing facility where it's cool."
Will there be a fourth generation of den Haans growing food for Atlantic Canadians? Jodi and Luke have four sons—Haden, 11, Madex, 8, five-year-old Roen, and the latest addition to the family, Jax, born last summer. Jodi says, "Haden is showing some interest in the business, although really, at this age they're more interested in riding their scooters or bikes down the alleys, jumping in the cardboard, running through the rows and, of course, eating the produce!"
Nodding at baby Jax, sleeping in Jodi's arms, Luke says, "This is my retirement right here; hopefully at least one of the boys will want to join the business and take it over."
"We want to always be here."